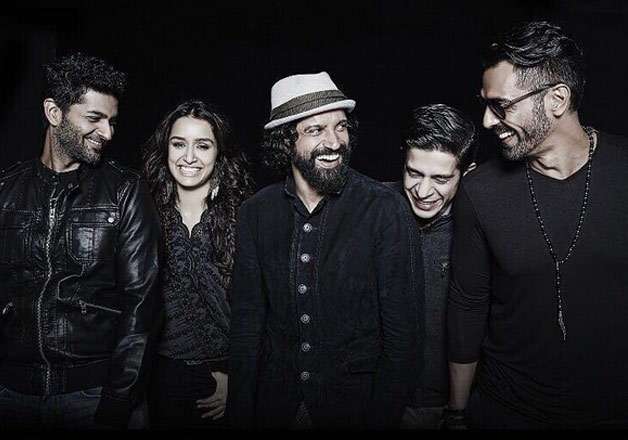 After creating a lot of buzz, finally the makers have revealed the teaser poster of the much awaited 'Rock On 2'. Starring Shraddha Kapoor , Farhan Akhtar, Arjun Rampal and Purab Kholi, the movie is the sequel to the 2008 release 'Rock On'.
Farhaan Akhtar took to Instagram to release the poster with a caption, "HERE WE GO.. #RockOn2 poster #ReliveTheMagik @rampal72 @shraddhakapoor @purab_kohli @shashanksunnyarora @bootshujaat".
The teaser poster of 'Rock On 2' is quite intriguing with all the Magik members stacked beside each other with chaos and music all around. The poster evidently gives an impression that the movie will bring along a lot of drama and music for the audience, however it will be served with a twist.
What else caught our attention was the way 'two' has been depicted on the poster using the Hook Em' Horns hand sign. The 'Rock On 2' poster also has a tag line 'Every generation finds its voice'.
'Rock On 2' has been one of the most anticipated movies of the year. It's almost after eight year that the makers have come up with a sequel and producer Ritesh Sidhwani has a perfect explanantion for this.
"We were waiting for the right script to take this franchise forward and the best part about this script is that it offers a platform for the next generation to take centre stage," Ritesh had said in a statement.
While the first installment of the series featured Prachi Desai, who marked her debut in Bollywood, as the female lead, 'Rock On 2' has Shraddha Kapoor. Indeed, Shraddha is quite excited for the movie.
She too shared the poster of the movie with a caption, "Here it is!!! Finding my voice.. With the new 'MAGIK' @bootshujaat @faroutakhtar @rampal72 @purab_kohli @shashanksunnyarora #RockOn2Poster #ReliveTheMagik".
Earlier, the actress had shared a pic of herself with the Magik Band saying, "Made it in to the band. Hanging with the coolest guys in town."
On the other hand, Farhaan Akhtar had confessed that 'Rock On' holds a special place in his life, as he made his acting and singing debut with the movie. And now, as he is up with the sequel of the movie, he is equally excited for it.
"'Rock on!!' will always remain one of my most special films since it opened a new chapter in my life, of acting. Thereon, I got a chance to explore even more interesting opportunities and continue learning," Farhan told a leading daily.
"Now that we are releasing the sequel, the same excitement is there and we hope this one receives a lot more love from the audiences," he added.
Directed by Shujaat Saudagar, 'Rock On 2' is scheduled to release on November 11.