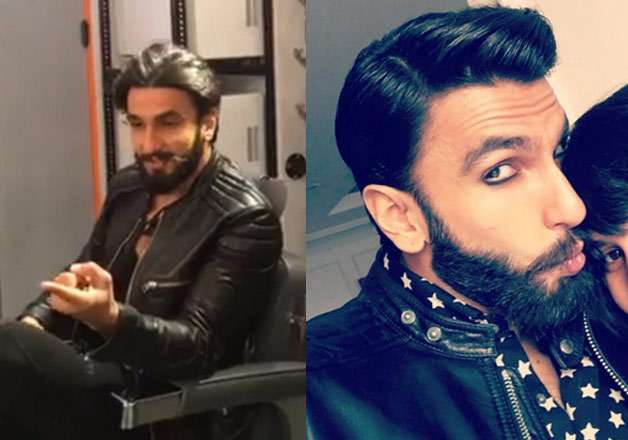 There hasn't been any official confirmation about Ranveer Singh being a part of Sanjay Leela Bhansali's upcoming magnum opus 'Padmavati'. However, Ranveer's recent pictures on social media are somehow dropping major hints about him being roped in for the periodical drama.
In fact, it is being speculated that the Singh's appearance in these pictures are inspired by his looks from 'Padmavati' so far.
Dressed in a black leather jacket Ranveer looks a complete baddie as he flaunts his kohl-eyes and beard which appears to be his get up as antagonist Allaudin Khilji.
In fact, the actor also sports a ruthless attitude on his face as he poses for the cameras.
Mad and zany day with the ever so wonderful @RanveerOfficial. His energy and charm is so infectious. Full pyaar! pic.twitter.com/mGd1CjwhT2

— Rahul Gangwani (@Itemboi) September 26, 2016
Updates | Ranveer Singh today pic.twitter.com/RxCIXzH9Je

— RanveerSinghTBT | #Ladkewale🤵🏻💍 (@RanveerSinghtbt) September 26, 2016
Updates | Ranveer Singh today with @sumisharma31 pic.twitter.com/TY1IkYkaHU

— RanveerSinghTBT | #Ladkewale🤵🏻💍 (@RanveerSinghtbt) September 26, 2016
Bhansali's dream project is also said to feature Deepika Padukone as Padmavati and Shahid Kapoor as Raja Ratansen.
Interestingly, Shahid too had reportedly given a glimpse of his look from 'Padmavati' as he shared a picture of himself on Instagram sporting groomed moustaches and beard.
Although, Bhansali is yet to announce the final cast of his magnum opus, speculations are rife that this is the final cast of 'Padmavati'.
However, this is not the first time, the rumours about the final cast of the movie has been doing the rounds.
While Ranveer and Deepika are been said to be a part of the periodical drama as Padmavati and Khilji since SLB announced it, several actors were being considered for the role of Ratansen.
From Fawad Khan to Vicky Kaushal, several names were rumoured to portray Deepika's onscreen husband. However, as per the recent buzz Bhansali has zeroed in Shahid Kapoor for the role.
Shahid, who has been on a paternity break post the birth of his daughter Misha, has reportedly begun shooting for the movie as well.
In fact, Ranveer and Shahid were also spotted gelling up during their gymming sessions.
While we still wait for an official announcement by Sanjay Leela Bhansali, these rumoured glimpses by Shahid and Ranveer are raising the excitement level amongst the audience.