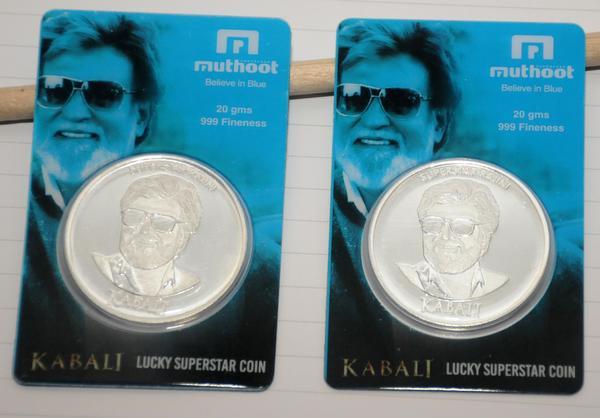 New Delhi: It seems that the team of superstar Rajinikanth's 'Kabali' are out and about to try new ways of promoting the film. A few days ago, they partnered with airline AirAsia and unveiled aircrafts with posters of the Southern superstar on it. And on Thursday, they have partnered with Muthoot Fincorp to roll out 'Kabali' exclusive silver coins. These coins will be available across the branches of this Kerala-based company.
The special silver coins, 999 pure will have an image of Rajinikanth embossed on them.
"The silver coins will be available in 5 gm (Rs 350), 10 gm (Rs 700) and 20 gm (Rs 1400). Although bookings for the coins can be made from Friday, they will only be made available after the release of the film," Keyur Shah, CEO-Precious Metals, Muthoot Pappachan Group, told reporters here.
Muthoot will also be associated with the film as its on-ground merchandise partner.
Pa. Ranjith-directed "Kabali", which features Rajinikanth as a Malaysian don, is set to hit the screens on July 22.
With inputs from IANS