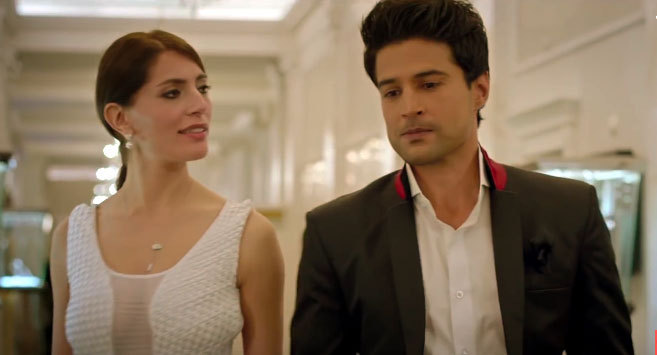 New Delhi: Being absent from news for quite long, actor Rajeev Khandelwal has become a topic for discussion in tabloids again. All thanks to his upcoming movie 'Fever' which also features actress Gauhar Khan in the lead. However, upping the gorgeous quotient of the movie doesn't only rest in the hands of Gauhar as Bond girl Caterina Murino too is a part of the movie.
Caterina starred in Daniel Craig's 'Casino Royale' and reports have it that she introduced Rajeev to the world of casino during shooting in Switzerland.
Reportedly, Caterina convinced Rajeev to come with her to a casino. Rajeev, had reportedly asked Caterina that if he wins, the lady will dance on Bollywood numbers.
As luck would have it, Rajeev's got lucky at blackjack and won big. After this, as per the promise, Caterina let her hair loose and danced on Bollywood numbers.
Speaking about the bond they share, the director of the movie Rajeev Jhaveri told a leading daily,
"There are several intense action scenes in our film. However, Rajeev and Caterina would lighten up the mood post the shoot for the whole unit by exploring Switzerland."
While the have bonded really well off screen, it would be worth seeing if the same chemistry is seen on the silver screen as well.
The thriller 'Fever' presented by Karan Devgan (Niche Film Farm) and Rajath Manjunath (Jaya Sapthagiris Productions) in association with Ravi Agrawal (Plus Entertainment Pvt Ltd) and Ajay Chabbria (ICM Entertainment Pvt. Ltd), is slated to hit theatres on August 5.