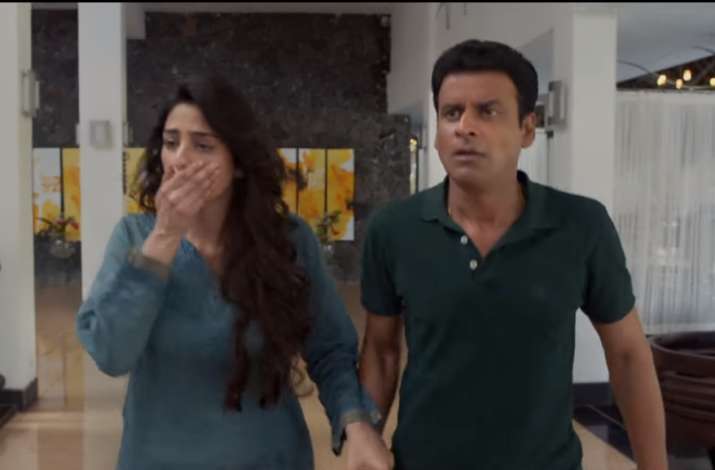 The makers released the first look of the upcoming crime-thriller Missing on Saturday. A few hours later, they dropped the nail-biting trailer of the film, which looks quite promising. Bollywood actor John Abraham shared the trailer on his account, sharing the best wishes for the one of a kind cast of the film. He wrote, "Nothing is what it seems. Here's the #MissingTrailer: http://bit.ly/MissingOfficialTrailer … Wishing #Tabu and @BajpayeeManoj all the best for their film. Looking forward to @MissingTheMovie, 6th April 2018."
Nothing is what it seems. Here's the #MissingTrailer: https://t.co/2Tp0fzaXvh
Wishing #Tabu and @BajpayeeManoj all the best for their film.
Looking forward to @MissingTheMovie, 6th April 2018.

— John Abraham (@TheJohnAbraham) March 23, 2018
The film starts with a married couple who seems to be perfect at first glance. They have a daughter, who's never shown in the entire 2-minute clip. Tabu is shown cradling her infant in her arms and the stroller, but we aren't sure if there's a little girl there at first place. While the husband and wife share few intimate moments at the Mauritius hotel room, their baby girl is abducted from right under their nose. At first it looks like any other crime thriller which involves an abduction of a young girl on pretext of revenge or ransom. But it's not as simple as it looks like.
Annu Kapoor enters the scene as a Mauritius police official. He's suspicious about the way Manoj Bajpayee is reacting on kidnapping of his own daughter. His doubt turns towards him which later brings both, Manoj and Tabu in radar.
In some scenes, Manoj  Bajpayee is also seen having some kind of a fling with another young woman who's present at the resort. He leaves his hotel room during the wee hours of the night to meet his lover. Police suspect that their bad marriage is probably the cause why one of them might have abducted or killed their daughter.
The trailer ends with Manoj Bajpayee's incomplete confession, which leaves the audience at the edge of their seat. We have to watch the film on 6th April 2018, to know what happened to 'Titli'.