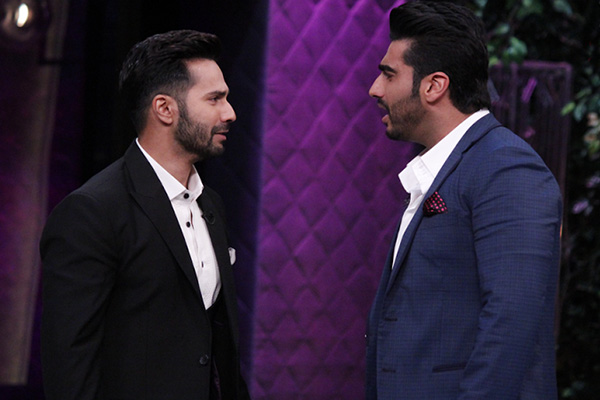 Actors Varun Dhawan and Arjun Kapoor graced the third episode of 'Koffee with Karan'. Both of them gave many fun moments to audience. While the show is all about confessions and gossips, Varun and Arjun preferred giving diplomatic answers leaving their fans disappointed who were expecting some spicy revelations. Here are some highlights from yesterday's episode.
There is no denying that both the actors were linked to actress Alia Bhatt. On being quizzed by the ace director, both of them denied dating their co-star. They further disclosed that Alia is presently going around with a guy named Ali from Dubai.
Karan asked his protégé Varun about his rumoured girl friend Natasha Dalal, to which he replied that she was his close friend from school days. However, Varun refused to comment on his relationship status.
KJo asked both the actors to act like gay lovers. What happened next left everyone in splits. Arjun further pointed out Karan saying that he could play gay character, the best. Both were also asked to perform a skit in different languages.
The 'rapid fire' round, however, lacked spice as both of them chose to play safe. Varun revealed that there is a Kapoor actor other than Arjun who had hooked up with his fan. Arjun, on the other hand, selected Parineeti and Alia over her rumoured lover Sonakshi.
Arjun won the rapid fire round but was defeated by Varun in Bollywood coffee quiz. The show ended with Varun's confession that he was diplomatic on the show whereas Arjun requested people not to judge them.
The next episode of the show will witness Ranbir Kapoor and Ranveer Singh.