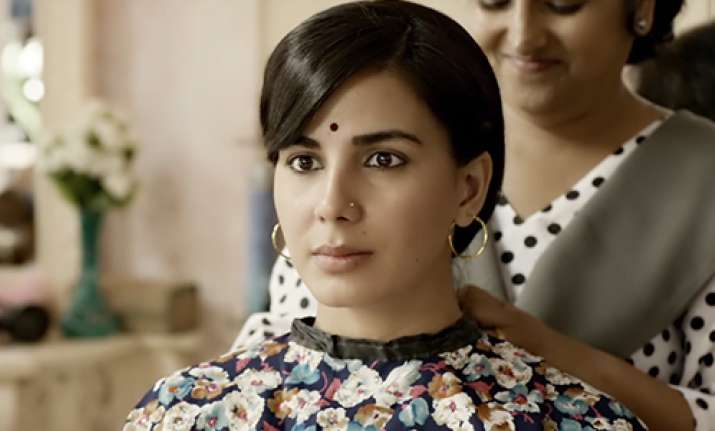 Indu Sarkar's new song Yeh Awaaz Hai featuring Kirti Kulhari is out now and, we must say it looks impressive all the way. There's no doubt that Madhur Bhandarkar's Indu Sarkar is one of the most anticipated movie of the year. It is based on the dark era of Emergency that was imposed in India by Indira Gandhi government. As soon as the trailer and it's first song Chadhta Sooraj was out, they were right there on the trending radar. And today, the second song of the film was unveiled by Neil Nitin Mukesh, which is being appreciated by the audience with full intensity.
Next song from #InduSarkar, #YehAwaazhai in the voice of @monalithakur03 is now out on @saregamaglobal https://t.co/RkX1BY5SPh

— Neil Nitin Mukesh (@NeilNMukesh) July 7, 2017
Kirti Kulhari wins hearts
Kirti plays a poet who has a speech problem. She used to be happy with simple things in life. While the makers have also shown her simplicity when her eyes fall on mannequins in wedding outfits, meeting a guy and falling in love to getting married to him, her life changed when the Emergency hit the nation. She had to become strong for her two kids and fought against the system. The makers also captured the atmosphere by showing a glimpse of Rishi Kapoor's Bobby running in a cinema hall, vintage cars and outfit worn in that era.
Monali Thakur's soulful voice is bang on
The song has been beautifully sung by Monali Thakur and the music has been rendered by Anu Malik. The lyrics are penned by Punit Sharma. According to the makers, the song is as much a tribute to the resilient power of a woman, celebrating her voice in the fragmented times of 1975 – the Emergency. 
The song displays the pre-independence era aptly and the Emergency period glimpses are rightly portrayed. The film touches a sensitive subject and hence has to go through a lot of delays and controversies but after all that, it has taken shape.
Indu Sarkar based on the emergency of 1975 features actors Neil Nitin Mukesh, Kirti Kulhari and Anupam Kher in crucial roles. It looks impressive and the powerful performances by the actors will surely leave impact on the audiences. Neil will be seen as Sanjay Gandhi in the film whereas Supriya Vinod plays Indira Gandhi.
Read more
Madhur Bhandarkar: Will not screen Indu Sarkar for any political party
Indu Sarkar Chadhta Sooraj song: Neil Nitin Mukesh and Kirti Kulhari look impressive, watch
For more entertainment news, click here