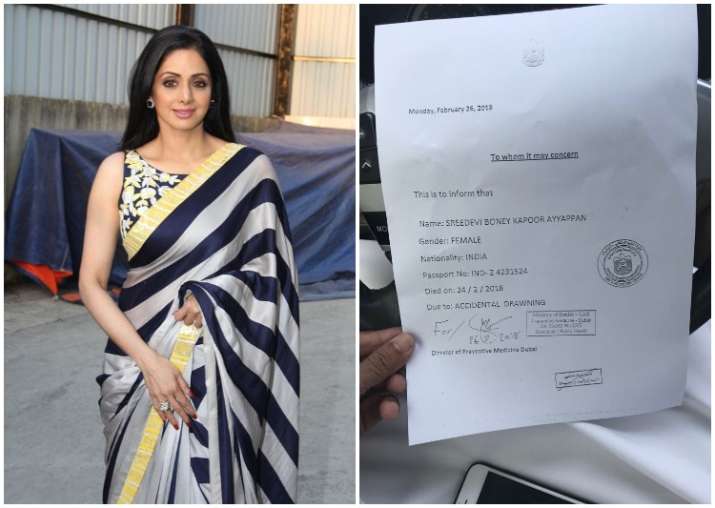 Bollywood's veteran actress Sridevi, 54, died suddenly on Saturday night, leaving Bollywood in deep shock and millions of fans heartbroken. Earlier, it was being reported that her cause of death was cardiac arrest but now, the forensic reports are out, and it says the actress accidentally drowned in the bathtub, Dubai-based Gulf News reported on Monday.
The actor with her husband and daughter were in Dubai to attend the wedding of her nephew and actor Mohit Marwah in Ras Al Khaimah.
An autopsy was carried out yesterday and the police have handed the report over to the family and the Indian consulate. The Gulf News said the actor fell into the bathtub of her room at the Jumeirah Emirates Towers, lost consciousness and drowned.
#FLASH Forensic report says, #Sridevi died from accidental drowning (Source: UAE's Gulf News) pic.twitter.com/eWXdw1p1ZL

— ANI (@ANI) February 26, 2018
UPDATE: Photos show #Sridevi's death certificate autopsy report citing 'accidental drowning'. #Dubai Police have now referred the case to the public prosecutor. https://t.co/qkHtgFDcjY pic.twitter.com/fHJNASegdt

— Al Arabiya English (@AlArabiya_Eng) February 26, 2018
The Khaleej Times also reported on Sridevi's death and quoted, #Sridevi drowned in her bathtub following a cardiac arrest, the postmortem report has confirmed. Traces of alcohol were found in her blood
#Sridevi drowned in her bathtub following a cardiac arrest, the postmortem report has confirmed. Traces of alcohol were found in her blood- KhaleejTimes

— Rubika Liyaquat (@RubikaLiyaquat) February 26, 2018
The news has left Twitterati shocked once again and Twitter is being flooded with tweets. Check out some of them:
How can autopsy say "Accidental" drowning? They can only say drowning. How can autopsy reveal if it was accidental? Strange report. Unless there is something we don't know as yet. She was unconscious in the bath tub. Why was she unconscious is the question? #Sridevi

— Sumanth Raman (@sumanthraman) February 26, 2018
Healthy adults, adolescents & children can drown in bathtubs. Common cause is slipping & hitting the head. Parents should teach their children a security formula before they left the bathtub. Hold your horses. Don't judge. #Sridevi

— Chitra Subramaniam (@chitraSD) February 26, 2018
Can one drown in a bathtub? #Sridevi

— Aman Sharma (@AmanKayamHai_ET) February 26, 2018
Autopsy report with "Drawning" is signed on behalf of Director of Preventive medicine???? Not Forensic Medicine but Preventive Medicine????? Is this certificate for real? #Sridevi

— Sumanth Raman (@sumanthraman) February 26, 2018
There is something fishy in SRIDEVI death.
1.)Why she extended her stay in Dubai ?
2.)Why Boney Kapoor traveled from Mumbai to Dubai to meet Sridevi when they were together in wedding?
3.)I think bathtub drowning is not accidental it can be intentional too?

Gulf News #Sridevi

— शैलज़ा राणा🇮🇳 (@IthinkAlotttt) February 26, 2018
Don't know how to react to this. #Sridevi accidentally drowned in the bathtub, which likely caused the cardiac arrest that killed her. Just a reminder that life is very, very fragile. Hug your loved ones today.

— Aditi Mathur Kumar (@adicrazy) February 26, 2018
Tonight all newsrooms will report from bathtubs to actually show what "Accidental drowning" is.. #Sridevi

— Nitin Chhonkar (@iamnitin_c7) February 26, 2018