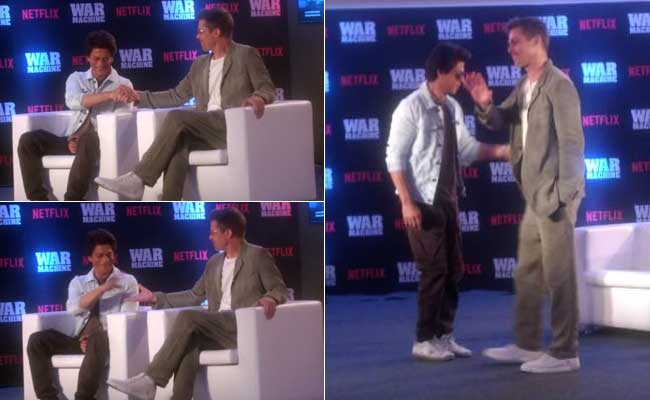 When Hollywood sensation Brad Pitt met Bollywood's Badshah Shah Rukh Khan, there was buzz everywhere. The celeb duo got together to promote Brad's upcoming film on Netflix titled War Machine on Wednesday in Mumbai. The superstars chatted like old buddies and discussed several topics-right from future of cinema to technology to careers.
Brad Pitt started the conversation on a light note, saying he would not make it in Bollywood because he can't dance. "I wouldn't make it in Bollywood, I can't dance," 
Also Read: Brad Pitt in Mumbai to promote Netflix Release War Machine, will also meet SRK
Brad Pitt told Shah Rukh Khan. "We can make anyone dance," SRK responded, adding by way of demonstrating how easy it is to get jiggy, "I just spread my arms and do nothing, that's a step." Pitt was curious about Indian films, and asked SRK, how long does it take to complete a Bollywood film. SRK said, "Depends on the film, 70 days, sometimes 40 days if there is no problem."
My best 2 David & Brad for the release of War Machine on @netflix Pleasure to meet u both & Brad the dance remains pic.twitter.com/mxq0GKrqoL

— Shah Rukh Khan (@iamsrk) May 24, 2017
He said while he was good with one hand, another person's hands had to be fitted in the film. But the discussion soon turned to serious topics. When asked about the secret behind their long-lasting careers, Pitt, 53, credited his attempt to try and stay relevant. 
srk brad pitt
"I try to reinvent (myself). I constantly look for something new and we (he and SRK) have been fortunate to survive our mistakes along the way. I think I just try to be relevant," Pitt said during a chat. 
Shah Rukh said he admired Pitt's movies but a personal favourite was "12 Monkeys". "I find you amazing in that. You are fantastic. That's when I became a fan of Brad as an actor. There are lots of them (movies)... 'Benjamin Button'," SRK said.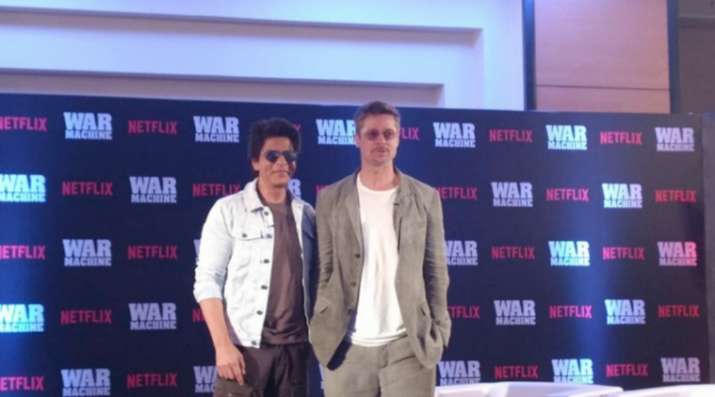 Brad Pitt and Shah Rukh Khan
Pitt said he locked himself in a room just to see "how crazy you can get" while working on "12 Monkeys". The discussion then turned to Pitt's cult hit "Fight Club", which was directed by David Fincher. "That was fun... anytime there is something irreverent and a great piece of writing... David Fincher directed it and Edward Norton... Now we just laugh." 
In "War Machine", out on Netflix on May 26, Pitt plays a US General, Glenn McMahon, posted in Afghanistan. Directed by Michod of "Animal Kingdom" fame, the film is inspired by the book "The Operators: The Wild & Terrifying Inside Story of America's War in Afghanistan" by late journalist Michael Hastings. 
An investment in the range of USD 60 million also makes it Netflix's biggest-budget feature to date. Pitt's character is loosely based on General Stanley A McChrystal, a retired United States Army general best known for his command of Joint Special Operations Command (JSOC). 
The actor said Hastings was frustrated that his story became more about the "sensational dismissal" of the General rather than being a discussion on the system. 
Pitt said he wanted to carry on the footsteps of great war movies like "Dr Strangelove", "MASH" and "Catch-22" which were an "absurd view on the absurdities of war". Writer-director Michod, who joined the two actors on the stage, said he changed the character's name because he did not want it to appear like a biopic on McChrystal. 
For Michod, it was also an interesting opportunity to put Pitt in a comedy role. "It was a funny character for Brad to play. He is an incredibly gifted comedic actor." Pitt, who landed in India after the Tokyo premiere of the film, is putting his star power to use to promote the movie. 
(With PTI Inputs)