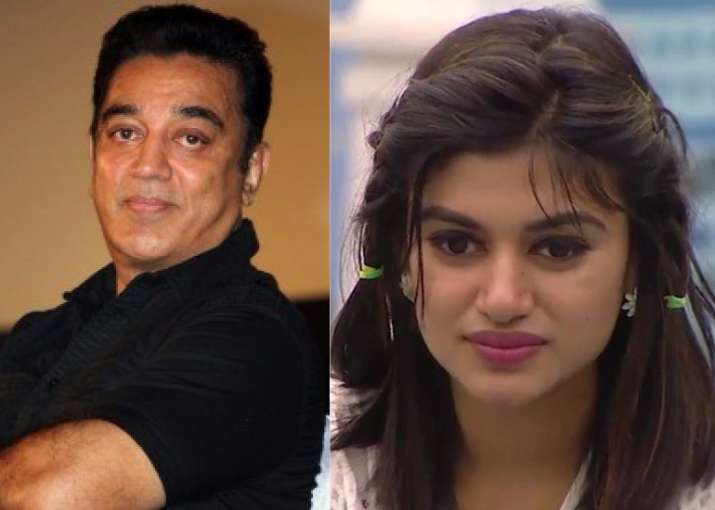 The latest episode of Bigg Boss Tamil came as a shock to all viewers ad everybody's favourite contestant Oviya Helen decided to walk out of the house citing mental health problems. There were many reasons the last few episodes became came to news. Host of the reality show Kamal Haasan threated makers to leave Bigg Boss Tamil after they introduced socially irresponsible task. One of the episodes of the show received flack on social media, where contestants were asked to behave like mentally challenged people.
Kamal criticised the episode and gave threatening to the makers. Oviya, on the other hand, expressed her love for her co-contestant Aarav before leaving stating that it was impossible for her to stay away from him. The lady, who was fighting mental issues even consulted to psychiatrists thrice in the week. But, seems that things didn't work for him and she came out.
After her exit, she chit chatted with show host Kamal Hassan, who told her about the love that people have showered on her. Oviya was emotional and stated that when she entered the house, she had no idea that people will love her so much adding that she will involve in some welfare activities to return the love. When Kamal asked her to if she would like to say something. Oviya just said, "I love you so much, Aarav."
The lady has been vocal about her love for the handsome hunk but for the last few weeks, the latter was giving her cold shoulder that was disturbing the actress. After she left the house, Snehan, who had a great equation with Oviya was in tears. With each passing day, the show is becoming more dramatic.
Oviya was nominated many times but every time she came out of it with flying colours. Now, darling of the south and one of the toughest participant is out, it is yet to be seen which housemate will win the trophy.
Also read:Bigg Boss Tamil: Oviya quits the show, leaving her fans in tears! Here's how heartbroken Twitterati responded
For more entertainment updates, follow our Facebook page