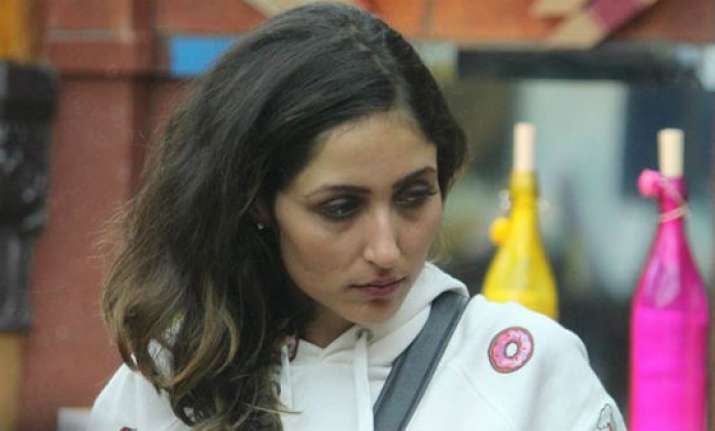 The pilot episode of Bigg Boss season 10 made the heads turn after one of the contestants Akanksha Sharma revealed that she has a connection with Yuvraj Singh's family. The lady turned out to be Singh's ex-sister-in-law, who is currently fighting her divorce case.
Soon her broken marriage became a hot topic of discussion and Akanksha blamed her mother-in-law Shabnam Singh for her divorce.
Now that Sharma has been evicted from BB10, she has come out in open to talk about her marriage to Yuvraj's brother Zorawar and has even made several appalling allegations against her in-laws.
While talking to a leading daily, Akanksha stated that though it was an arranged marriage it felt like she was married to two people – Zorawar and his mother as she would accompany her everywhere, even to honeymoon.
She further alleged that her mother-in-law wanted her get physical with Zorawar soon after their wedding.
"Just because you are married, you don't have to have sex immediately. You have to build a comfort level first. But, I was forced into it. She kept saying that if I want financial freedom, I will have to have sex", Akanksha was quoted saying.  
Akanksha also said that despite having four servants her mother-in-law expected her to work in the kitchen throughout the day.
The ex BB contestant also mentioned that her hubby Zorawar was a mother's puppet. Akanksha asserted that she was not allowed to go out alone and if she went out with Zorawar, his mother will either drop them or send her PA with them.  
"She'd even go through my cupboard and had the servants spy on me", she added.
Akanksha also revealed that Shabnam even slapped her once and was mentally tortured everyday during her stay in the house.
She also spoke about the allegations of substance abuse made by her in-laws saying that she did smoke pot with Zorawar and his cousin. She also mentioned she used to drink but knew her limits well. Sharma also emphasised on the fact that it only with her husband.
"Zorawar would often say 'let's drink' and I'd agree", Akanksha said.
While Yuvraj's family is yet to comment on these new allegations by Akanksha, his mother Shabnam Singh had earlier called her accusations a mere publicity gimmick.
She even stated that while she too has her side of the story to narrate, she doesn't want to be embroiled in mud-clinging.
We wonder what the Singh family has to say in their defence now.