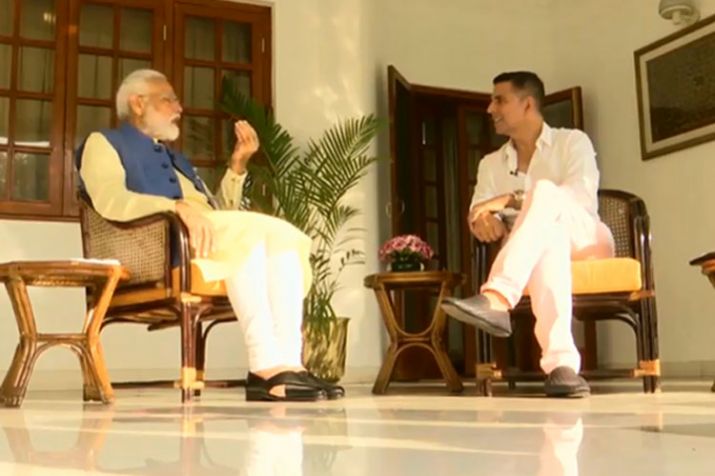 Prime Minister Narendra Modi and Bollywood star Akshay Kumar's interaction is surely an intriguing chat to watch over and over again. The discussion between the two begins with Akshay Kumar saying he wants to know PM Modi as a person.
While interviewer Akshay Kumar asked questions related to PM Narendra Modi's family attachment, retirement plans, the number of sleeping hours, his fashion choices, it certainly made the following conversation emotional, sensitive, and hilarious. Keep reading!
How to Control Anger: PM Narendra Modi gives tips on how to control your anger in a healthy manner. Take a piece of paper and write out all your feelings on it. Read Detailed Story Here
Sense of Humour: For every person, it is important to live your life in joy. Modi says: "My image as a strict administrator is incorrect. My humour is still intact after becoming Prime Minister."
Family Attachment: With great designation comes greater responsibilities. Asking about the family attachment, Modi says that since he left his home at a very young age, there is any emotional string attached.
Retirement Plan: When Bollywood actor Akshay Kumar asks Modi about his retirement plan, he says: "Neither there is any retirement plan nor I think about it."
Sleeping Hours: "I only sleep for 3 hours and 30 minutes. I'm workaholic and sleep for less time unintentionally and this could be my retirement plan to think about increasing my sleeping hours."
Modi's Wish-list: While each individual wants to make 3 wishes to Aladdin, do you want to know what PM Narendra Modi thinks about it? Modi says: "Aladdin's genie is a piece of fiction. What pays you back is only your hard work." Well, that's a load of motivation, isn't it? Read Detailed Story Here
Common Cold Treatment: Modi suggests to drink lots of warm water to treat the common cold. PM Modi does fasting to get rid of cold rather than seeing a doctor.
Fashion Statement: "My half-sleeves kurta is not a fashion statement. I wear it because it takes less space in my luggage."
Social Media Presence: PM Modi is all sarcastic when he says that he follows Akshay Kumar and his wife on Twitter where Twinkle Khanna expresses her annoyance with current PM. Modi believes social media helps him to stay connected with the world. Read what Twinkle Khanna tweeted in response
PM's Take On Memes: "I don't take memes personally. I appreciate the creativity a lot. Common man expresses brilliantly through these memes", says Modi. Though he admits that some people do it to harm people but one shouldn't react. 
WATCH Narendra Modi in Aap Ki Adalat Full Episode Below:
For all the latest Bollywood updates, check out our Facebook page!