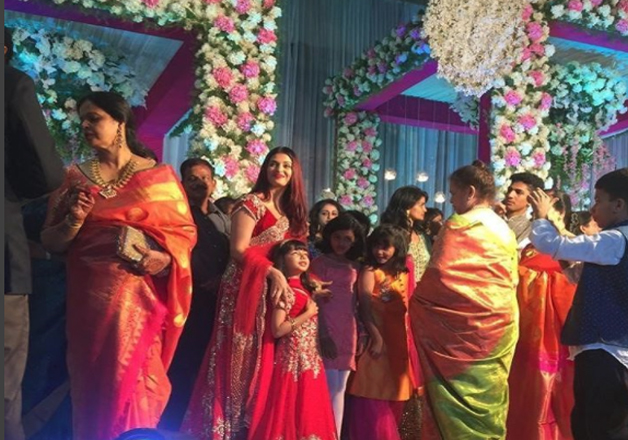 Aishwarya as usual was looking drop dead gorgeous in her red embroidered traditional outfits. Interestingly, Aaradhya who was donning a matching red lehenga accompanied her mother Aishwarya at the event. 
Aishwarya along with her mother Vrinda Rai graced the wedding ceremony of her cousin Prajwal, who is son of her uncle Uday Kumar Shetty.
The wedding ceremony of Aishwarya's cousin was organised at TMA Pai convention hall in Mangalore. Aishwarya and Aardhaya were glittering in their red and golden matching attires.
Interestingly, Aishwarya was also spotted talking in her mother tongue Tulu at the event. While Aaradhya was seen enjoying her best at the event.
Recently, Aishwarya and her family organised a grand event for the sixth birthday celebration of Aaradhya. Among the guest lists were Shah Rukh Khan, his son AbRam, Aamir Khan and his son Azad Rao Khan. Amitabh Bachchan also shared the birthday pics on his social media account.