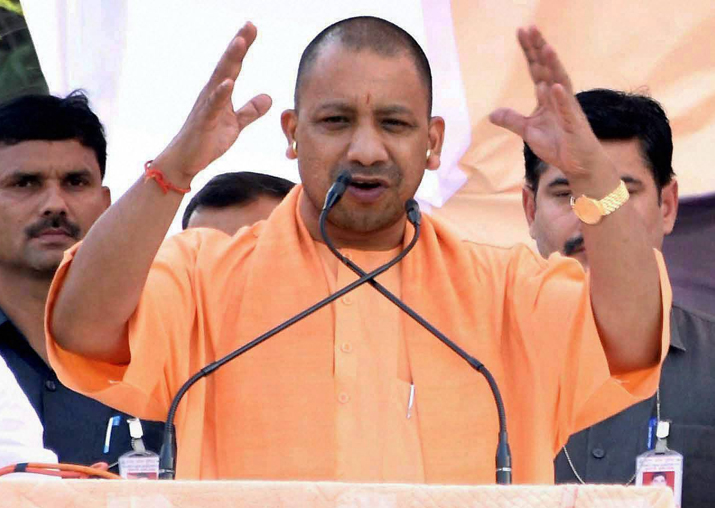 Uttar Pradesh Chief Minister Yogi Adityanath held the BSP and SP responsible for the "sorry state of affairs" prevailing in the state for the last 15 years, saying the programmes initiated by Prime Minister Narendra Modi were helping improve the living conditions. 
Adityanath, who has actively campaigned for the ongoing civic body polls, on Saturday said he was doing so in order to strengthen the local bodies and ensure the development of cities and towns. 
"I am actively taking part in the civic body elections so that they can be strengthened and basic amenities are provided to all. The previous governments have weakened the local bodies because of which the towns have not developed," the CM said in one of the election meetings. 
However, he said, the situation is improving after the BJP came to power -- both in the Center as well as the state. 
"The BSP and SP had made the conditions in the state in the past 15 years dismal..but now with the programmes initiated by Prime Minister Narendra Modi, such as 'swachhta mission', the cleaning of drains, waste disposal and others have been taken up on a war-footing helping people to get better living conditions," the CM said during at an election meeting at the GIC ground in Barabanki. 
Citing the various initiatives of his government, CM Yogi Adityanath said he plans to work for improving the living standard throughout the state. 
"The municipal and town areas will glitter as Ayodhya glittered on the occasion of Diwali this year," he said. 
The Chief Minister said that eight metro cities in the state will get metro service and a drive against land mafias will be launched in December. 
Adityanath said he inherited a dismal law and order situation as the previous government "believed in instigating riots". 
The BJP has adopted a more stringent approach towards criminals, he said. 
"Because of the strict measures adopted against the criminal and anti-social elements, no riots took place and no Kairana-like migration of traders occurred during the eight months of BJP government in the state," Adityanath said. 
"This is the reason that traders are coming back to the state for doing business," he said, adding that those who do not follow the law can leave the state and go out. 
Speaking at an election meeting in Lakhimpur Kheri, the CM said his government intended to ensure power supply in all 75 districts of the state at par. 
Expressing his commitment for Kheri development, he said "a flood control project for Kheri would be rolled out after December and a budget of Rs 500 crore had been released." 
"The police department would provide jobs to 50,000 youths next month while four lakh vacancies in various departments of the state would give employment to youths," he added.