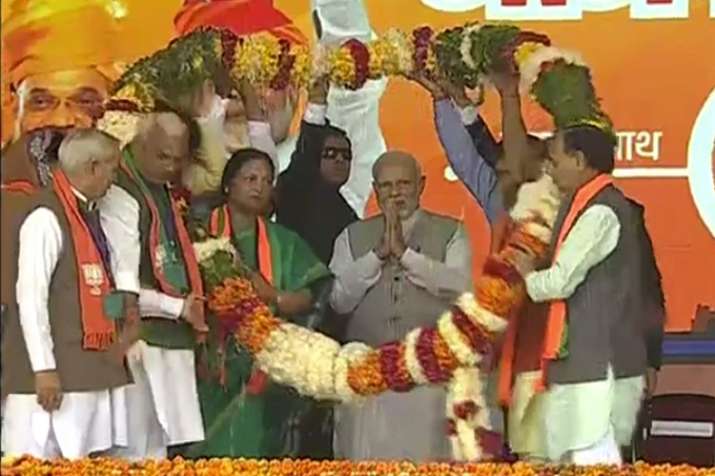 Prime Minister Narendra Modi, who is on a campaign trail in the poll-bound state of Rajasthan launched blistering attacks on Congress over various fronts-including corruption, caste politics, dynasty politics and surgical strikes.
PM Modi who addressed two rallies in Nagaur and Bhartpur came down heavily on Rahul Gandhi-led Congress party.
Addressing poll rally in Nagaur earlier in the day, PM Modi took a jibe at the 'naamdaar' Congress party and said that he was a commoner and was not born with a golden spoon.
"Our only mantra is 'sabka saath, sabka vikas', inspired by social reformist Jyotiba Phule and B R Ambedkar," the prime minister said.
During his poll rally in Bharatpur later in the day, PM Modi launched sharp attack against Rahul Gandhi whom he often refers to as 'naamdaar'.
"Raag darbari of the naamdar say Naxals and Maoists are revolutionaries," he told the gathering. 
Referring to Congress leader Sandeep Dikshit's remark on Army Chief Bipin Rawat, PM Modi said that close aides of the "naamdar" refer to the Army chief as street thugs. Sandeep Dikshit had triggered a major row after he likened Army Chief General Bipin Rawat to a "goon on the street", prompting the BJP to demand his expulsion.
The Congress distanced itself from the remarks. Dikshit withdrew his remarks and apologised.
"We implemented one rank, one pension in the Army. The Congress never worked on that," Modi said, adding that the party insults martyrs.
Continuing his attack against the opposition party, he said the "game of scams" had stopped in the four years that his government was in power.
"Your dreams are my dreams," he told the gathering. 
The prime minister also extolled his government's record on terrorism, saying terrorists were confined to Kashmir after 2014.
"Don't underestimate the value of your one vote. It secured the country, reduced terrorist attacks and brought fame across the world," he told the crowd. 
Rajasthan will be voting for its 200-member assembly on December 7 and counting will take place on December 11. 
WATCH: PM MODI ADDRESSES POLL RALLY IN NAGAUR
WATCH: PM MODI ADDRESSES POLL RALLY IN BHARATPUR