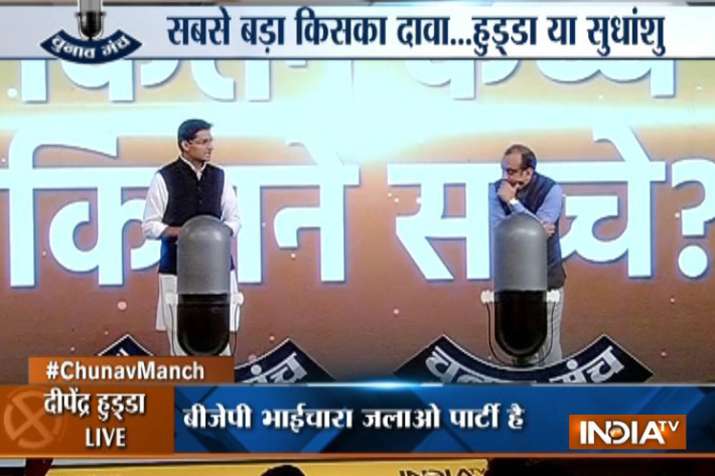 India TV Chunav Manch Rajasthan elections special show witnessed intense debate between Bharatiya Janata Party's Sudhanshu Trivedi and Congress leader Deepender Hooda on Wednesday. 
Assembly Elections 2018: Full Coverage
Raising questions over the leadership skills of Rahul Gandhi, Sudhanshu Trivedi said even his own party workers don't take the Congress president seriously. 
"A former Pakistan minister tweeted suggesting Rahul Gandhi's name as next PM, this shows who takes the Congress president seriously. Even Congress workers don't take Rahul Gandhi seriously," Trivedi said.
Responding to Trivedi's remark, Hooda hit back saying PM Modi and Amit Shah never forget to mention Rahul Gandhi in their speeches, this shows that they are rattled by the Congress chief.​
UPA rule witnessed 54 bomb blasts, now terrorists are being killed daily in J-K: Prakash Javadekar 
"Rahul Gandhi is actually taken seriously by PM Modi, Amit Shah and the BJP. They speak about Rahul ji in rallies for at least 9 out of 10 minutes," Hooda said.
Calling the BJP  'Bhaichara Jalao Party', Hooda went on to add that the Modi government has nothing to showcase in five years of its rule and thus trying to hide its failures by pointing fingers at the Opposition.
Chunav Manch: 'BJP bhagao, desh bachao' is sentiment of people of Rajasthan, says Sachin Pilot 
The Congress leader said that the BJP rakes up Ayodhya issue only during elections for vote bank politics. "Even Lord Ram must be upset with BJP thinking the party remembers him only during elections and then sends him to 'vanvaas' for five years," he said. 
"The issue of Ram mandir is concerned with sentiments of people, it should not be looked with a political prism," Trivedi responded.