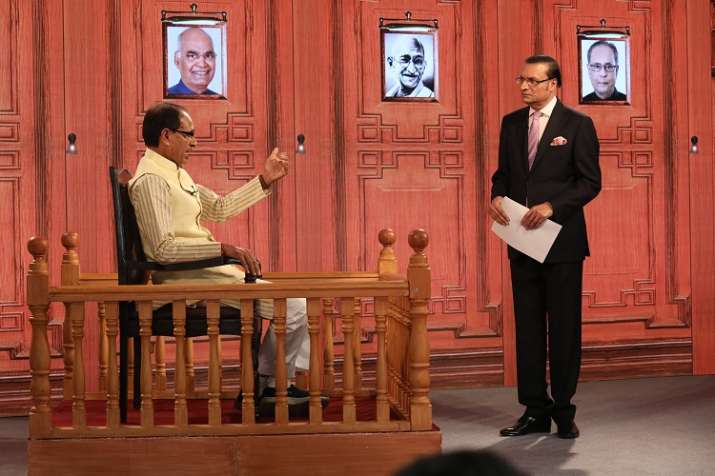 Madhya Pradesh Chief Minister Shivraj Singh Chouhan on Saturday clearly said that his party will get a comfortable majority in the assembly elections due next month, and begin its fourth consecutive term. 
Replying to questions from Rajat Sharma in the show Aap Ki Adalat, held in Bhopal this evening, Chouhan said: "The BJP will not only win Assembly elections but it will get an overwhelming majority. I hope you'll invite me in Aap Ki Adalat when BJP forms government for the fourth time in Madhya Pradesh,"
Chouhan also said that he had no desire to become the Prime Minister. "I don't intend to go anywhere. I have been working for the people of my state for 13 years and want to continue doing that. I don't want to be the Prime Minister. Only Narendra Modi Ji fits that chair," Chouhan said.
Reacting to Congress president Rahul Gandhi describing him as "ghoshna machine" (announcement machine), Chouhan said, "Rahul Gandhi is himself a fun machine. He came to Madhya Pradesh and said that if Congress comes to power 'Made in Chitrakoot' products will be manufactured. I want to tell him, he could not get 'Made in Amethi' products manufactured all these years. The people of this state cannot be fooled so easily."
Also Read: Shivraj undisputed leader, I have been his troubleshooter, says Kailash Vijayvargiya
Chouhan claimed that there has been much improvement in the standard of living of people in Madhya Pradesh. "Per capita income has increased, agricultural output has more than doubled, the state was earlier called 'Bimaru' (sick) state, now its has developed enormously."
Full Coverage: India TV Chunav Manch - Madhya Pradesh
Asked by Rajat Sharma whether he was not feeling weary after ruling the state for 13 years, the chief minister replied. "Yagya adhuraa hai (my work is still unfinished). I want to eradicate poverty from the state."
WATCH: Many people unable to tolerate a farmer's son as CM for 13 years: Shivraj Chouhan
The chief minister alleged that the violent incidents during farmers' agitation were the result of "machinations" of those who were not farmers. They were political elements, he added.
On opposition's allegations that he had cheated the people of the state, Chouhan replied: "No leader can deceive the people for 13 long years. Had I been cheating the people, I would not have been able to go among the people and mix with them. During my Jan Ashirvad Yatra, people used to wait for me till 3.45 am after midnight. This could not have happened if the my people do not love me."
Chouhan said, the Jan Ashirvad Yatra has been called off because electoral model code of conduct which restricted campaigning after 10 pm. "Moreover we have to select candidates, prepare the manifesto. I will be going again among the people, but not in the form of yatra, but will address public meetings."
Watch repeat telecasts of Rajat Sharma's Aap Ki Adalat show on Sunday at 10 am and 10 pm.
WATCH: Rahul Gandhi hugging PM Modi in Parliament was mere drama, says Shivraj Chouhan