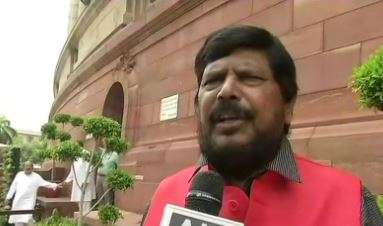 Lok Sabha elections 2019: Union minister Ramdas Athawale expressed the hope Wednesday that the BJP and the Shiv Sena would contest the 2019 Lok Sabha polls together and claimed that the National Democratic Alliance (NDA) would win more than 300 seats in the general election.
The Republican Party of India (RPI) chief, who is in talks with the Bharatiya Janata Party (BJP) over fighting the upcoming Telangana Assembly polls and next year's Lok Sabha election, also expressed willingness to contest the parliamentary polls from the Mumbai South Central seat.
The RPI had submitted to the BJP a list of 40 seats it wished to contest in the December 7 Telangana Assembly election, Athawale said. Claiming that the Dalit-Muslim "alliance" in Maharashtra will benefit the BJP and RPI, he said not all Dalit and Muslim voters supported Prakash Ambedkar and Asaduddin Owaisi, whose outfits had joined hands.
Athawale claimed that the Shiv Sena would suffer "massive" defeats if it chose to go alone in the Lok Sabha and Maharashtra Assembly polls.
"Irrespective of their fights and the Sena attacking the BJP, they will contest the elections together in Maharasthra. They can devise a formula to share the post of chief minister for half a term each," he told reporters.
The Union minister said his party was in talks with the BJP for contesting the Lok Sabha polls from Mumbai South Central, Satara and some other seats in Maharashtra.
"If the Shiv Sena remains in the NDA, they can leave the Mumbai South Central seat that I have decided to contest. If, however, they severe the ties with us, the RPI will stake claims over three-four seats in Maharashtra," he said.
The BJP should also consider allowing the RPI to contest from Uttar Pradesh, Athawale said, adding that his party could help tackle the Bahujan Samaj Party (BSP), which had an influence among the Dalit voters of the state.
However, the RPI was planning to independently contest on some seats in the upcoming Assembly elections in Madhya Pradesh, Rajasthan and Chhattisgarh and support the BJP on the remaining seats, he said.
Athawale voiced support to the Centre's move to send two top Central Bureau of Investigation (CBI) officials, including its director, on leave following a spat between them.
"Had they not fought (with each other), they would not have been removed. (Congress chief) Rahul Gandhi's allegation that their removal was linked to the Rafale deal is baseless," he said.
The Union minister said both Hindus and Muslims should honour the Supreme Court verdict on the Babri Masjid-Ram Janmabhoomi dispute, adding that the two sides should arrive at a "compromise formula" and allow the construction of a Ram temple and a mosque on the disputed land.
Voicing support to the demand for carving out a separate Vidarbha state from Maharashtra, Athawale said he would raise the issue at the next meeting of the NDA before the Winter Session of Parliament.