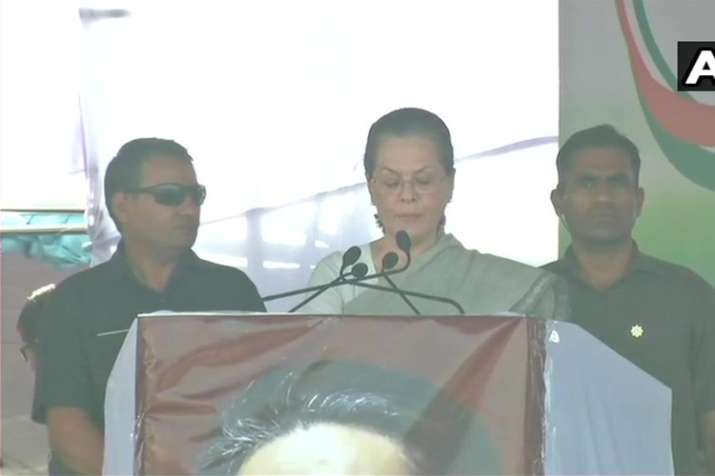 Addressing her first election rally in two years, UPA chairperson Sonia Gandhi on Tuesday launched an offensive against Prime Minister Narendra Modi saying that he is a "very good orator", but lectures cannot fill empty stomachs.  
"Modi is a good orator and speaks like an actor but that would not feed people," said Sonia while addressing a public rally in poll-bound Karnataka's Bijapur. 
The UPA chairperson also accused the Modi government of discriminating against Congress-ruled Karnataka, and questioned his slogan of 'sabka saath, sabka vikas'.
Launching a counteroffensive against the prime minister, who has relentlessly targeted the Siddaramaiah government over corruption, she wanted to know what happened to the institution of Lok Pal, the anti-graft watchdog that was proposed to be set up. 
"The Modi government is discriminating against our government in Karnataka. Is this your 'sabka saath, sabka vikas' (together with all, development for all)?" she said.
The much-awaited Lokpal Bill got the presidential assent in January 2014, providing for creation of an anti-graft watchdog which will bring under its purview even the prime minister with certain safeguards. However, the institution is yet to be set up.
Sonia also accused PM Modi of failing in his promise to bring "achhe din" to the people and disfavouring Karnataka. 
"CM Siddaramaiah reached out to PM Modi to ask for help for Karnataka's farmers. But PM Modi refused to even meet him, and thus, insulted the people of Karnataka," she said. 
Sonia Gandhi further said that the "nation is shocked at the prime minister's wrongful statements", accusing him of "using the legacy of freedom fighters for political gains". 
Gandhi did not campaign in any of the state elections after she fell ill during a roadshow in Varanasi on August 2, 2016. She had skipped campaigning in Punjab, Goa, Uttarakhand, Manipur, Gujarat, Himachal Pradesh, Tripura, Meghalaya and Nagaland assembly elections.