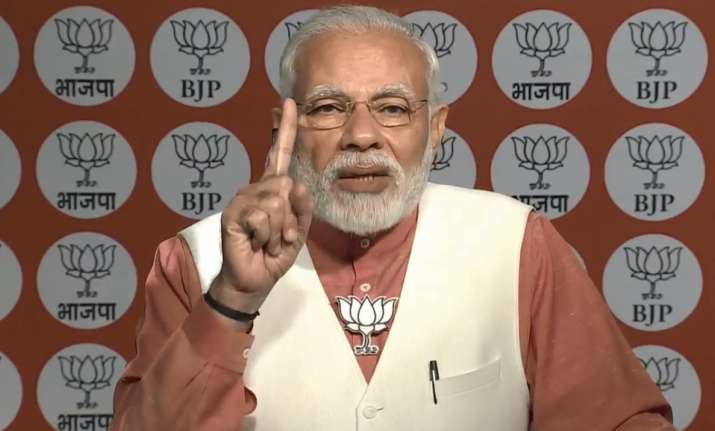 In the last leg of Karnataka Assembly Elections 2018 today, Prime Minister Narendra Modi worked to motivate the party workers by engaging them in live interaction through Narendra Modi app. 
The prime minister today held an in-app discussion with BJP Karnataka SC/ST, OBC, Minority and Slum Morcha. 
During the interaction, PM Modi encouraged the party workers to encourage voters to practice their right on May 12 in maximum numbers. 
Here are the Highlights: 
Watch PM Modi's live interaction with BJP workers in Karnataka here: 
09:45 am: Congress wants the votes of OBC community but they did not allow OBC Commission to get Constitutional Status: PM
09:43 am: Congress did not let Parliament run to block OBC Commission: PM
09:40 am: Stand up and Mudra Yojanas are helping to make SC/ST/OBC and women financially empowered: PM
09:23 am: Taking inspiration from all the great saints, today we are trying to fulfill Baba Saheb's dream of powerful and prosperous nation: PM Modi 
09:20 am: Our govt has made SC/ST (Prevention of Atrocities) Act more stringent in increasing the offences listed in the Act from 22 to 47: PM Modi
09:15 am: Congress never respected Baba Saheb Ambedkar. Until the Congress party was in power, Baba Saheb was not given Bharat Ratna: PM
09:13 am: We need to work tirelessly for the welfare of deprived and women: PM Modi
09:10 am: I appeal you to visit homes of SC/ST, OBC and minorities and assure them that BJP will work for their welfare: PM
09:02 am: BJP has the most number of MPs in parliament that belong to SC/ST, OBC and minority: PM Modi
09:01 am: I appreciate the work you do for the party. Morchas play a vital role in bringing a new generation in our fold: PM to SC/ST/OBC and Slum Morcha Karyakartas