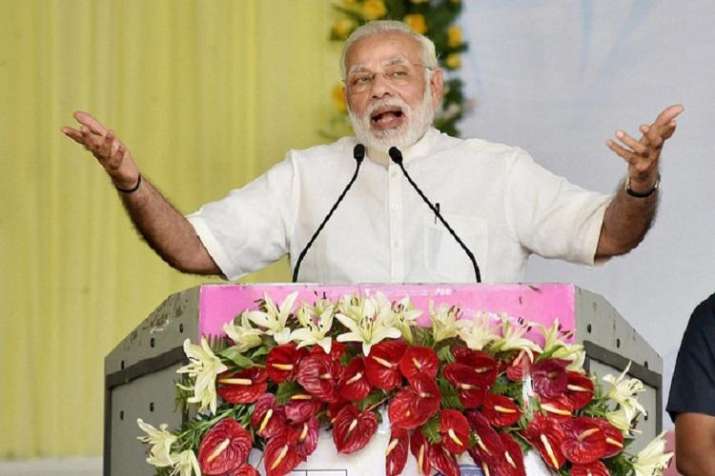 With the Bharatiya Janata Party (BJP) in no mood to leave any stone unturned in in its bid to retain power in Karnataka, Prime Minister Narendra Modi will launch a campaign trail with at least 15 rallies in eight days in the poll-bound state starting May 1. 
Visiting the state for the first time after election dates were announced, PM Modi will start his campaign Chamarajanagar district where he will address a public rally in Santhemaranahalli at 11.30 am on Tuesday.
His next stop will be Udupi where he will visit Krishna Mutt and take blessings of the Pejawar seer before addressing a public rally at AGM College Ground at 3 pm. Later in the day, he will address another public gathering in Chikkodi. 
The prime minister will hold two more rallies on May 3 in Chamarajanagar and Udupi.
The party has reportedly scheduled three rallies each day in three districts. The dates fixed by the BJP are May 1, 3, 5, 7 ,8 and 9.
While PM Modi is expected to address around 15 rallies, party president Amit Shah will address 30 and UP CM Yogi Adityanath 20 rallies, according to reports.
Amit shah and Adityanath have already been on a campaign trail in BJP strongholds before nominations were filed, and are expected to remain there till the end of campaigning. 
The saffron party is making an all-out bid to oust the Congress government from the state.
According to the state Chief Electoral Office, 2,655 candidates are fray for the May 12 Assembly polls, which is expected to set the mood for the 2019 Lok Sabha elections. 
Polling will be held in a single phase for all the 224-Assembly constituencies in the state, including 36 reserved for the Scheduled Castes (SCs) and 15 for Scheduled Tribes (STs). Counting of votes will take place on May 15.