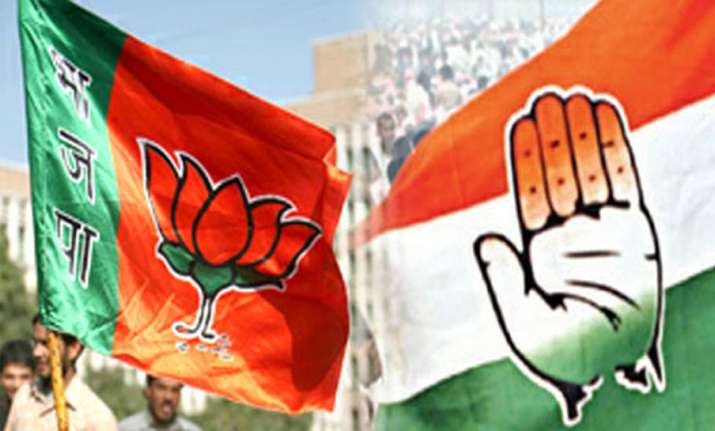 The Bharatiya Janata Party (BJP) and the Congress have named most of its candidates for the upcoming assembly elections in Karnataka as the presigious poll battle is just a few days from now. 
The polling to elect a new Karnataka Assembly will be held on May 12 while the counting of votes will take place on May 15. 
The poll battle becomes equally crucial for both the parties as Karnataka is the only major state where the Congress is in power at present and retaining it is important for the party's morale ahead of the 2019 Lok Sabha polls. At the same time, the Bharatiya Janata Party (BJP) is making a concerted bid to unseat the Congress. 
While BJP has announced a total of 213 names, the Congress has let out candidature of 218 contenders.
Chief Minister Siddaramaiah will contest from two seats-- Badami and Chamundeshwari.
The Congress list includes 15 women candidates and the names of the seven former JD-S and two ex-BJP legislators who joined the party earlier this year. 
The chief minister's son, Yatheendra, was fielded by the Congress from the Varuna Assembly constituency (Mysore), while Home Minister Ramalinga Reddy will contest the polls from BTM Layout and his daughter Soumya R from the Jayanagara Assembly constituency (Bengaluru). 
BJP's BS Yeddyurappa will contest from Shikaripura assembly constituency, while veteran state leaders Jagadish Shettar and KS Eswarappa will contest from Hubli Dharwad Central and Shimoga Assembly seats, respectively.
The BJP has fielded Karunakar Reddy, one of the Reddy brothers - tainted mining barons- from Harapanahalli for the Karnataka assembly elections. 
The party also fielded another of three Reddy brothers, Somashekhara Reddy, from Ballari. Reddy brothers have been accused in the past of illegal mining. 
Karnataka assembly elections: Here are the lists of candidates announced by BJP, Congress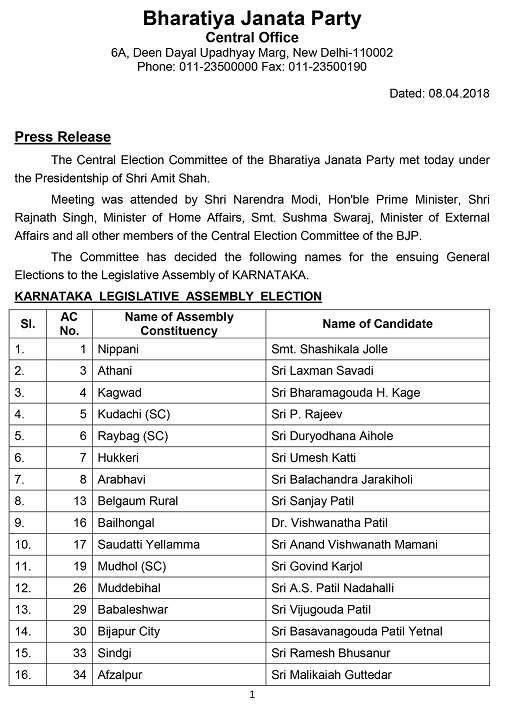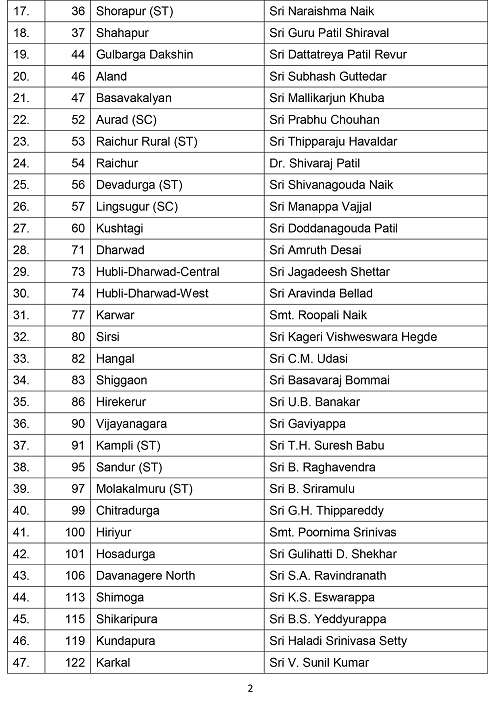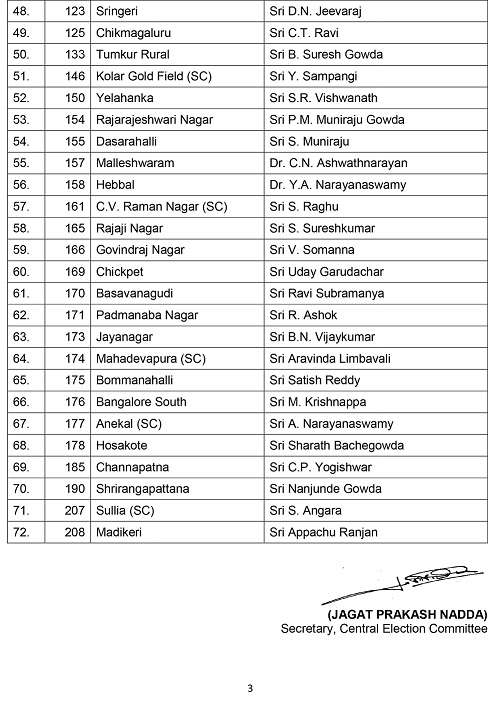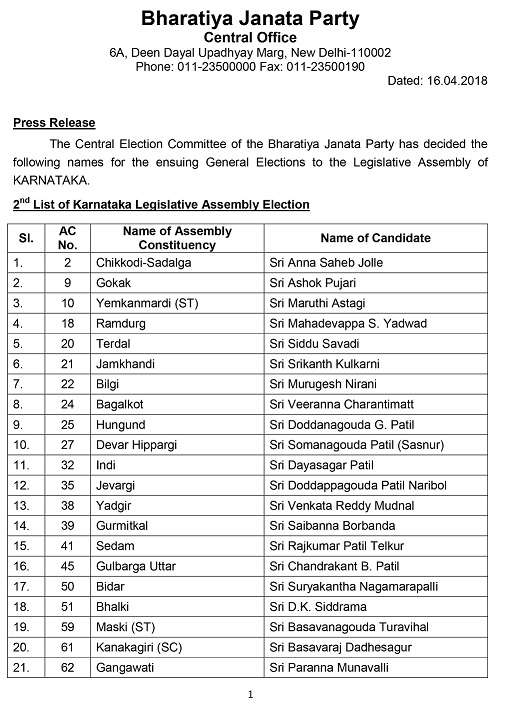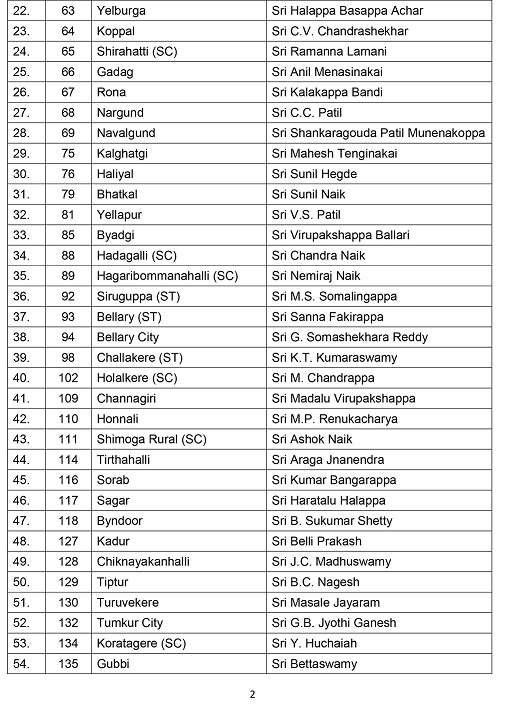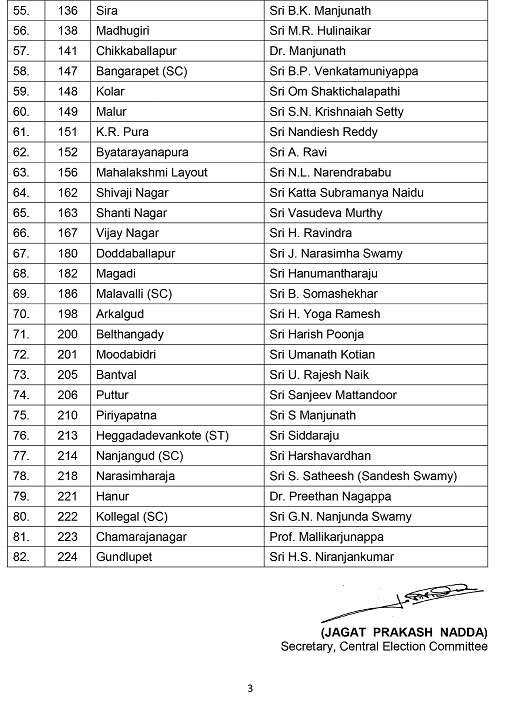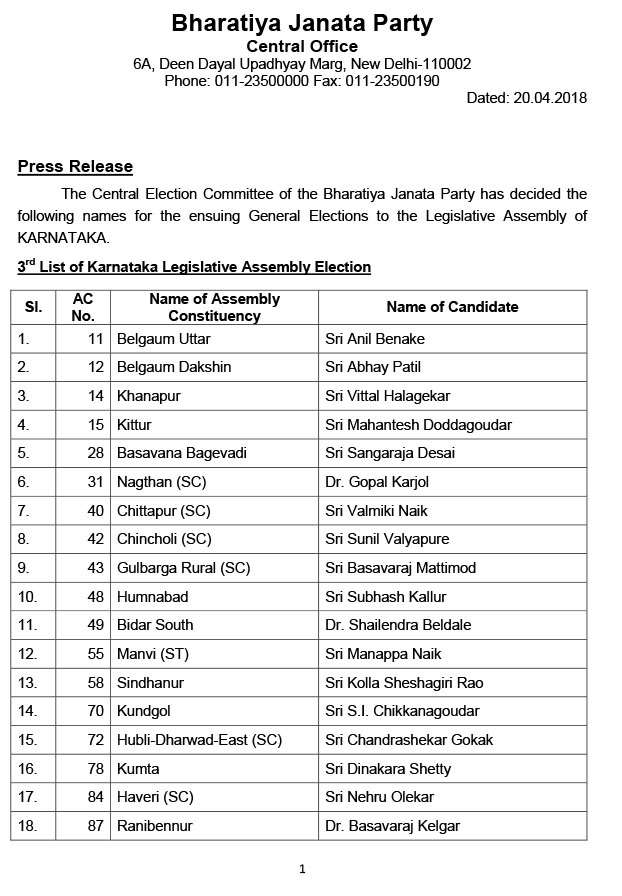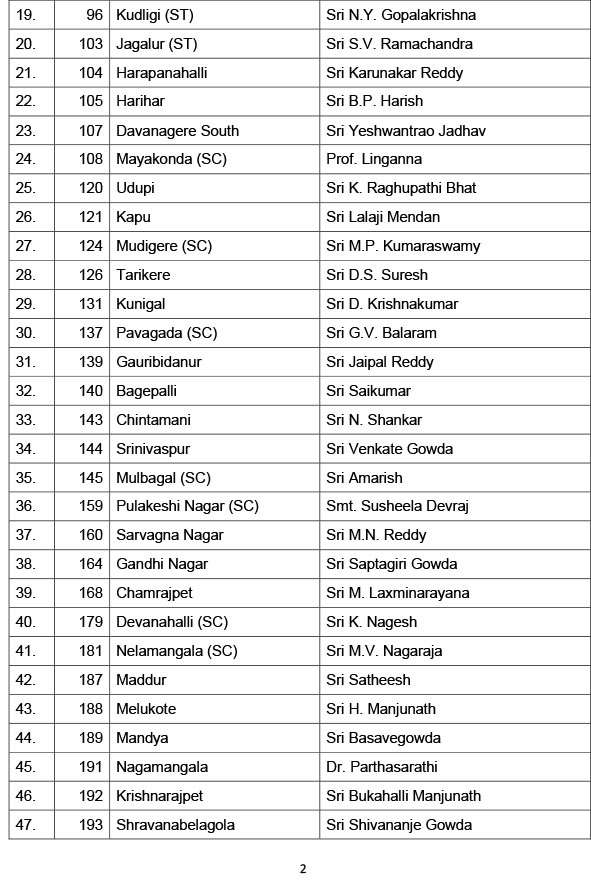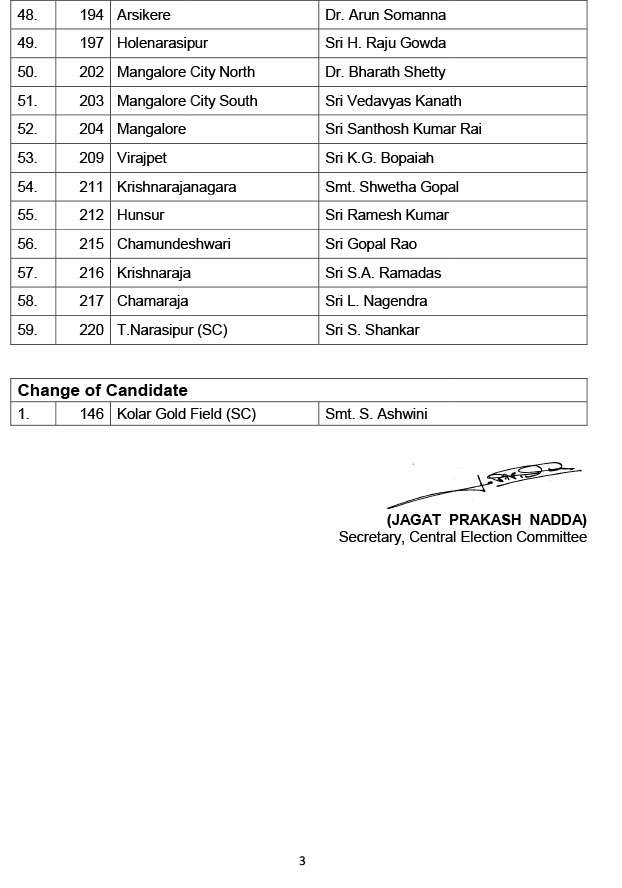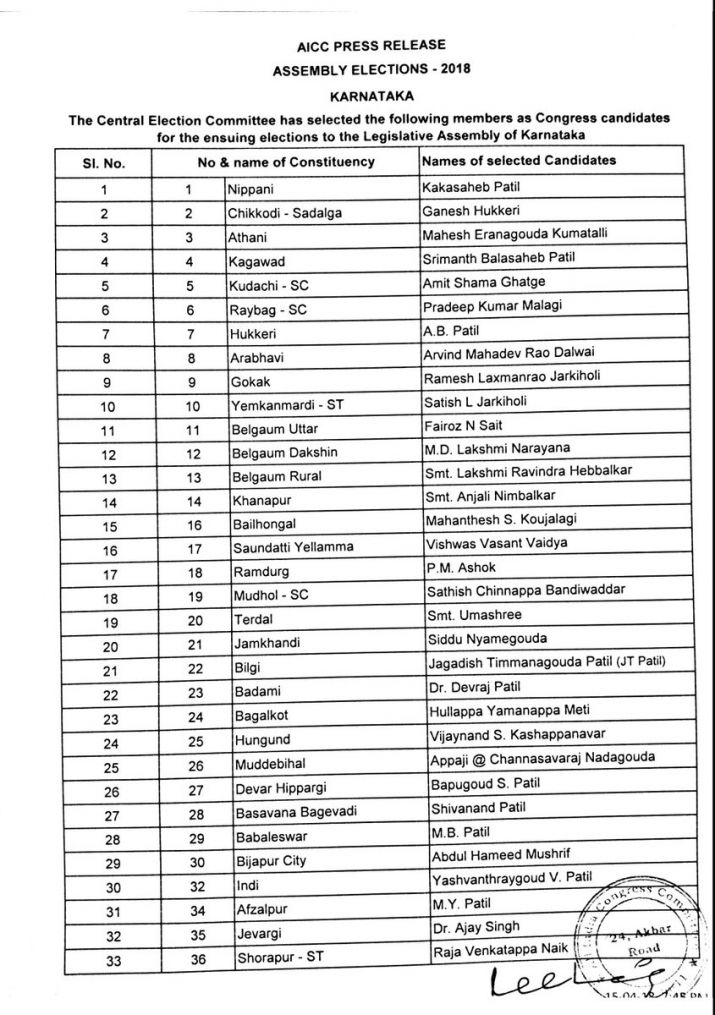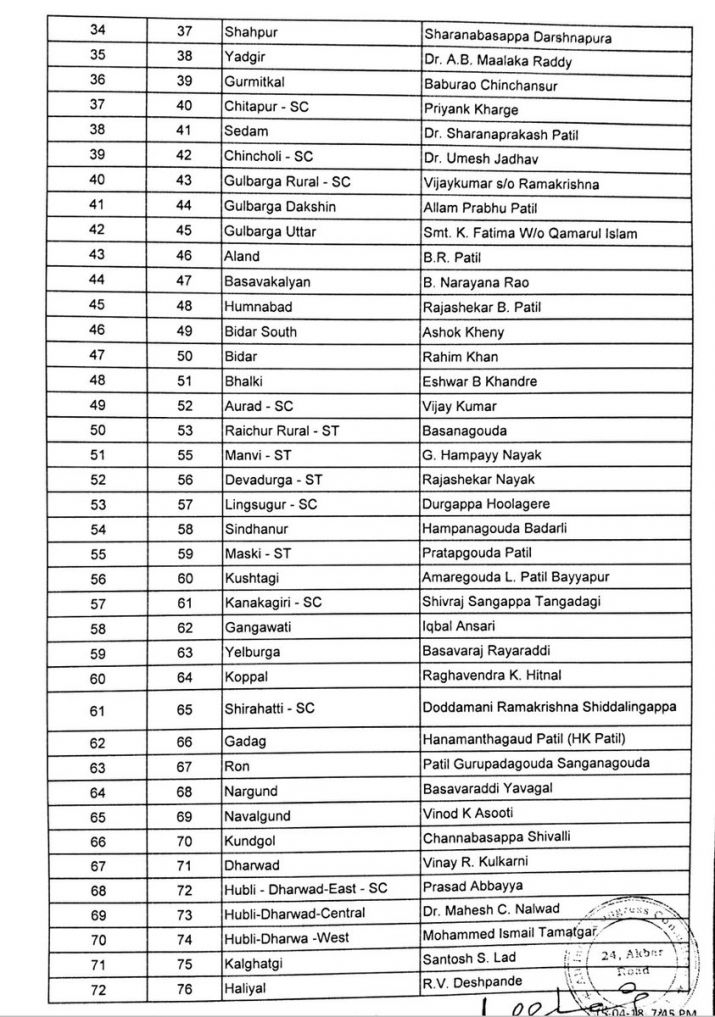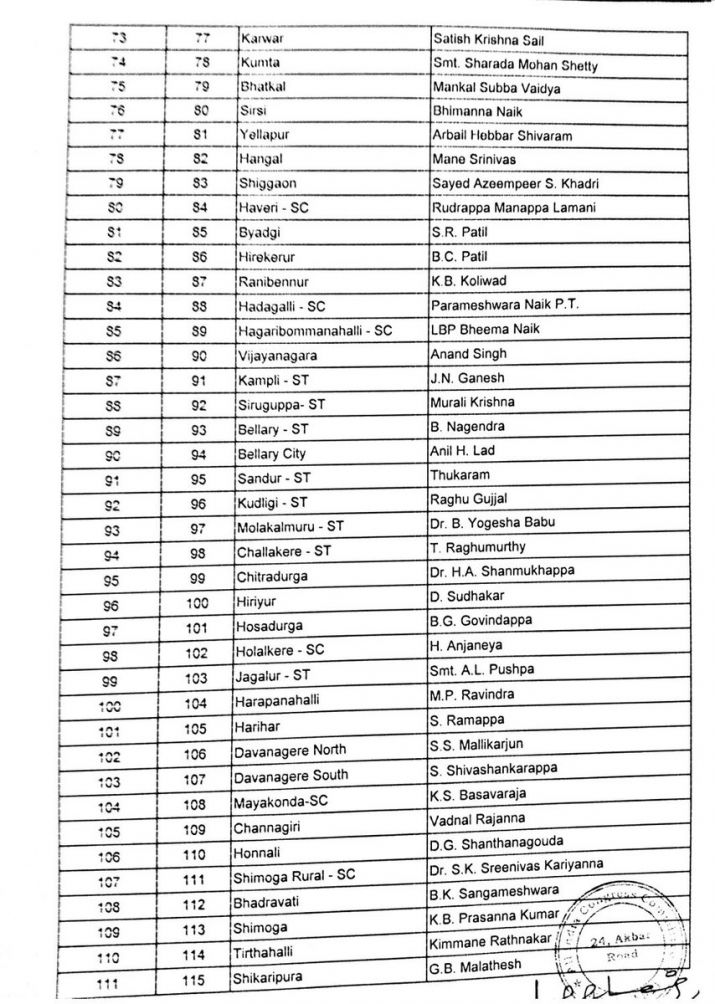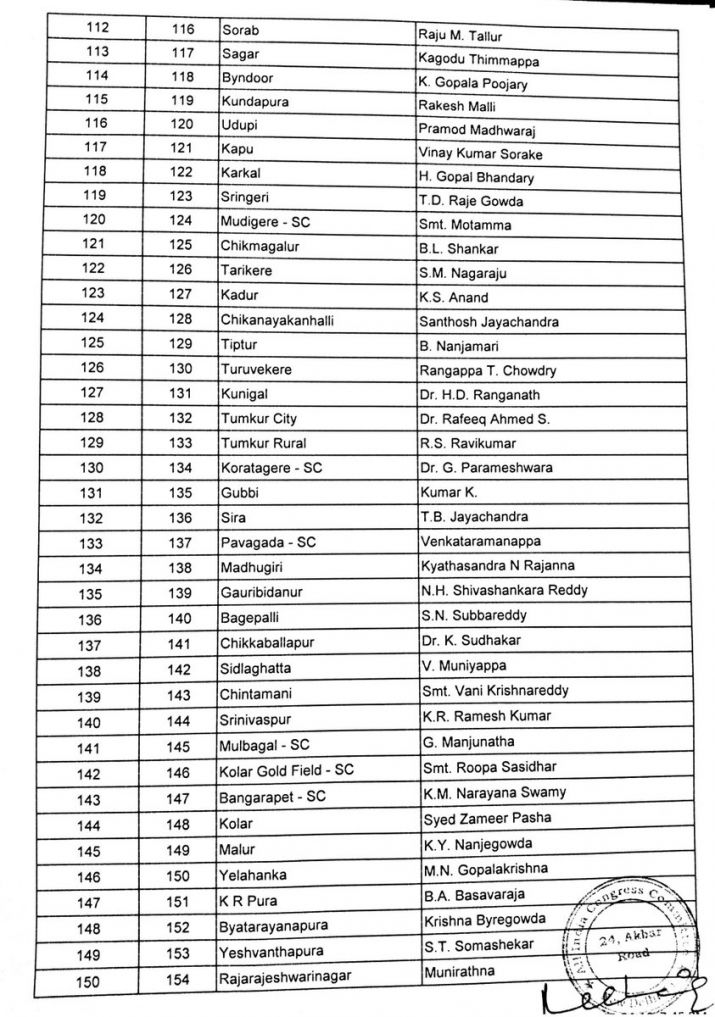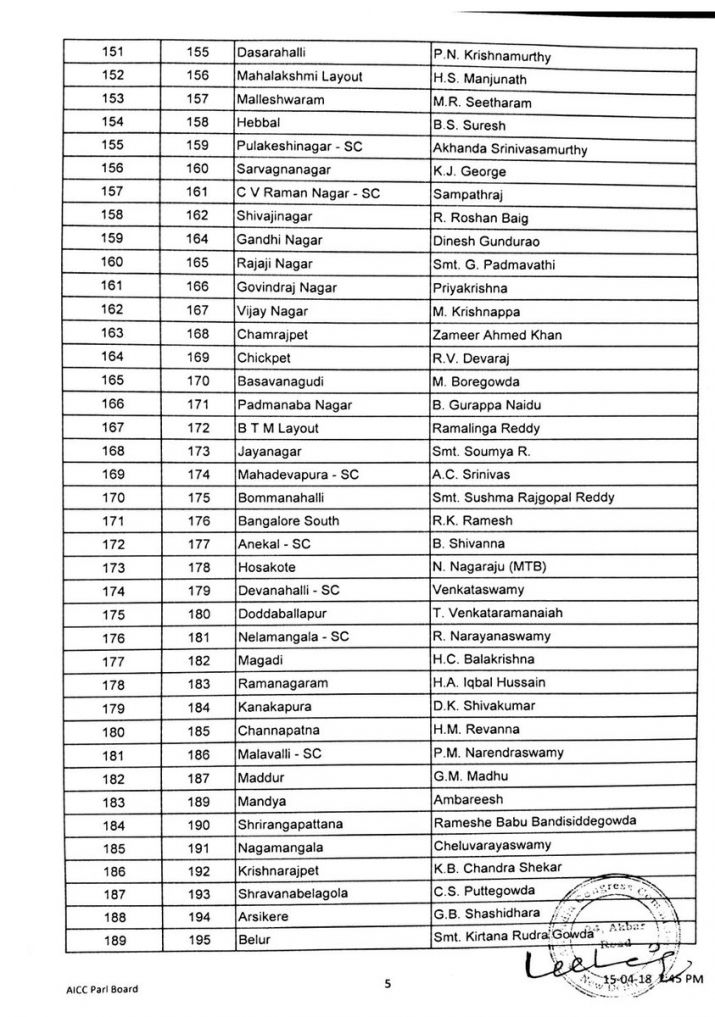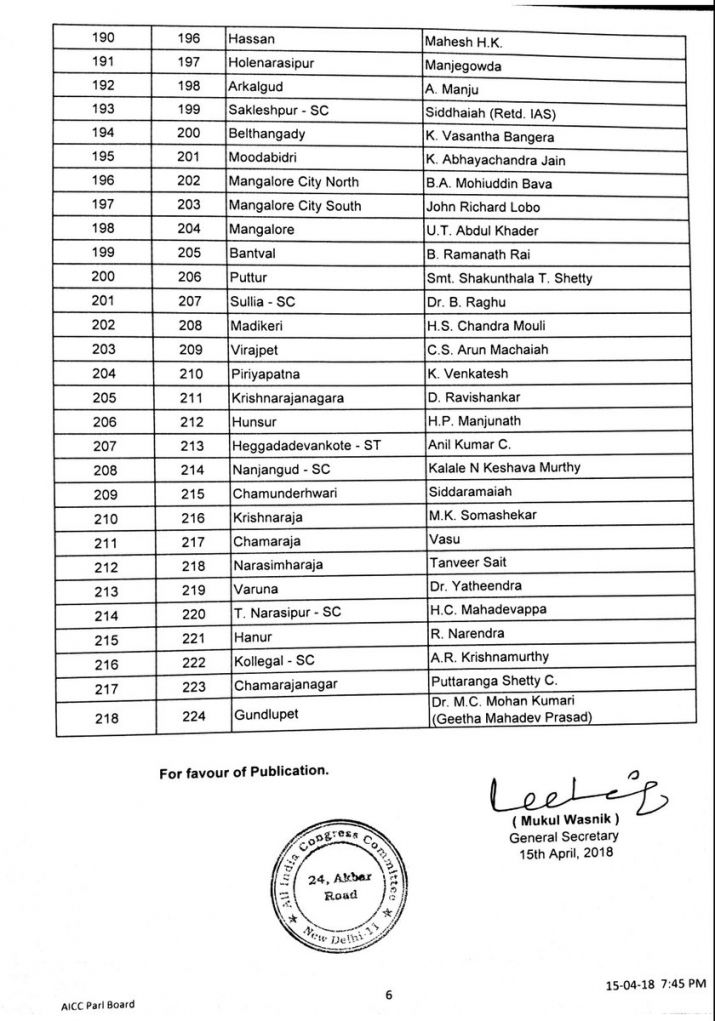 Law minister T B Jayachandra's son Santosh Jayachandra was given a ticket from the Chikanayakanhalli Assembly seat (Tumkur). 
Senior Congress leader's son Priyank Kharge was given a ticket and he will contest the polls from the Chitapur (Reserved) seat in Gulbarga district. 
The party said it has left the Melukota Assembly seat (AC-188), for Karnataka Raitha Sangha's candidate, who will contest in alliance with the Congress. 
Sitting MLAs who were denied a ticket include Basavaraj Shivannavar from Badgy, Manohar Tehsildar from Hangal, Shiv Moorti Nayak from Mycunda, Turuverevere from Shriniwas and Sharabsherry from Tiptur. 
Former BJP MLAs Nagendra and Anand Singh, who joined the Congress, and former JD-S MLAs Zamir Ahmed Khan, Chelluvar Ayyasamy, Iqbal Ansari, Akhanda Srinivas Moorthi, Blakrishna, Bheema Nayak and Ramesh Bendi Siddhagowda were also given tickets. 
The Congress is yet to announce its candidates for the Sindagi, Kittur, Nagathana, Melukote, Raichur and Shantinagar assembly seats. 
WATCH VIDEO | Rahul Gandhi's 'temple run' in Karnataka ahead of the crucial assembly polls