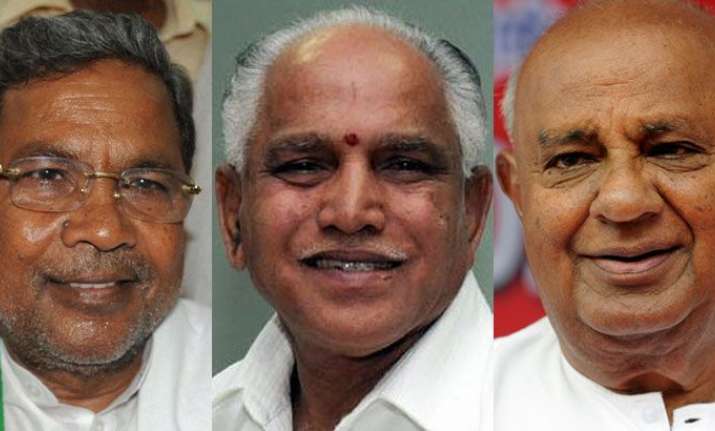 The hung assembly predicted by the exit polls has not shaken the faith of Congress and Bharatiya Janata Party in their respective victories. Even as the surveys indicate that the voters are likely to return a fractured mandate, with no party reaching the majority figure 112, both Siddaramaiah and BS Yeddyurappa have expressed confidence that their party will gain a majority. 
While incumbent CM Siddaramaiah this morning claimed that exit polls were mere entertainment, BJP CM candidate Yeddyurappa has claimed that his party will win over 125 seats, reducing Congress to 70. 
"BJP will win more than 125-130 seats, Congress will not be able to cross 70 seats and JDS will not cross 24-25 seats. There is a silent and strong wave in favour of BJP and public anger against Siddaramaiah and Congress," Yeddyurappa said.
Also read | Karnataka Exit Poll: IndiaTV-VMR predicts fractured mandate; Congress and BJP in neck-and-neck fight
The only tune which has changed since the polling yesterday is the Janata Dal-Secular (JD(S)). Earlier sure of a victory on its own, the party seems to have accepted that it will play the kingmaker not king after the results are announced on Tuesday, May 15. 
Former prime minister and party patriarch HD Deve Gowda, however, refuses to reveal his cards yet. 
"I am not prepared to accept or reject anything, let's wait for 15th May (counting of votes), we will get to know the reality," Deve Gowda told media on Sunday.
It is likely that the JD(S) will look to be wooed by both parties before making a decision and even then it may drive a hard bargain.
Also read | Poll of Exit Polls: Karnataka heading for hung assembly; BJP may get 101 seats, Congress 88, JDS 30
If exit polls come true, neither BJP nor Congress will cross into double digits and JD(S) will be left with crucial numbers to fill the gap. 
During the election campaign, Congress and BJP remained cautious of their attacks towards HD Deve Gowda as they sensed the possible importance of the regional party in the post-poll environment - a sense which will pay off after Tuesday if coupled with persistent efforts and negotiations.
Watch video: