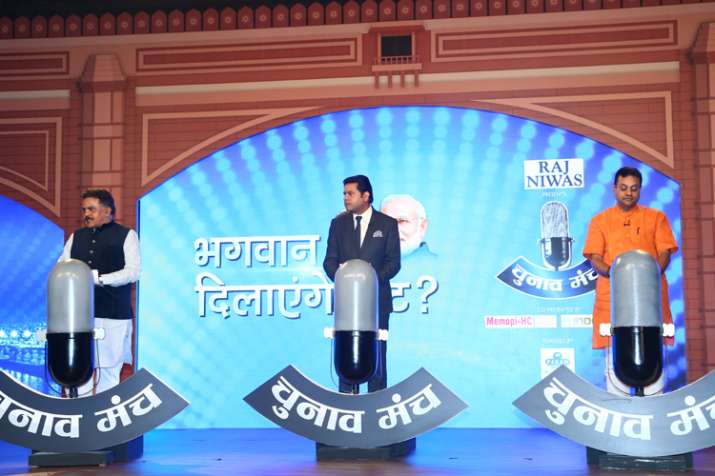 BJP national spokesperson Sambit Patra on Tuesday cornered the Congress over party vice president Rahul Gandhi's recent temple visits in Gujarat, and his stance over the construction of Ram Temple in Ayodhya. 
Sambit was participating in a panel discussion on India TV's mega conclave 'Chunav Manch' in Ahmedabad ahead of the crucial Assembly elections in the state.
"I will not say that Rahul Gandhi has done something wrong by visiting temples, but my question is why did he do so at this time," said Sambit Patra. 
"If worshipping God is so dear to him, then he should stand with the decision of constructing Ram Mandir in Ayodhya. He is the same Rahul Gandhi who said that people who harass girls are the ones who visit temples," he added. 
Claiming that Rahul Gandhi had once called Lord Ram a 'myth' in the court, the BJP spokesperson said that if God's worship is so important for Rahul Gandhi, then the Congress  should join hands with the BJP on the agenda of building Ram Mandir in Ayodhya. 
Sambit was joined on stage by Mumbai Congress chief Sanjay Nirupam, who responded to Sambit by saying that Rahul's visits to temples should not be politicised by the BJP. 
On Ram temple,  Nirupam said that it is the Supreme Court, and not Rahul Gandhi, who has stopped the BJP from constructing Ram Temple in Ayodhya. 
"Rahul Gandhi has been tremendously campaigning for Gujarat elections and he initiated this by visiting temples. This should not be politicized in any form but the BJP has a problem with this," said Nirupam.
"Taking notice of Rahul Gandhi's moves is an indication that you fear him today," he added. 
Nirupam said that he is also a Hindu, adding that Congress leaders are not the kind of Hindus who would protest or hate other religions. 
In response, Sambit said that the same Congress leaders were feared from calling themselves Hindus three years ago, as Congress president Sonia Gandhi used to call them and instruct them not to say so. 
"At the time of Rahul Gandhi's elevation in 2013, Sushil Kumar Shinde had referred to Hindus as terrorists and Sonia Gandhi ji did not even say a word to oppose the statement," he said. 
"Sushil Kumar Shinde apologized for the statement only after Hindus themselves raised a voice against it," he added.
Sambit further alleged that now that the state is heading towards elections, Rahul Gandhi is visiting temples and Siddaramiah is celebrating Tipu Sultan Jayanti on the indications of Sonia Gandhi. 
Responding to a question from the audience on Congress leaders using the term 'Hindu aatankwaad ' (Hindu terrorism), Nirupam said that none of their leaders have ever used such words, adding that the party condemns all sorts of terrorism, "be it ISIS or RSS". 
Questioned over relating RSS with terrorism, the Congress leader said, "I can relate RSS to terrorism because the country has witnessed occurrences wherein the people of RSS have been found involved, like the Malegaon case".