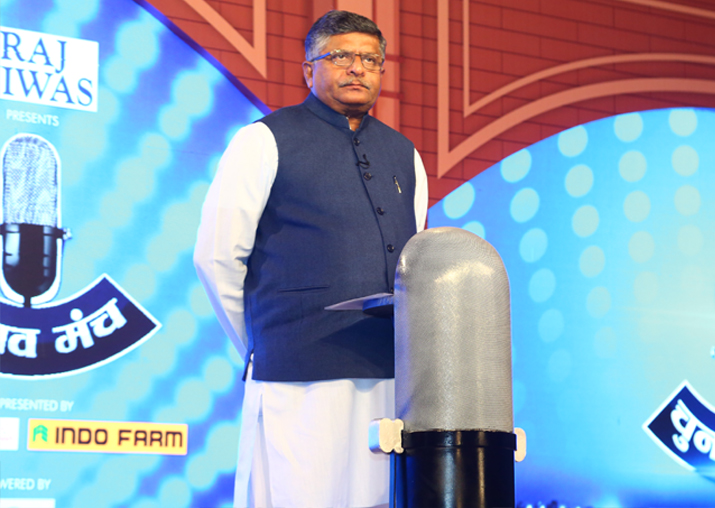 Senior BJP leader and Union Minister Ravi Shankar Prasad today raked up the issue of political dynasty in the Congress party ahead of the Gujarat Assermbly polls.
Speaking at India TV's Chunav Manch conclave organised in Ahmedabad, Prasad said that the entire Congress party is busy in promoting just one family. He said that an ordinary leader can never become the president of the Congress party unlike in the BJP.
"Rahul Gandhi is the most deserving candidate to be anointed to the Congress' president post,  just because he is born in that family," he said while responding to a question related to Rahul's likely elevation to the grand old party's president post next month.
On Patidar reservation, he said that the deal finalised between the Congress and PAAS leader Hardik Patel is completely based upon quota and that it will not yield any positive result.
He even accused the party of misleading the Patel community. 
Slamming Kapil Sibal, who had played a pivotal role to reach a consensus on the contentious issue, he said that "the former minister gave wrong advise to Congress". 
"There would not have been any 2G and 3G scams had Kapil Sibal given appropriate advise to Congress," he said.
To a question how fair is the deal between the Congress and PAAS, he said, "The 50 per cent limit in reservation is very clear and the court will have to strictly look into this in order to relax this limitation. The Congress party is making this an issue."
Narendra Modi, he said, "is our Prime Minister and he stands respected in the world today. We are proud of this fact."
He also said that the Congress party insulted Sardar Patel who sacrificed his life for the larger purpose of creating an 'united India'.
"Congress party insulted Sardar Patel. There were many forces in Congress which stopped the successive governments from awarding Bharat Ratna to him. Sardar Patel died in 1950, but Bharat Ratna was conferred upon him in 1991," he said.
The polling for the two-phase elections in Gujarat, having total 182 seats, will take place on December 9 and 14 and votes will be counted on December 18.
While 89 seats of Saurashtra and South Gujarat region are going to polls in the first phase, the remaining 93 seats including Vadgam in central and northern region would go for polls in the second phase.