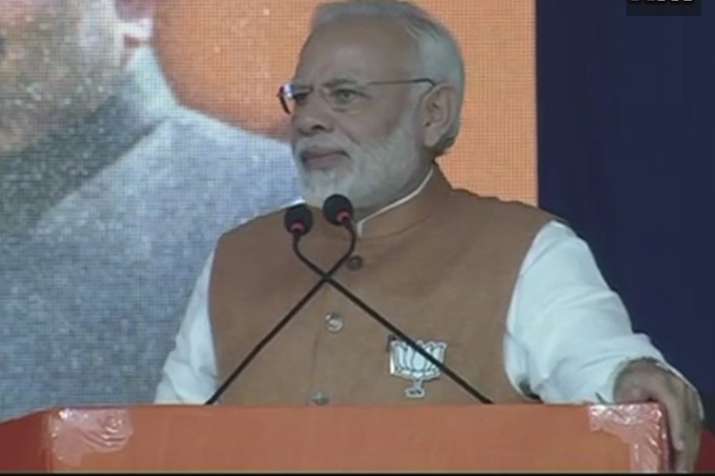 Prime Minister Narendra Modi on Monday addressed four back-to-back rallies in different parts of Kutch and Saurashtra region of poll-bound Gujarat where the first phase of elections will be held on December 9. On November 29, he will again visit his home state to address four mega rallies. 
As it happened:  
06:33 pm: In Uttar Pradesh the Congress was feeling so confident about victory. They begun to call Gujaratis donkeys. And now, they are coming here to Gujarat to seek support. Nobody can insult the people of Gujarat like this: PM
06:25 pm: Overnight, Indira Ji removed Morarji Bhai from the Cabinet. She didn't open doors of the bank for the poor. When we got the opportunity to serve, the 1st thing we did was to start Jan Dhan Yojana & focus on financial inclusion: PM 
06:19 pm: Congress Party has not done anything, it does not want to do any thing and it does not want others to do anything for the people: PM Modi
06:13 pm: Our government has taken steps to ensure people from middle class families can own their homes. We reduced prices of stents and made healthcare affordable: PM Modi
06:00 pm: Congress is disconnected with the aspirations of the people of India : PM
05:55 pm: Arrogance of Congress party is at a record high. They don't realise that times have changed. Things are very different in Gujarat from the time they ruled here 22 years ago. Society is no longer divided, there is progress now: PM Modi
05:53 pm: After campaigning in Kutch, Rajkot, Amreli districts, I have come to Surat. I am seeing energetic response from people. I also see that Congress is scared of defeat and unable to match BJP's focus on development & good governance: PM Modi
05:50 pm: People in Gujarat will not accept Congress' egoistic anti-Gujarat mentality: PM Modi
05:43 pm: PM Modi addresses election rally in Kamrej
04:10 pm: PM Modi concludes rally in Dhari
03:58 pm: Our efforts against corruption have naturally troubled the Congress: PM Narendra Modi in Dhari
​03:55 pm: The BJP government in Gujarat got dairies to Saurashtra. Amreli is emerging as a hub for dairy and cooperative sectors over the last two decades: PM Modi
03:39 pm: PM Modi addresses a public rally in Gujarat's Dhari​
2:43pm: PM Modi concludes his speech at BJP's mega rally in Rajkot's Jasdan 
2:41pm: Pitting one caste against the other is Congress' tendency. Make sure that you do not let them destroy the composite culture of Gujarat: PM Modi
2:36pm: We have served Gujarat without any discrimination. Our belief is in the Mantra of 'Sauno Saath, Sauno Vikas' : PM
2:32pm: The solution to all problems is development. Development has to be continuous. We want to work even more for the people of Gujarat: PM Narendra Modi
2:29pm: I request the Congress not to mock the poor and my poor origins: PM Narendra Modi
'Ye maati meri maa hai zindagi laga doonga iska karz chukane mein': PM Modi #GujaratElection2017 pic.twitter.com/soHIzQoyhQ

— ANI (@ANI) November 27, 2017
2:24pm: The Congress dislikes me because of my poor origins. Can a party stoop so low? Yes, a person belonging to a poor family has become PM. They do not fail to hide their contempt for this fact. Yes, I sold tea but I did not sell the nation: PM
2:19pm: When Keshubhai Patel, a son of Saurashtra became the CM the Congress tried everything to dislodge him. They repeated the same disruptive tactic with Anandiben Patel, a daughter of the Patel Community. Congress has defamed Gujarat always: PM Modi
2:16pm: It was with the support of the Jan Sangh that a person from the Patel Community, Babubhai Patel became CM. Congress did not like this and ensured that Babubhai Jashbhai's government did not last: PM Modi
Congress has not just insulted Sardar Patel. Congress ignored Morarji Desai because he was from Gujarat. Congress has insulted all of Gujarat : PM @narendramodi #GujaratWithModi

— BJP (@BJP4India) November 27, 2017
2:09pm: There was a person who led a life of discipline on Mahatma Gandhi's ideals, a disciplined & hard working son of the soil just like Sardar Patel but he he had the same 'flaw' of being a Gujrati, so he was not allowed to stay in national politics by them (Congress): PM
2:05pm: When we started bringing the waters of the Narmada here to Saurashtra, there were people who were mocking us. Their negative politics has not changed over the years. Our faith is in politics of development and good governance : PM 
12:13pm: PM Modi concludes his speech at BJP's mega rally in Bhuj
We are not here for power, we are here for 125 crore Indians. We want to take India to new heights of glory: PM in Bhuj #GujaratElection2017 pic.twitter.com/IAilFvrads

— ANI (@ANI) November 27, 2017
#GST की मीटिंग में कांग्रेस पूरी तरह से #GST से सहमत थी और मीटिंग से बाहर आते ही कांग्रेस इसके विरोध में हो गयी : पीएम नरेन्द्र मोदी #GujaratWithModi

— BJP (@BJP4India) November 27, 2017
12:05pm: India was attacked on 26/11 and in Uri. You can see how India responded in the wake of both attacks. This explains the difference between their Government and ours: PM Modi
12:02pm: A Pakistani court released a Pakistani terrorist and the Congress is celebrating. I was surprised why. And this same Congress refused to believe our own army on surgical strikes and preferred to believe the Chinese Ambassador  PM Modi
11:56am: I was asked why don't you name Nehru in your speeches, so I asked Congress leaders to give me in writing the names of their own party Presidents, but they don't remember the ones like Bose & Kamraj, when they don't remember names of their own how will they understand Gujarat: PM Modi
They are coming to Gujarat and spreading lies about a son of Gujarat. Earlier they did that with Sardar Patel also. Gujarat will never accept this. No Gujarati will accept the lies that they are spreading : PM @narendramodi

— BJP (@BJP4India) November 27, 2017
11:50am: PM Modi asks people to give a befitting reply to the insults made by Congress. "How does the Congress have courage to come and disrespect people of Gujarat?"
# Rann was already there. But I thought that we can turn it into tourist spot and earn money. People never imagined that there can be any kind of farming in Kutch. On one side is a desert and on the other is Pakistan. Now it is a model for farming: PM
11:47am: Officers did not want to get posted to Kutch region as the water here was black in colour. Congress did not allow Narmada water to come to Kutch region. What if the Narmada waters had come to Kutch 30 years earlier? It would have made such a big different: PM Modi 
11:45am: After the Kutch earthquake Atalji asked me to go to Gujarat. I spent considerable time in Kutch and learnt what administration is about : PM Modi 
11:43am: Gujarat is my soul and mother, my relationship with you is that of equality since you call me brother: PM Modi
​
गुजरात मेरी 'आत्मा' है और भारत मेरा 'परमात्मा'। गुजरात ने मुझे एक बच्चे की तरह पाला है और कांग्रेस ने हमेशा गुजरात के लिए वैर का भाव रखा है : पीएम मोदी #GujaratWithModi

— BJP (@BJP4India) November 27, 2017
गुजरात में जहां एक ओर विकास में विश्वास है वहीं दूसरी ओर वंशवाद है। गुजरात की जनता ने कभी कांग्रेस को स्वीकार नहीं किया है : पीएम श्री नरेन्द्र मोदी - लाइव देखें https://t.co/B73XERQfrO पर #GujaratWithModi pic.twitter.com/J6anq9HRQD

— BJP (@BJP4India) November 27, 2017
# Battle for Gujarat is one between development and dynasty politics. He says that Gujarat has never accepted Congress, because it has meted out injustice since the time of Sardar Vallabhai Patel.
11:40am: It was the Congress which killed youngsters who were associated with the Maha Gujarat Movement: PM Modi
11:35am:  Those slinging mud on us will help the lotus bloom even more: PM Narendra Modi
11:33am: Congress tried to malign the image of Gujarat. I am grateful for all the 'kichad' (mud) being thrown at me, after all, a lotus blooms only in 'kichad' so, I don't mind if more is thrown at me: PM Modi
11:32am:  Interacting with people gives an unparalleled joy. My every moment of life is devoted to the welfare of India and 125 crore citizens: PM Modi
11:30am: PM Narendra Modi begins his speech 
People's Prime Minister : PM Shri @narendramodi interacting with locals outside Ashapura Mata temple in Kutch, Gujarat ahead of his election campaign rallies. pic.twitter.com/B0wrFkhKCR

— BJP (@BJP4India) November 27, 2017
# PM Narendra Modi to address a public gathering at Bhuj's RR Lalan College's ground shortly 
10:30am: PM Modi reaches Bhuj 
9:30am: PM Modi reaches Kutch. PM offers prayers at Mata nou Madh temple that falls in the Abdasa constituency.
PM Shri @narendramodi offers prayers at Ashapura Mata temple in Kutch, Gujarat. pic.twitter.com/u3fK6bEx41

— BJP (@BJP4India) November 27, 2017
Tomorrow I would address rallies in Jasdan, Dhari and Kamrej. Guided by the Mantra of 'Sabka Saath, Sabka Vikas' we are committed to taking Gujarat to even new heights of growth and building on the good work done in the last two decades in the state.

— Chowkidar Narendra Modi (@narendramodi) November 26, 2017
Itinerary of PM Modi's Gujarat visit:
11am: PM Modi to address rally in Bhuj
1:30pm: PM Modi to address rally in Rajkot's Jasdan. CM Vijay Rupani is contesting from Rajkot West.
3:15pm: PM Modi to address rally in Amreli.
5:15pm: PM Modi to address rally in Surat's Kharodra