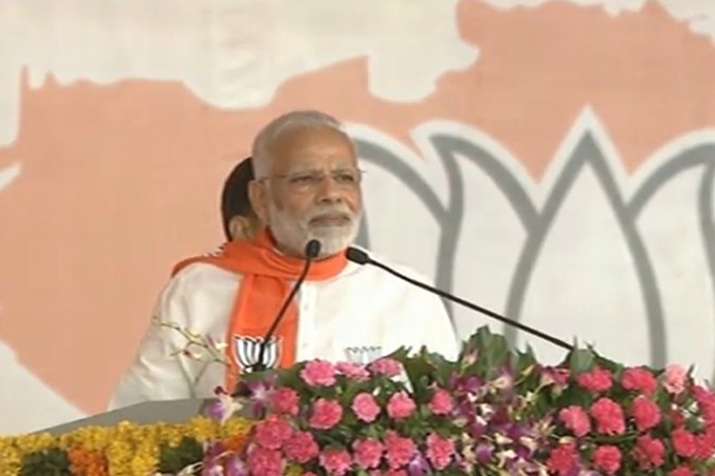 Prime Minister Narendra Modi and BJP President Amit Shah presided over the conclusion of the 'Gujarat Gaurav Mahasammelan' being organised by the state BJP to celebrate the conclusion of the saffron party's 'Gujarat Gaurav Yatra' (march for Gujarat's honour).
​PM Modi, on his day-long visit to Gujarat, addressed a gathering of nearly seven lakh Bharatiya Janata Party (BJP) workers at a village near Gandhinagar. 
The BJP had started Gujarat Gaurav Yatra on October 1 in two phases. One led by deputy chief minister Nitin Patel and second by state president Jitu Vaghani. The yatra in a motorised rath has travelled across all 33 districts in the state.
Chief minister Vijay Rupani, BJP national president Amit Shah and many other leaders of the party are also present in the event.
Here are the highlights of PM Modi's rally in Gandhinagar: 
5:50 pm: We have seen companies where a single company had 2000 bank accounts & cancelled their licenses: PM
5:49 pm: Licenses of more than 2 lakh companies have been cancelled, but there is no hue & cry in the country: PM
5:47 pm: 
चुनाव हमारे लिए विकासवाद का जंग है और उनके (कांग्रेस) लिए वंशवाद का जंग है।विकासवाद जीतने वाला है और वंशवाद हारने वाला है: पीएम pic.twitter.com/sZAMQmlIWO

— BJP (@BJP4India) October 16, 2017
5:46 pm: Congress is an equal partner in GST decisions. They should not spread lies on GST
5:45 pm: Today the truth has come out, see where we are and where you: PM
5:45 pm: To see me behind bars, Congress decided that until they don't send Amit Shah to jail, they won't be able to send me: PM Modi
5:44 pm: Communalism, casteism and misleading people are Congress party's tool to contest elections: PM
5:42 pm: Congress leaves no opportunity to suppress people of Gujarat, may he be of any party: PM
5:34 pm: BJP challenges Congress to contest elections on grounds of development, I ask them to stop telling lies to people: PM
5:31 pm: Jab kuch nahi chala to vikaas ko hi gaali dena shuru kar dia. Congress party ke zehan mein vikaas ke prati nafrat hai: PM Modi
5:30 pm: History knows what they did to Sardar Patel's daughter.When Morarji Desai was PM they wanted to destroy him.They don't like Gujarat: PM Modi
5:29 pm: The party that gave so many CMs, leaders to the nation now focus only on spreading lies. They create an atmosphere of pessimism: PM
5:28 pm: Those questioning us on development of Gujarat must recall what their contribution has been for the state's progress: PM Modi
5:26 pm: Congress party has always had a negative approach towards development of Gujarat. They did not even complete Sardar Sarovar project: PM
5:24 pm: Congress did everything it could to suppress Morarji Desai, says PM Modi
5:22 pm: Everyone knows what the Congress party did to Sardar Patel's family, says PM Modi
5:19 pm: I appreciate Amit Shah for taking the party to new heights: PM Modi 
5:18 pm: When results of Uttar Pradesh during Lok Sabha elections stunned nation, I had said the 'man of the match' of this election is Amit Shah: PM Modi 
5:15 pm: 
5:11 pm: On one side are parties nutured in dynasty politics, on the other side is one whose workers are committed to ideals.  
4:53 pm: In so many years Rahul Gandhi hasn't been able to get a collectorate office made in Amethi & is questioning our work in Gujarat: Amit Shah
4:43 pm: Farmers will be given loan up to Rs 3 lakh without any interest, says Gujarat CM Vijay Rupani
4:19 pm: PM Modi, Amit Shah arrive at Gujarat Gaurav Mahasammelan in Gandhinagar. PM Modi to address a rally shortly.  
Earlier today, in a series of tweets on Sunday, the Prime Minister promised to "always fulfil the dreams of every Gujarati with full strength & vigour".  Modi "bowed" to the people of Gujarat for "blessing BJP for decades".
"Tomorrow in Gandhinagar, I will join Gujarat Gaurav Mahasammelan, which will bring together lakhs of BJP Karyakartas from across Gujarat. Gujarat Gaurav Mahasammelan comes after the successful culmination of the 2 Gujarat Gaurav Yatras," he said. 
"Gujarat Gaurav Yatras covered almost 4500 kms and 149 Assembly seats. People of all age groups and from all sections of society joined the Yatra," the Prime Minister said. 
Modi, who has been frequently visiting the poll-bound state, said in another tweet the two 'Gujarat Gaurav Yatras' "showcased the spirit of Jan Shakti & reflected Gujarat's strong faith in politics of development and good governance". 
Senior leaders of the party joined the 15-day march, which was launched on October 1. The march covered a distance of around 4,471 kilometres, spread over 149 of the 182 Assembly constituencies in the state, Gujarat BJP chief Jitu Vaghani said. 
"Tomorrow, the prime minister will give his guidance to around seven lakh BJP workers at the Gujarat Gaurav Mahasammelan to be held in Bhat village," he said. 
Gujarat Chief Minister Vijay Rupani, BJP national president Amit Shah and many other leaders of the party would be present, he added. 
Last week, Modi had visited Gujarat to inaugurate and lay foundation stones of various projects in Rajkot, Vadnagar, Gandhinagar and Bharuch. He had also held a roadshow in his hometown Vadnagar on October 8. 
Assembly elections are due in Gujarat later this year.
(With PTI inputs)