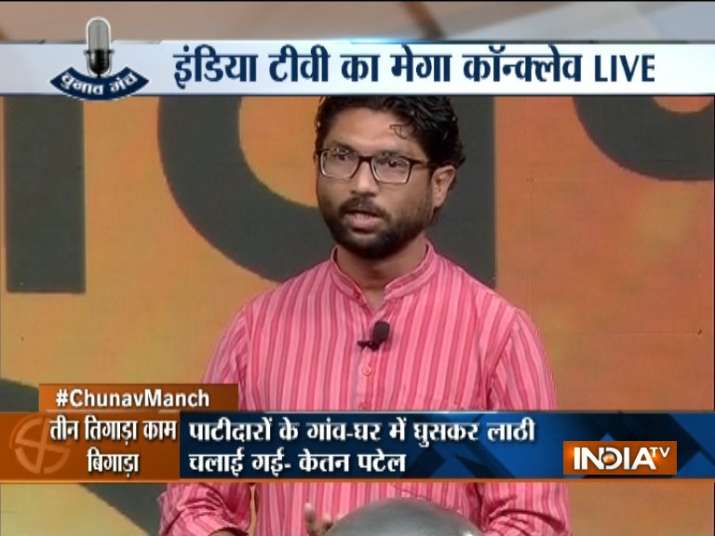 Targeting Prime Minister Narendra Modi and the BJP government in Gujarat, Dalit leader Jignesh Mevani today said that the farmers of the state are suffering because PM Modi didn't fulfil his promises, adding that the latter only makes promises in speeches but does not act on them.  
Sharing the stage with local OBC leader Alpesh Thakore and Ketan Patel, former aide of Patel quota stir leader Hardik Patel at Chunav Manch, India TV's day-long mega election conclave in Ahmedabad, Mevani said that the "government should work on a policy that brings the children  of both a peon and a PM on the same stage". 
Furthering his attack, he said that the people of Gujarat elected the prime minister, but they will not be fooled again. 
Mevani also said that Rahul Gandhi will never let India become a Hindu-nation. "Rahul Gandhi may do whatever he wants to, but we will not let this nation be a Hindu-nation," he said. 
The Dalit leader said that the Centre will have to work in accordance with the Constitution of India. 
Local OBC leader Alpesh Thakore also attacked the BJP-led Central and state governments, saying that the Dalits in Gujarat are still facing atrocities.
"The people of Gujarat have asked for better education system and basic amenities. If the govt cannot fulfil these demands, it must at least work towards eliminating corruption," said Thakore. 
He also said that his group has worked for the unity of Gujarat, and wants peace in the state. 
"There has not been an incidence of violence in the past 2 years in Gujarat," added Thakore.