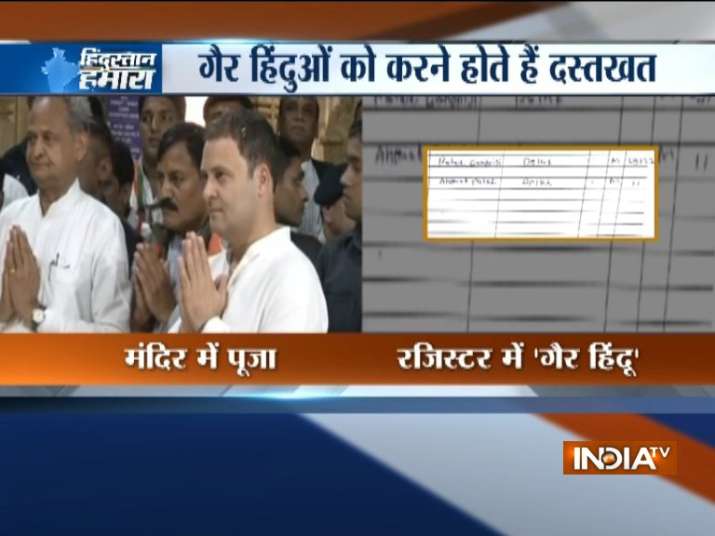 The high-voltage political fever in Gujarat took an all-new turn today when Congress vice president, on his visit to the Somnath temple, allegedly mentioned himself as a 'non-Hindu'. 
According to the rules of the temple administration, all non-Hindu worshippers visiting the temple need to declare about their religion in advance, as done by Rahul Gandhi. 
The BJP has raised questions over Rahul's signature made for non-Hindus, and has asked him to explain over why had he explained himself as a Hindu brahmin.   
"Why should there be a secretive air around Rahul Gandhi? He is one of the most important political person in Indian scenario. For Rahul Gandhi and Congress, religion is a matter of convenience and not devotion. Rahul Gandhi must answer this," said BJP national spokesperson Sambit Patra.
"They say this is a conspiracy but we say Congress is a conspiracy. The tip of the iceberg of their conspiracy is visible today. There is no conspiracy by anyone. You are a sinner, sin is yours. Rahul Gandhi must say who he actually is," he added. 
BJP spokesperson G.V.L. Narsimha Rao said in a tweet: "Rahul Gandhi is a non-Hindu and a 'Shiv Bhakht'? Very impressive. No wonder he said earlier people go to temples and tease women." 
Quoting an article written in 1998 in New York Times, which said by certainty that Rahul Gandhi and Priyanka were raised as Roman Catholics, Rao said: "This was never denied. Did Rahul Gandhi convert to Hinduism thereafter? @OfficeOfRG please clarify. It's not a personal issue any longer."
"Rahulji, Why is there so much secrecy and deceit about your and family's religion, foreign travels, educational qualifications, passports/citizenship? Questions are never answered. Even British monarchy is more transparent. Is RTI only for govts & not for politicians? @OfficeOfRG," he said in another tweet.
Rejecting BJP's allegations and defending Rahul Gandhi, the Congress accused the saffron party of playing dirty politics and hatching a cheap conspiracy by fabricating entries in the register kept at the Somnath temple, calling the Gandhi scion a "devout Hindu" and a strong "Shiv bhakt".
Addressing a hurriedly-called press conference hours after the BJP sought to rake up a controversy over Rahul Gandhi's name figuring in the register for non-Hindus, Congress chief spokesperson Randeep Singh Surjewala said the BJP was scared of the outcome of the Gujarat Assembly elections and was thus resorting to cheap politics.
"There is only one visitor's book at Somnath Temple that was signed by Congress VP Rahul Gandhi. Any other image being circulated is fabricated," said Surjewala, adding "Desperate times call for desperate measures" - referring to the BJP. 
"When the visitor's book was given to him by the temple committee, Rahul Gandhi wrote a message on it with his name (Rahul Gandhi) and address (12, Tughlak Lane, New Delhi). "A very inspiring place" was the message he wrote in the book," he added.
"The other register was tweeted by mediapersons. Rahul Gandhi has neither written (in the other register) nor was the register given to him."
The other register contained a signature by AICC media coordinator Manoj Tyagi, who was asked by some temple officials to sign so that the mediapersons accompanying Rahul Gandhi could enter the temple.
Surjewala said: "After Rahul left the temple, by misusing some of our media friends, another fabricated entry was made public. Has the BJP become so cowardly that they are scared of coming out and speaking up."
He alleged that the names of Rahul Gandhi and Ahmed Patel were entered surreptitiously on the left side of the register meant for non-Hindus by someone - suggesting manipulation. "This was a fabricated register. Those names were added later," he said.
Showing the pictures of Gandhi wearing sacred thread, Surjewala said that Rahul is a "Janayudhari" (devout) Hindu. "Whether it was during the time of his naming or at the time of his sister's wedding..or at the time of his father's cremation, he was seen with the sacred thread." 
He urged Prime Minister Narendra Modi and BJP President Amit Shah not to stoop so low for political gains that "130 crore Indians start hating you".
"Truth will not change because of your conspiratorial tactics," he added.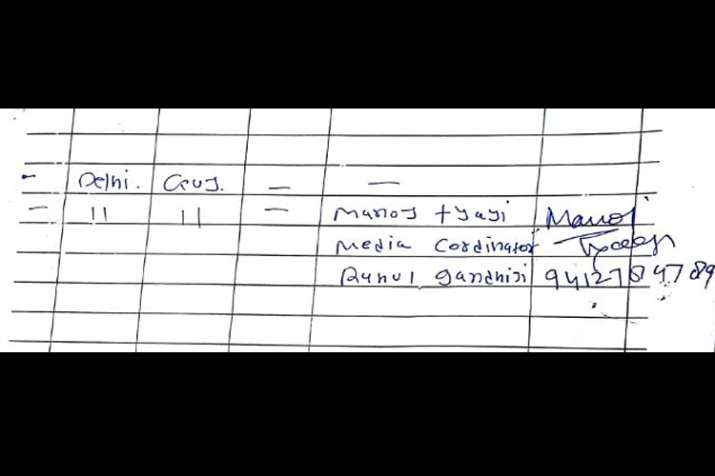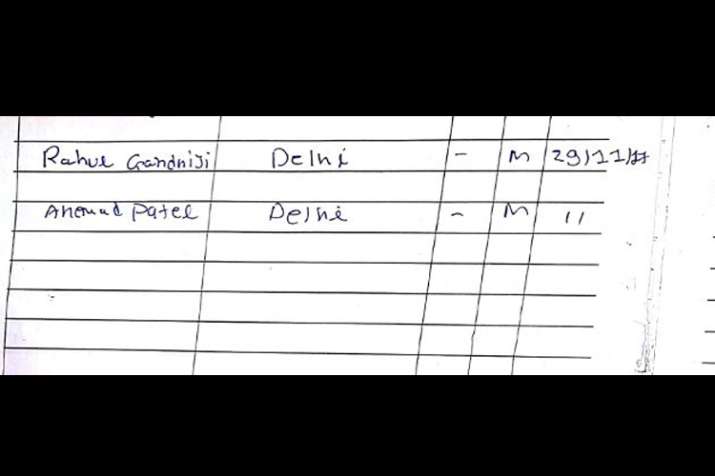 Another Congress spokesperson Deepender Hooda said: "BJP's intentions stand exposed today...Even Gujarat Chief Minister Vijay Rupani has conceded that their party is in bad shape (for elections). Whenever they are in such a state, they lose their rudder."
The episode, Hooda said, "is a sign of intellectual bankruptcy of the BJP".
Here is the original signature of Rahul Gandhi at Somnath Temple.Very clearly. The other signature is written as 'Rahul Gandhi ji', why would he write ji? Don't know who wrote it. BJP doing what it does best, diverting from real issues: Deependra Hooda,Congress pic.twitter.com/CeRqJnlA6A

— ANI (@ANI) November 29, 2017
Meanwhile, seeking to clear the controversy, the Somnath temple authorities said that Rahul Gandhi did not sign the register maintained for non-Hindus during his visit to the temple.
Hours after the controversy erupted over the visit, the temple trust's Secretary P.K. Laheri said that Gandhi only put his signature in the visitors' book and nowhere else.
"'This is an inspiring place' - is what Rahul Gandhi wrote and he did so in the presence of our general manager Vijaysinh Chawda," Laheri told the media.
"This is the only place where he signed," he added.
On reports about entry as a non-Hindu, Laheri said: "Such a separate register is being maintained for the last three years for security purposes. 
"But Rahulji did not sign it, maybe his media coordinator did. I am not sure. There was nobody there. This non-Hindu register generally remains with the security guard," he added.
Earlier in the day, Prime Minister Narendra Modi had criticised Rahul Gandhi for his visit to Somnath temple, saying the country's first prime minister Jawaharlal Nehru had expressed displeasure over building the place of worship.
"If there was no Sardar Patel, the temple in Somnath would never have been possible. Today some people are remembering Somanth, I have to ask them: 'Have you forgotten your history'? Your family members, our first prime minister, was not happy with the idea of a temple being built there," Modi said, addressing an election rally in Prachi.
He said when Dr. Rajendra Prasad was to come to inaugurate the Somnath temple, Pandit Nehru expressed his displeasure. "Sardar Patel dreamt about the Narmada but your family did not let that dream fulfil," he said. : PRO Somnath Trust Dhruv Joshi
The saffron party has been repeatedly ridiculing Rahul's string of temple visits in Gujarat which come at a time when the state is heading towards the Assembly elections. 
The BJP has even targeted Rahul Gandhi, alleging that he doesn't have the etiquettes to offer prayers in temples. 
Congress has defended Rahul's temple visits saying that the BJP doesn't have a copyright on the temples and God, and that worshipping God is one's own faith and should not be lobbied for political gains. 
The Congress is seeking to dislodge the BJP from power in the state, which the saffron party has ruled for close to two decades now.
Polling for the two-phase elections in the state, which has a total of 182 seats, will take place on 9 and 14 December. The votes for Gujarat Assembly elections will be counted on 18 December.
Eighty-nine seats of Saurashtra and south Gujarat region are going to polls in the first phase, while the remaining 93 seats in the central and northern region would vote in the second phase.