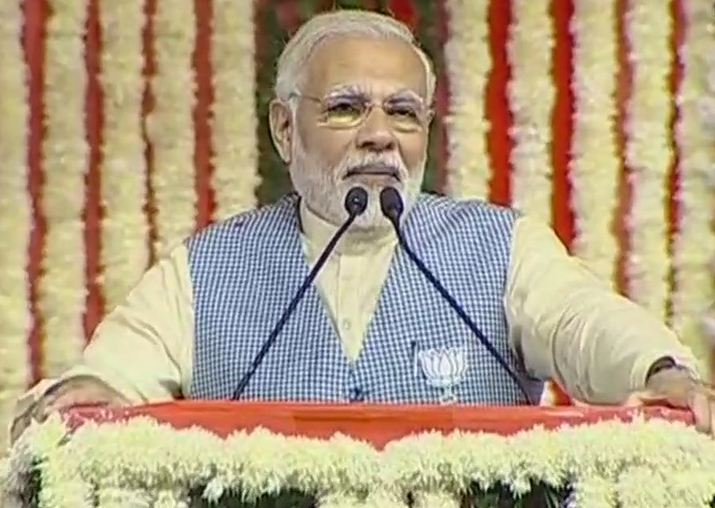 Further pushing BJP's election campaign ahead of the second phase of polling scheduled on December 14, Prime Minister Narendra Modi today addressed three public meetings in the poll-bound state.
The Prime Minister addressed the first public rally in Patan, followed by another one in Nadiad in Kheda district. The third rally was held at Ahmedabad's Sabarmati Riverfront. This was PM Modi's first visit to Sabarmati Riverfront after 2015, when he had come with Chinese President Xi Jinping. The rally is expected to be his largest public meeting in Ahmedabad. 
The first phase of elections in 89 constituencies on Saturday saw a 66.75 per cent turnout. The maximum voting (79.15 per cent) was seen in the tribal district of Narmada, followed by Tapi with 78.56 per cent, and the minimum (59.39 per cent) recorded in Devbhoomi Dwarka district.
The election in the remaining 93 constituencies in central and northern regions of the state will be held in the second phase on December 14. Counting of votes will take place on December 18.
Highlights: 
PM Modi addresses public meeting in Ahmedabad
9:40 pm: Who is impacted most by unclean surroundings? Not the rich families but the poor. When we work on Swachh Bharat Mission it helps the poor: PM Modi
9:32 pm: We started a Pragati Initiative. Through technology, officers from all over India join and we discuss key policy issues. This has helped accelerate the pace of development: PM Narendra Modi 
9:29 pm: Do you see this Sabarmati River? There were circuses held earlier, now see the riverfront. This is development. But for Congress, Vikas is only where they can make money: PM Modi
9:26 pm: Gujarat has two development engines - one here in Gandhinagar and the other in Delhi: PM Modi
9:20 pm: UPA did everything possible to derail Gujarat's development journey. To put gas pipelines in Gujarat's villages, the UPA got worried and did everything to stop that. I had to go to the Supreme Court: PM Modi 
9:17 pm: India is making remarkable strides and the world is realising it. If India is making a mark on the world stage it is due to the 125 crore people of India: PM Modi in Ahmedabad
PM Modi addresses public meeting in Nadiad
PM Modi addresses public meeting in Patan
​
4:17 pm: When we went to the farmers, did Krishi Mahotsav, we did not go out helping the rich. We went among the poor. Sadly, Congress leaders born with golden spoons will never understand what poverty is: PM Modi
4:10 pm: During peak summer, I would go to the villages of Gujarat and ask parents to educate their children. Whose children were they? Were they Ambani's children? No. They were children of the poor. We are working for poor: PM
3:58 pm: Our farmers work hard and grow potato. If at all the Congress comes to power, there will be no need to do that because their leader says we will produce potatoes in factories. Congress' basic knowledge about agriculture is so poor: PM Narendra Modi 
3:47 pm: Congress has lost in the first round and are not even thinking about the second round as they know people here will support BJP. They have now taken to excuses. Their leaders and cheerleaders are blaming EVMs, even saying they are hacked using bluetooth: PM Modi
Earlier today, the Ahmedabad Police denied permission to PM Modi, Congress vice president Rahul Gandhi and Patidar leader Hardik Patel to carry out roadshows in the city, citing law and order and public inconvenience.
However, Hardik denied the police orders and began an extensive roadshow from Bopal in Ahmedabad West to Nikol in Ahmedabad East.
The BJP has been in power in the state since more than 22 years with the major share of that under the tenure of Modi as Chief Minister. But after having ruled for more than two decades, the saffron party is feeling a strong wave of opposition in the form of various agitations from different sections of the society.
A majority of these forces have joined hands with the opposition Congress party and the more than two-decades reign seems to be on the downslide. That's the reason why Narendra Modi, despite his very busy schedule, has made Gujarat virtually his home since the last couple of months and has been visiting the state every other day.