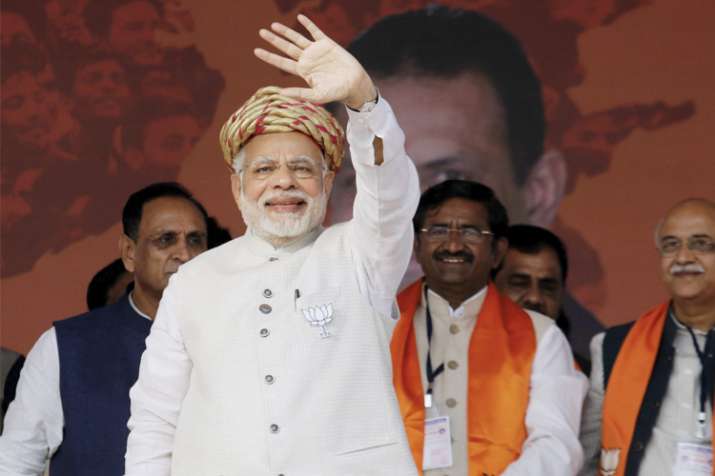 Continuing his offensive against Congress party, Prime Minister Narendra Modi on Monday blamed the grand old party of indulging in divisive politics in views of the upcoming Gujarat Assembly elections and said that the party learnt the 'divide and rule' policy from the British.
Addressing a public meeting in Bhavnagar, PM Modi said, "I fail to understand why the Congress is once again doing what it always did in the past- divide people, be it on caste lines, communal lines, between villages and cities. Congress has learnt 'divide and rule' from our colonial rulers (the British) rather well." 
He also accused the Congress of making false promises to the people in the poll-bound state, adding that doing so will not earn the party votes. 
"I appeal to the Congress to stick to the truth. The people of Gujarat do not like poll time lollipops and false promises of the Congress," said PM Modi. 
He also said the people of Uttar Pradesh have rejected the Congress time and again because they know the reality of the grand old party and its leaders.
"The people of Uttar Pradesh know the Congress and their leadership well. And see how they have rejected Congress repeatedly," he said. 
PM Modi said that the Gujarat has grown due to the power of Shanti (peace), Ekta (unity) and Sadbhavana (integrity), and the people of the state do not want the type of Gujarat that the Congress is trying for. 
"I am seeing videos of Congress supporters saying, vote for Congress on 9th and 14th and then we will do 'Dadagiri' for 5 years. This is not the Gujarat that the people desire," he said. 
PM Modi also attacked Congress leader Kapil Sibal for allegedly claiming that the former would go to jail after 2007 Assembly elections in the state after Congress' victory. However, riding on Modi wave, BJP had won polls that year by a huge margin.
"Congress has a very able lawyer in Kapil Sibal. He is always handling all the indefensible and wrong matters. In 2007 he came to Viramgam and said after the results are out Modi will be in Jail. He was very powerful in that government," Modi said.
Earlier in the day, PM Modi also slammed Rahul Gandhi imminent elevation as Congress president, terming it as 'Aurangzeb Raj'.
"I congratulate the Congress on their 'Aurangzeb Raj.' For us, the wellbeing of the people matters and 125 crore Indians are our high command," he said.