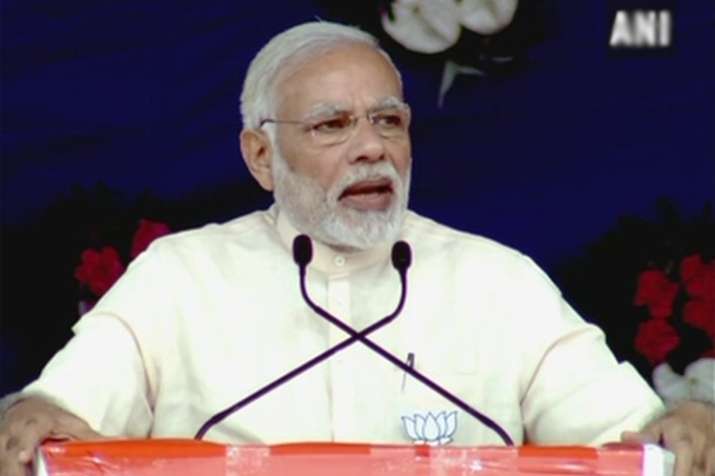 Prime Minister Narendra Modi will continue his Gujarat blitzkrieg addressing four back-to-back rallies on Monday ahead of the Assembly polls in the state. The PM has been on an aggressive campaign in the state where the Bharatiya Janata Party is hoping to retain power for a record sixth term.
Gujarat is Modi's home soil where he has served as Chief Minister three times. This makes the electoral battle in the state a matter of prestige and high stakes for the BJP. Congress vice president Rahul Gandhi has also undertaken an extensive tour of the state leading his party's campaign against the policies of the Modi government.
The BJP is also facing headwinds from young leaders like Hardik Patel who have managed to attract sizable crowds during their eletion rallies. The BJP, understandably, wants to leave no stone unturned - hence the PM's personal push.   
Prime Minister Modi will today hold public meetings at Dharampur in Valsad district and later at Bhavnagar. From there, he will visit other places in Saurashtra, Junagadh and Jamnagar.
He will also be visiting the state in three phases after December 6 where he will be addressing more than 24 meetings and rallies.
Here are the LIVE Updates of the second day of PM Modi's whirlwind tour of Gujarat: 
PM Modi addresses public meeting in Jamnagar
07:51 pm: We have waged a strong battle against corruption and black money: PM Modi
07:49 pm: Someone who served at a high position in our Air Force has said that after 26/11 they went to the then PM with a plan for surgical strikes. Sadly, the then Government did not show courage to do that. When we were attacked in Uri, see how we answered terrorists: PM Modi
07:36 pm: Since BJP has formed the Government in Gujarat, the state is ahead in employment opportunities. Parts of Gujarat have drawn people from all parts of the country: PM
07:31 pm: We are focusing on Padhai for students, Kamai for the youth and Davai for the elderly. We have transformed the education sector in Gujarat: PM
07:24 pm: Cheaper LED bulbs have led to more savings, which has benefitted middle class families. I want to ask the Congress why were LED bulbs priced high in your time: PM Modi
07:19 pm: Why were Congress governments rejected in various states? Because they were not delivering on people's aspirations
PM Modi addresses public meeting in Junagadh
05:10 pm: While we worked hard to make Junagadh the tourism capital, the Congress did not devote attention to this region. They stalled the ropeway project for years: PM Modi
05:06 pm: I want to ask you- if it was not for Sardar Patel where would we be. We recall with pride how Sardar Patel integrated the nation: PM
05:01 pm: People are not only keen to see the BJP win but also ensure that those who are defaming Gujarat are defeated: PM Modi  
Prime Minister Narendra Modi in Bhavnagar
​03:20 pm: I appeal to the Congress to stick to the truth. The people of Gujarat do not like poll time lollipops and false promises of the Congress: PM Modi
03:16 pm: I am seeing videos of Congress supporters saying, vote for Congress on 9th and 14th and then we will do 'Dadagiri' for 5 years. This is not the Gujarat that the people desire: PM
03:14 pm: Congress has a very able lawyer in Kapil Sibal. He is always handling all the indefensible and wrong matters. In 2007 he came to Viramgam and said after the results are out Modi will be in Jail. He was very powerful in that government: PM
PM Narendra Modi in Dharampur, Valsad
12:55 pm: Congress has been forced to appoint an individual who is out on bail in a case of corruption as its party president. It is a reflection of the Congress culture and the kind of leaders it hopes to create 
12:52 pm: I congratulate the Congress on their 'Aurangzeb Raj.' For us, the well being of the people matters and 125 crore Indians are our high command: PM Modi
12:50 pm: Earlier, Congress would go out of the way to show their secularism but now we are all seeing what they are doing in this election, where they are going. Unfortunately for them, Muslims know their real nature: PM Modi
12:45 pm: Disinformation like BJP does this and that against Muslims has been spread. This family party made it their main agenda to spread disinformation about BJP. But Gujarat people are not so naive, they have now become sensitive and aware to disinformation: PM Modi
12:40 pm: Mani Shankar Aiyar said that 'did elections happen during Mughal rule? After Jehangir, Shahjahan came, was any election held? After Shahjahan it was understood Aurangzeb will be the leader'. So Congress accepts its a family party? We don't want this Aurangzeb rule: PM Modi
12:35 pm: Congress can neither tolerate nor accept leaders from Gujarat. They have always defamed Gujarat: PM Modi
12:30 pm: Prime Minister begins addressing a public meeting in Valsad's Dhampur
On Sunday, PM Modi addressed three public meetings at Bharush, Surendranagar and Rajkot and accused the Congress party of promoting corruption, casteism, communalism and nepotism.
PM Modi also slammed the Opposition for criticising demonetisation, saying that the Congress leaders were in tears because they lost all they had looted from the poor because of note ban.
He also hit out at the Congress over the upcoming election of its president, alleging that the opposition party has a history of rigging (organisational) elections.
Gujarat will vote in two phases - on December 9 and 14 - to elect a 182-member Assembly. The counting of votes will take place on December 18.