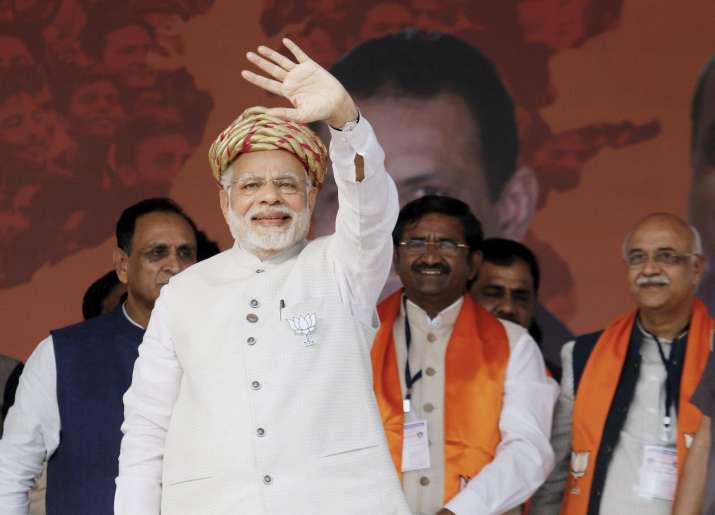 In his campaign blitzkrieg in poll-bound Gujarat, Prime Minister Narendra Modi on Sunday accused the Congress party of promoting corruption, casteism, communalism and nepotism. 
"The Congress is associated with evils of corruption, casteism, communalism and nepotism. The youth are not ready to accept the grand old party," said PM Modi while addressing a public rally in Rajkot. 
PM Modi also slammed the Opposition for criticising the demontisation move, saying that the Congress leaders are in tears because they lost all they had looted from the poor because of note ban. 
Hitting out at the Congress, he said, "India's rise in the world stage has rattled many. They are going out of the way to discredit the rankings. Yes that is fine but will they also discredit the people of Uttar Pradesh who have rejected them comprehensively".
"In every indicator be it health, education, agriculture the progress of Gujarat under BJP has been better than under previous Congress governments in the state," he added. 
Earlier in the day, Prime Minister Narendra Modi accused the Congress of seeking to divide the people on caste and religious lines. 
He also hit out at the Congress over the upcoming election of its president, alleging that the opposition party has a history of rigging (organisational) elections. 
If one doesn't have democracy in his home (party), how can the person practice it in the country, he wondered and said the outcome of the election to the top post in the Congress is a foregone conclusion. 
He lashed out at the Congress over its criticism of the government's ambitious bullet train project, saying if the opposition party has a problem with it, it could roam around on bullock carts. 
"The people of Gujarat know what the Congress is up to. It changes colour time and again, creates a wall between brothers, it wants to make urban areas fight with rural areas of the country, illiterate fight with literates and poor fight with the rich," he said. 
Modi said the party made "one caste fight with the other, one religion fight with another". 
"They keep you busy in fighting with each other. You may die but the Congress will eat 'malai' (cream)," he said, launching a broadside against the opposition party apparently for having an alliance with caste leaders such as Hardik Patel, Jignesh Mevani and Alpesh Thakor ahead of the state polls. 
"But, they do not understand that all these diseases were cured in Gujarat from the day when the BJP came to power in the state, and the state is firmly on the path of development," the prime minister asserted. 
"They (Congress) have a pain that Gujarat is progressing rapidly. When I was the chief minister, no day passed when they had not taken a step to harm Gujarat," he said. 
Sharpening his attack on Congress leaders such as former prime minister Manmohan Singh and former finance minister P Chidambaram, he told a rally in Bharuch district that by opposing the bullet train, the party stooped to a such a level that it was opposing the country's development. 
Recently, Manmohan Singh and Chidambaram, during their visits to Gujarat, had said the bullet train project was among the NDA government's "misplaced priorities". 
Resuming his campaign in his home state, where the first phase of Assembly elections is to be held on December 9, said, "Dr Manmohan Singhji, your government had made an announcement before 2012 (Gujarat Assembly) elections from Delhi about the bullet train, but your talks with Japan did not go down well as the loan Japan was offering we could not afford," he said. 
But, Modi said, his government negotiated the loan at a very low interest rate and the work on the bullet train has started. 
The prime minister said, "My problem is, you can oppose the BJP but why stoop to such a low level that you are opposing development of the country." 
He said the real thing is they are in pain as they could not do it. 
"We say, there is no other way than development. We have wasted 70 years in the fight over of casteism, in dynastic politics, in yours and mine, but now the country is determined to go on the path of development," he said. 
Later, at a rally in Surendranagar district, he hit out at the Congress over the upcoming election of its president. 
"An election is going on in the Congress party for its president. What the result will be everybody knows," he said.
To this, the crowd replied that Rahul Gandhi will become the Congress president. 
Modi said a youth called Shezad (Poonawala), who is a (Congress) party worker, has raised questions over the process of the election and alleged that it is being rigged. 
"They keep on muttering words like tolerance, tolerance, tolerance...but the party has brought out a diktat to silence this youth. The party has gagged him from all WhatsApp groups. 
He has been collectively boycotted by that party," the prime minister claimed. 
"We have a Gujarati saying which means that if there is water in a well then only it can come in a bucket. If you do not have democracy in your home (party) how can you practice it in the country," Modi said. 
He went on to allege that this has been a practice with the Congress party. 
"Sardar Patel got more votes than Jawharlal Nehru when the Congress party had (then) met to decide who will be the prime minster of the country. But that the election was rigged and Nehru won," he alleged. 
Claiming the same thing happened with Morarji Desai, he said, "They have the history of rigging elections." 
Earlier in Bharuch, Modi said his government has recently taken steps to delist bamboo from the tree category and classified it as a grass so that the tribal people can grow it and sell it in forest areas. 
Targeting Rahul Gandhi, Modi said the Congress government did not do it for the last 70 years. 
"Those who do not know what is to be done with potato how would they know what is to be done with bamboo," he said. 
Rahul Gandhi's meme on potato has been doing rounds in social media in which he is seen saying that the BJP will invent a machine in which if 'aloo' (potato) is put from one side, then gold will come out from the other side. 
Those opposing bullet train can take bullock carts: PM Modi
Prime Minister Narendra Modi on Sunday said those opposing the bullet train project should travel on bullock carts.
Modi made the comment while lashing out at the Congress for its criticism of the Rs 1.1 lakh crore project -- which he said was "a negligible price" -- connecting Ahmedabad and Mumbai and to be built by Japan.
He said the Congress government too wanted the project but failed to get it and so was now opposing it.
"Those opposing the bullet train project should travel on bullock carts. We won't mind," he told an election rally at the Amod Sugar factory near this Gujarat city on the banks of the Narmada.
Modi said the Mumbai-Ahmedabad high-speed rail corridor to be built by the state-run Japan International Cooperation Agency would open up a huge employment opportunity in Gujarat.
"Imagine how much employment will it generate for the region, for Bharuch. I ask you where will the cement for the bullet train (infrastructure) come from, iron come from, labourers come from? Won't that be from India? And who will be buying that? Japan. Isn't it a big deal?" Modi asked.
He said the UPA government under Manmohan Singh also wanted the project but could not get it. "The NDA government got it at a negligible price. So the Congress didn't like that. My only grievance against the Congress is that if they could not achieve anything, why does it pain them when someone else does it."
Our nationalism helped release of Father Tom and Father Prem: PM Modi
Prime Minister Narendra Modi on Sunday said it was 'nationalism' that helped in bringing back Indians who were captivated abroad.
Speaking at a public rally here, the Prime Minister said, "Those who are releasing Fatwas against 'nationalists' should see the efforts we undertook to get Father Tom back. Father Tom was guided by his love for Lord Christ and was working. We also brought back Father Prem, who was kidnapped in Afghanistan".
He added that it is the 'nationalism' only that made it possible to get the captives like Father Tom and Father Prem released.
"When Judith D'Souza was kidnapped, we once again did whatever we could to bring this daughter of India back. Our nurses were stranded in West Asia. When these nurses, who are doing such humanitarian work, are stranded how can anyone sleep in peace? Every effort was undertaken to bring them back home," Prime Minister Modi said.
The Prime Minister was referring to a letter written by archbishop Thomas Macwan to churches in Gujarat warning people against the "nationalist forces".
In his letter, the archbishop had made an appeal to voters to exercise their constitutional right in favour of those who believe in the principles of secularism and the Constitution of the country.
"My appeal is not against any party or in favour of any party. I have just asked people to vote according to their conscience and vote for those who are more open to secularism and constitutional values," Macwan had said.
PM Modi appreciated External Affairs Minister Sushma Swaraj for her efforts.
"Have you seen how active Sushma Swaraj ji is? Guided by humanitarian values, she is serving so many people in need- they can be in any part of the world but she helps them," the Prime Minister asserted.
He further said that the lack of healthcare facilities affects the poor adversely.
"We want to change that and that is why we made stents cheaper. Priority is to improve health infrastructure and boost innovation in the sector," Prime Minister Modi noted.
(With PTI inputs)