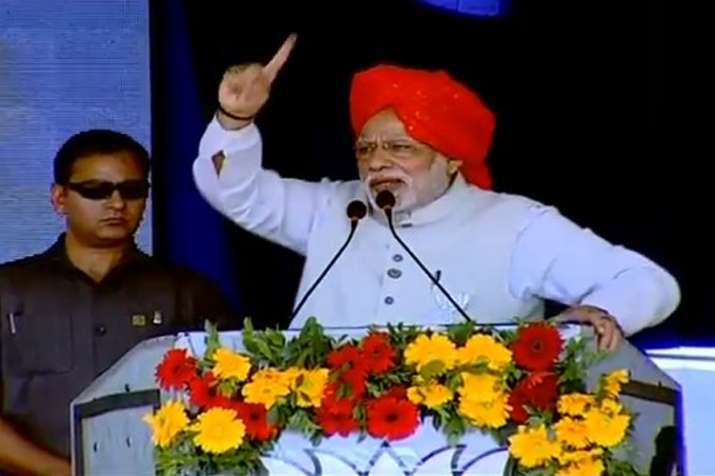 Sharpening his attack on the Congress in poll-bound Gujarat, Prime Minister on Sunday accused the grand old party of seeking to divide society on the basis of caste and religion. 
Resuming his campaign in his home state, where the first phase of Assembly elections is to be held on December 9, PM Modi lashed out at the Congress, saying that it wanted to create "walls between brothers". 
"The people of Gujarat know what the Congress is up to. It changes colour time and again, creates a wall between brothers," he said.
Addressing a rally in Bharuch district, Modi said the party made "one caste fight with the other, one religion fight with another".
"They keep you busy in fighting with each other. You may die but the Congress will eat 'malai' (cream)," he said.
PM Modi also said that the Congress opposes the BJP just for the sake of opposing and is envious of them.
"My problem with Congress politics is simple- they oppose us just for the sake of opposing. They oppose things like bullet train only because they could not take this initiative forward and are envious someone else is," he said.
He added that Bharuch and Kutch are districts with significant Muslim populations which developed rapidly under the BJP tenure in Gujarat and the names of these two districts have figured prominently.
"In Uttar Pradesh, where Congress has ruled for decades, the state from where generations of top Congress leaders belong, we saw what happened there in the local elections. Congress was wiped out. Uttar Pradesh knows Congress well and so does Gujarat," Prime Minister Modi said.
He added that when there were floods in Gujarat's Banaskantha, the Congress leaders were in Bengaluru to save one leader (Rahul Gandhi) from losing a Rajya Sabha poll.
"That same leader is the topmost Congress leader now but what did he do for Bharuch? He was unable to work for Narmada, neither did he think about Ro-Ro ferry," the Prime Minister asserted.
He further said that the curfews and violence were common in Bharuch when the Congress was in power, adding, "BJP changed this, not only in Bharuch but all over Gujarat".
The prime minister is slated to address two more rallies in Surendranagar and Rajkot later in the day. Bharuch goes to polls on Saturday. 
Gujarat will vote in two phases - on December 9 and 14 - to elect a 182-member Assembly. The counting of votes will take place on December 18.