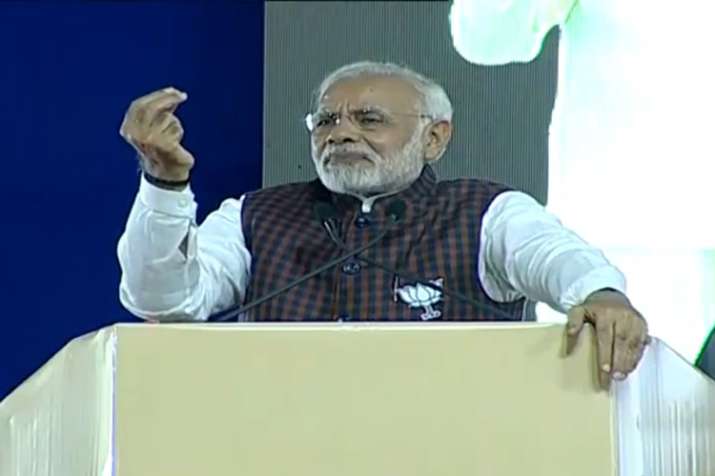 With Assembly polls round the corner in Gujarat, Prime Minister Narendra Modi will visit his home state to address seven rallies in the next two days.
On the first day his Gujarat visit, PM Modi make his poll pitch in Bharuch, Surendranagar and Rajkot in Saurashtra. 
The Prime Minister is also slated to visit Ahmedabad to attend a function at Shree Swaminarayan Gurukul Vishwavidya Pratisthanam (SGVP). Here, Modi will inaugurate a newly built hospital on the SGVP campus.
At 5 PM this evening, will inaugurate the Shree Jogi Swami Holistic Hospital in Ahmedabad. The various efforts of the SGVP family towards serving society are commendable.

— Narendra Modi (@narendramodi) December 3, 2017
On Monday, the Prime Minister will address four more rallies, starting at Dharampur in Valsad, followed by Bhavnagar, Junagadh and Jamnagar in Saurashtra.
Here are the highlights:
08:59 pm: Congress leaders are in tears due to demonetisation. That is because they have lost all that they had looted from the poor: PM Modi
08:50 pm: In every indicator be it health, education, agriculture the progress of Gujarat under BJP has been better than under previous Congress governments in the state
08:42 pm: Be it corruption, casteism, communalism or nepotism, it is the Congress which is associated with these evils. The youth are not ready to accept the Congress
08:34 pm: India's rise in the world stage has rattled many. They are going out of the way to discredit the rankings. Yes that is fine but will they also discredit the people of UP who have rejected them comprehensively
08:30 pm: Whenever any leader of the world is joining hands with Modi, he does not see Modi, he sees hundreds of thousands of Hindus: PM Modi
​PM Modi addresses public rally in Rajkot 
06:27 pm: It is our 'nationalism' that made us get Father Tom and Father Prem back. When Judith D'Souza was kidnapped, we once again did whatever we could to bring this daughter of India back: PM Modi
06:26 pm: Those who are releasing Fatwas against 'nationalists' should see the effort we undertook to get Father Tom back. Father Tom was guided by his love for Lord Christ & was working. We got Father Tom back. We also got back Father Prem, who was kidnapped in Afghanistan: PM Modi
06:23 pm: Our nurses were stranded in West Asia. When these nurses, who are doing such humanitarian work, are stranded how can anyone sleep in peace. Every effort was undertaken to bring them back home: PM Modi in Ahmedabad
06:22 pm: Have you seen how active Sushma Swaraj ji is? Guided by humanitarian values, she is serving so many people in need- they can be in any part of the world but she helps them: PM Modi
06:08 pm: When we would say serving Daridra Narayan, Jogi Ji Maharaj would add, that we should serve Dardi Narayan. Serving those who are not healthy is a great service to humanity: PM Modi
06:05 pm: Lack of healthcare facilities affects the poor adversely. We want to change that and that is why we made stents cheaper: PM Modi
06:02 pm: The three areas of Yoga, Ayurveda and Allopathy have been merged in this hospital, which is a commendable initiative: PM Modi
06:00 pm: Today I remember Jogi Maharaj, with whom I interacted closely. I am fortunate to have his blessings: PM Modi 
04:40 pm: PM Modi inaugurates Shri Jogiswami SGVP Hospital in Ahmedabad
Highlights of PM Modi's election rally in Surendranagar
03:35 pm: The biggest disservice to Gujarat by the Congress was to divide communities. Congress ensured people earlier friendly were divided: PM Modi
03:30 pm: My Gods are 125 crore Indians. I am serving them, says PM Modi
03:26 pm: Water scarcity in Surendranagar is now history. The BJP has got the Narmada waters here and helped farmers: PM Modi
03:18 pm: It was the Congress which made the nation a prison. Media had to ask Indira Ji before publishing something. So, what the youngster Shehzad is saying is not unusual it is the Congress culture: PM Modi
03:15 pm: Those who have no internal democracy can't work for people. I want to say to this youngster Shehzad- you have done a brave thing but this is sadly what has always happened in Congress: PM Modi
03:11 pm: A youngster Shehzad has exposed the rigging that is taking place in the Congress President Poll. And Shehzad is a senior Congress leader in Maharashtra. Congress has tried to muzzle his voice and wants to even remove him from their social media groups. What tolerance is this
03:10 pm: A few days back in Navsari I had said there are 3 polls whose results are certain- the UP local polls, Gujarat polls where I said BJP will win and the Congress President election where 1 family will win. We saw what happened in UP: PM
Highlights of PM Modi's Bharuch rally:
1:35 pm: My problem with Congress politics is simple- they oppose us just for the sake of opposing. They oppose things like bullet train only because they could not take this initiative forward and are envious someone else is: PM
# Bharuch and Kutch are districts with significant Muslim populations. And, if you see the districts which developed rapidly under the BJP tenure in Gujarat, the names of these two districts figure prominently: PM Modi
# ​When there were floods in Banaskantha, Congress leaders were in Bengaluru to save 1 leader from losing the Rajya Sabha poll. That same leader is topmost Congress leader but what did he do for Bharuch? He was unable to work for Narmada, neither did he think about ro-ro ferry: PM Modi
1:19 pm: Congress strategy is to divide people- divide people on lines of caste, community, urban-rural...all this just for power: PM Modi
# In Uttar Pradesh, where the Congress ruled for decades, the state from where generations of top Congress leaders belong...we saw what happened there in the local elections. Congress was wiped out. UP knows the Congress well and so does Gujarat: PM 
# I can see a strong wave in support of the BJP in Gujarat. People are supporting BJP: PM Modi 
1 pm: PM Narendra Modi addresses mega rally in Bharuch 
Will be addressing rallies in Bharuch, Surendranagar and Rajkot today. @BJP4Gujarat

— Narendra Modi (@narendramodi) December 3, 2017
The polling for the two-phase elections in Gujarat, having total 182 seats, will take place on December 9 and 14 and votes will be counted on December 18. While 89 seats of Saurashtra and South Gujarat region are going to polls in the first phase, the remaining 93 seats in central and northern region will go for polls in the second phase.
देखिये महिला सुरक्षा के बारे में क्या कहती हैं गुजरात की महिलाएं। #TransformingIndia @BJP4Gujarat pic.twitter.com/s5an9mQ59Q

— BJP (@BJP4India) December 2, 2017