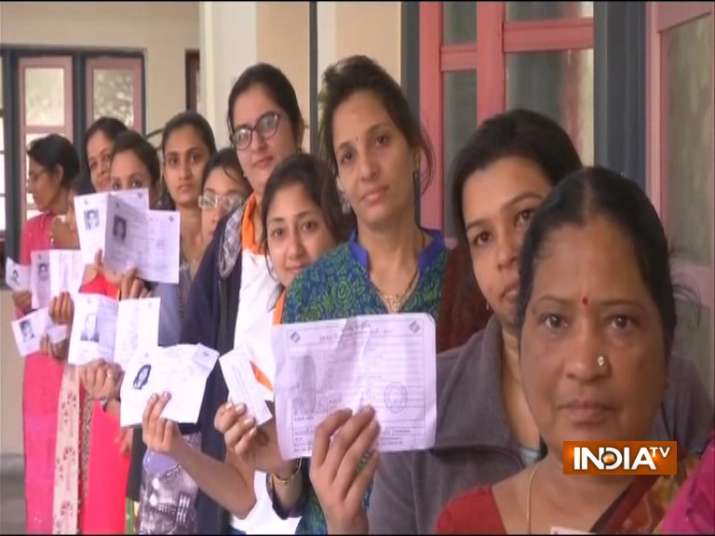 68 per cent voting was registered in Gujarat at close of polling at 5 p.m. in the first phase of elections, according to Election Commission of India. However, the EC added that the final figures may go a little higher and the voting percentage may touch last year's figure of 71.3%
The Election Commission also said that 181 ballot units (1.33% of total units), 223 control units (1,45% of total units) and 715 VVPATs (4.56% of total VVPATs used) were replaced during today's elections. 
The EC added that there is always a possibility of technical glitches in 5% of machines and keeping that in mind, the commission keeps 5% machines in reserve every time.
The EC also rejected allegations of EVM tampering via bluetooth. 
" We had received complaints from three polling stations that the EVMs were connected with Bluetooth devices. However, the charges were not found true because the bluetooth was connected with the mobile device of a poll official.  EVM can't be controlled by any remote,"   the EC said.
Earlier in the day, senior Congress leader Arjun Modhwadia complained of possible EVM tampering at three polling booths in a Muslim-dominated area of Porbandar claiming that some machines were found to be connecting to external devices via bluetooth. After that,  the Election Commission had ordered a probe into these allegations.
LIVE UPDATES ON FIRST PHASE OF GUJARAT ELECTIONS:
6:46pm: By the time we get final figures voting percentage may go a little higher and touch last year's figure.: Election Commission of India
6:45pm: 68% voter turnout recorded in the first phase of Gujarat election: Election Commission of India
06:33 pm: Election Commission addresses media after first phase of polling ends in Gujarat
06:32 pm: 
Gujarat: First phase of polling ends in the state, visuals from Bhavnagar #GujaratElection2017 pic.twitter.com/KzfWp6VTVJ

— ANI (@ANI) December 9, 2017
06:30 pm: These are just baseless statements. When statements of these kind are given, I can't help but say that these are preparation of upcoming defeat: Finance Minister Arun Jaitley on Congress' Arjun Modhwadia complaints of Bluetooth connection in EVM in Porbandar 
06:25 pm: 
#Visuals from Rajkot: EVMs & VVPATs being sealed after first phase of polling ends in #GujaratElection2017 pic.twitter.com/3MBIGuVL42

— ANI (@ANI) December 9, 2017
06:10 pm: 
First phase of polling has ended, we are extremely grateful to EC, the officials & voters for peaceful & successful completion of voting. I'm sure, as per the reports that are coming, that BJP is going to register a landslide victory: Arun Jaitley #GujaratElection2017 pic.twitter.com/4LodFh06G2

— ANI (@ANI) December 9, 2017
05:10 pm: 
47.28% voter turnout recorded till 4 pm in first phase of #GujaratElection2017 pic.twitter.com/UQtQhBg7Hv

— ANI (@ANI) December 9, 2017
04:32 pm: 
Gujarat: Governor of Karnataka Vajubhai Rudabhai Vala cast his vote in Rajkot #GujaratElection2017 pic.twitter.com/m73EzQzIuh

— ANI (@ANI) December 9, 2017
3:00pm: 35.52% voter turnout recorded till 2 pm in first phase of Gujarat elections
A team of Election Commission reaches polling booth in Thakkar Plot, Porbandar after complaints of EVM being connected to Bluetooth #GujaratElection2017 pic.twitter.com/ETmuu73Fwk

— ANI (@ANI) December 9, 2017
2:12pm: PM Modi will not touch corruption issue in Gujarat elections as it will highlight the scams of Amit Shah's son: Rahul Gandhi
2:11pm: PM Modi has changed poll issue repeatedly as he cannot raise real matters like development: Rahul Gandhi
Katargam(Surat): A bride to be, Fenny Parekh arrives from her 'haldi' ceremony to cast her vote #GujaratElection2017 pic.twitter.com/oGaW9skOYV

— ANI (@ANI) December 9, 2017
1:28 pm:  21.09 per cent voting recorded till 12 pm.
12:42 pm: This will be a landslide victory for BJP and the win will be resounding, says FM Arun Jaitley on Gujarat Polls
12:05 pm: The Congress party urged the Election Commission to look into the malfunctioning of Electronic Voting Machines as Gujarat began its first phase polling.
11:45 am: "There are reports of EVM malfunctioning in several polling stations. Request the Election Commission to take necessary action immediately," Ahmed Patel said in a tweet.
A group of Patidars protest as BJP's Reshma Patel arrives to cast her vote in Junagadh, #GujaratElection2017 pic.twitter.com/cLGt3QZmFQ

— ANI (@ANI) December 9, 2017
11:35 am: Around 10 per cent voting recorded till 10 am.
गुजरात में 22 सालों से भाजपा की सरकार है।

मैं केवल इतना पूछूंगा-
क्या कारण है इस बार प्रधानमंत्री जी के भाषणों में 'विकास' गुम है?
मैंने गुजरात के रिपोर्ट कार्ड से 10 सवाल पूछे, उनका भी जवाब नहीं।
पहले चरण का प्रचार ख़त्म होने तक घोषणा पत्र नहीं।

तो क्या अब 'भाषण ही शासन' है?

— Rahul Gandhi (@RahulGandhi) December 9, 2017
10:49 am: Congress' Ahmed Patel says not in race for Gujarat chief ministerial post.
10:48 am: Congress will form government in Gujarat, says Congress' Ahmed Patel.
10:38 am: Uttar Pradesh Chief Minister Yogi Adityanath says there is no anti-incumbency in Gujarat.
10:29 am: Cricketer Cheteshwar Pujara casts his vote in Rajkot's Ravi Vidayalaya booth
10:00 am: Election Commission of India to address media on first phase of polling in Gujarat at 6:30 pm.
Faulty EVM in Sardar Patel Vidyalaya booth in Surat's Varaccha has been replaced.
09:30 am: Voting underway on Surat's Kamrej assembly seat. BJP's Zalavadiya Vinubhai Dahyabhai is up against Congress's Ashok Jirawala
A couple in Bharuch cast their votes before their wedding ceremony #GujaratElection2017 pic.twitter.com/TuXxKDpkK0

— ANI (@ANI) December 9, 2017
09:04 am: We are going to win 150+ seats under the leadership of PM Modi ji, we face no obstacles, says Jitu Vaghani, BJP Gujarat Chief and candidate from Bhavnagar West.
09:02 am: Of the 2,12,31,652 voters, 1,11,05,933 are males and 1,01,25,472 females while 247 are from the third gender.
09:02 am: People should come out in large numbers to vote. We are very confident, no question of any challenge, says Gujarat CM Vijay Rupani
08:55 am: Gujarat Chief Minister Vijay Rupani casts his vote.
08:20 am: A total of 977 candidates are in the fray from Kutch, Morbi, Jamnagar, Surendranagar, Devbhoomi Dwarka, Rajkot, Botad, Porbandar, Junagadh, Amreli, Gir Somnath, Bhavnagar, Bharuch, Narmada, Surat, Tapi, Navsari, Dang and Valsad districts.
मतदाताओं की भागीदारी लोकतंत्र की आत्मा होती है। गुजरात चुनाव में पहली बार वोट डाल रहे युवा साथियों का बहुत स्वागत और अभिनन्दन। गुजरात की जनता से अपील है कि भारी संख्या में मतदान कर लोकतंत्र के इस पर्व को सफल बनाएं।

— Rahul Gandhi (@RahulGandhi) December 9, 2017
08:30 am:"The BJP will score a historic win. There will be three reasons of BJP's victory. The work of BJP, Prime Minister Narendra Modi's leadership and his popularity and the way Congress insulted Modi. People of Gujarat will take revenge of this."
08:12 am: Voting underway in JH Ambani Saraswati Vidyamandir polling booth in Surat.
8:00 am: Voting on 89 seats of Saurashtra, South Gujarat begins.
07:50 am: Gujarat Chief Minister Vijay Rupani offers prayers ahead of voting.
07:20 am: "Phase 1 of Gujarat polls begin. Urging all those voting today to turnout in record numbers and vote. I particularly call upon youngsters to exercise their franchise", tweets PM Narendra Modi.
07:10 am: Polling on 89 seats of Saurashtra, South Gujarat to begin at 8 am today.
07:02 am: "Pretty sure Congress will win. There's definitely an undercurrent here. They may muscle and money it's not going to work. I'll never forget the love of Gujarat which I received in last 3-4 months. I'm always at their service," says Rahul Gandhi ahead of phirt phase of polling in Gujarat.
6:47 am: The second phase of polling comprising 93 seats in north and central Gujarat will take place on December 14. The counting of votes will be taken up on December 18.
06:38 am: In Gujarat, the home state of Prime Minister Narendra Modi, the Congress is trying to dislodge the ruling BJP which is holding power in the state for almost two decades now.
06:30 am: In 2012 elections, the BJP under the leadership of Narendra Modi had won 115 out 0f 182 seats in the Assembly and the saffron party had garnered 47.85% vote share. The Congress, on the other hand, had won 61 seats with 38.93% vote share.
"We detected that the EVMs at three polling booths at Memanwada, a Muslim-dominated area, are connected to external devices through bluetooth. When the bluetooth of a mobile phone is turned on, a device named 'ECO 105' is shown as available," Modhwadia, the Congress candidate from Porbandar, said. 
This clearly means that the Electronic Voting Machines (EVMs) can be tampered with using the device via bluetooth, he alleged. 
"The chips fitted in the EVMs appear to be programmable using bluetooth, and this raises the possibility of tampering. The voting system should be immune to such connectivity to external devices," he said. 
Modhwadia said he had registered a complaint with the district election officer. The election officer visited the booth and saw the display, he added.
Chief Election Officer (CEO) B B Swain said an inquiry was ordered into the matter and the collector and the observer of the Election Commission (EC) were sent to the spot. 
"We received a complaint regarding the connectivity of EVM through bluetooth. After discussing the matter with the Election Commission, we have sent the collector and an observer of the commission has been sent to the spot along with the senior-most engineer. An inquiry is being conducted in the presence of the complainant," Swain said. 
The ruling BJP, however, said the complaint made by Modhwadia shows the opposition party's "search for an excuse" as it knows that it would bite dust in the election.
"Members of the Congress are saying there is a defect in the EVMs. The EC would respond to it. But we can say that the Congress is searching for an excuse even before the results are out, as it stares at a loss in the elections. They are trying to hide behind the EVMs," BJP spokesperson Sambit Patra said. 
After the polling process began at 8 am, people could be seen stepping out of their houses despite the cold weather and queueing up to cast votes at polling stations. 
Even some brides and grooms, clad in the marriage attires, came to polling booths along with their relatives to exercise their franchise before the wedding function. Such voters were seen in Bharuch, Bhabvnagar, Gondal and Surat. 
A 115-year-old woman from Upleta town of Rajkot, Aajiben Chandravadia, also voted today. FULL COVERAGE ON GUJARAT ASSEMBLY ELECTIONS
While a majority of the candidates of major parties cast their votes by noon, people are still making a beeline at polling booths in large numbers. 
Several important leaders and candidates, including Gujarat Chief Minister Vijay Rupani, his opponent on Rajkot-West seat Indranil Rajyaguru, senior Congress leader Ahmed Patel, Gujarat BJP chief Jitu Vaghani and Congress MLA of Amreli seat Paresh Dhanani, among others, cast their votes. Cricketer Cheteshwar Pujara also got his finger inked and cast his vote in Rajkot. 
A total of 89 seats out of 182 -- spanning the Saurashtra and south Gujarat regions -- are up for grabs in the first phase with 977 candidates in the fray. 
Prominent candidates for today's battle include Chief Minister Vijay Rupani, who is contesting from Rajkot (West), Congress' Shaktisinh Gohil (Mandvi) and Paresh Dhanani (Amreli). 
The election is being viewed as a prestige battle for Prime Minister Narendra Modi and a litmus test for the leadership of soon-to-be Congress chief Rahul Gandhi. The election is a crucial battleground for the Congress and the BJP before 2019 Lok Sabha elections. 
The poll campaign shaped up as a duel between Modi and Gandhi, and often turned personal. 
The Congress, in political wilderness in Gujarat for nearly 22 years, is desperate to break the jinx. It has raised issues such as the BJP's "hollow development model", besides demonetisation and GST.
Gandhi emerged as the Congress' pivot to take on the might of the prime minister on his home turf. 
While Modi addressed about 15 rallies, Gandhi spent more than seven days in Saurashtra and south Gujarat, addressing a number of meetings.