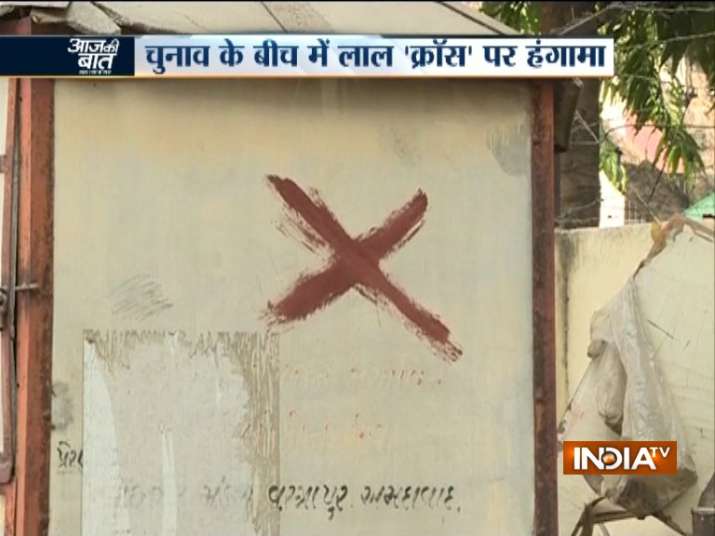 The ongoing high-voltage political fervour in Gujarat took a communal turn when panic gripped Muslim families in some pockets of Hindu-dominated Paldi area of Ahmedabad after they found red "cross marks" on the main gates of their societies on Sunday morning.
The city police swung into action after residents of one such society in Paldi area here wrote a letter yesterday to the Election Commission and the city's police commissioner, urging them to inquire the matter.
The residents wrote in the letter that they feared it (putting the marks) was done with a "clear purpose to identify Muslims living in that area" ahead of the assembly polls in Gujarat next month. 
However, the police said the marks were put up to identify the societies which would be covered under the civic body's Global Positioning System-based waste collection system. 
"The Ahmedabad Municipal Corporation staff visited the area with us yesterday and informed the residents that it is part of their garbage collection project," Paldi's police inspector B S Rabari said. 
"The cross marks would help the sanitation supervisors to identify those societies which would be covered under their GPS-based waste collection system. There is no reason for residents to panic," he said.
A probe by India TV found that such cross marks in red colour were painted not only in Muslim societies but also on the gates of Hindu societies in Paldi area for the implementation of the waste collection project by the Ahmedabad Municipal Corporation (AMC) staff.
However, the residents who wrote the letter to EC, alleged that such markings might be an attempt to disturb the peace in the area ahead of the polls.
"Such activities of marking buildings of a particular community and highlighting their religious identity before the election is causing insecurity among the dwellers and increases chances of communal clash which might destroy peace of Paldi...take immediate action and investigate the reasons," reads the letter penned by members of the society.