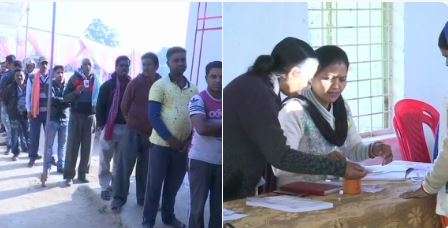 Voting for 72 seats spread in 19 districts in Chhattisgarh for the second and final phase of the assembly elections concluded on Tuesday. 
According to the Election Commission (EC), 71.93% voter turnout was recorded in second phase of assembly polls.
A three-way contest is in the offing with the ruling BJP wrestling it out with the opposition Congress and the Ajit Jogi-Mayawati-led alliance emerging as a formidable third front. A total of 1,079 candidates are in the fray, with both Congress and Bharatiya Janata party (BJP) contesting all the 72 seats. 
The Mayawati-led Bahujan Samaj Party (BSP) is in the fray for 25 seats and its ally and former Chief Minister Jogi's Janta Congress Chhattisgarh (J) is vying in 46 seats. The Arvind Kejriwal-led Aam Aadmi Party (AAP) has fielded candidates in 66 constituencies.
Voting began at 8 am for all 72 seats and closed at 5 pm. An electorate of over 1.5 crore, including over 77 lakh male and over 76 lakh female voters are eligible to exercise their franchise.
Highlights: 
7:00 pm: 71.93 pc voter turnout recorded in phase 2 of Chhattisgarh assembly polls: EC
5:31 pm: 64.8 % voter turnout recorded till 5 PM
4:40 pm:  58.47 % voting recorded till 4 PM
3:15 pm: 45.2 % voting recorded till 2:55 PM 
1:37 pm: 25.2 per cent voting recorded till noon in second phase of polling in Chhattisgarh
1:20 pm: Chhattisgarh Chief Minister Raman Singh casts his vote at a polling booth in Kawardha
11:21 am: A delegation of Congress leaders led by PL Punia meet the Election Commission in Delhi over alleging attempts to misuse and tamper EVMs in Chhattisgarh.​
10:42 am: 12.54% voting recorded till 10 AM in the second phase of voting 
10:27 am: 
8:36 am: PM Modi urges people to vote in huge numbers
8:10 am: 
08:00 am: 
Elaborate security arrangements including use of helicopters and drone have been put in place for the polls to take place at over 19,000 polling booths and over a lakh security personnel have been deployed.
For the Maoist-affected Gariaband, Dhamtari, Mahasamund, Kabirdham, Jashpur and Balrampur districts, extra security arrangements have been made.
Carved out of Madhya Pradesh in 2000, the state where the BJP is in power since 2003, is witnessing a three-way poll battle for the first time.
Jogi -- who ruled the state for the first three years as a Congress Chief Minister, later floated his own outfit and aligned with the BSP and the CPI -- is perceived to impact the poll battle where the vote share difference between the BJP and the Congress was less than one per cent in 2013.
In 2013, the BJP with 41.04 per cent vote share had own 49 seat, while the Congress won 38 seats with a vote share of 40.29 per cent in the 90-member Assembly.
Among the prominent faces in fray in the last phase are state Congress chief Bhupesh Baghel (Patan), Leader of Opposition in the Assembly T.S. Singh Deo (Ambikapur) and former Union Minister Charandas Mahant (Shakti). 
For the BJP, the list includes state ministers Brijmohan Agrawal (Raipur City South), Rajesh Munat (Raipur City West), Amar Agrawal (Bilaspur), Prem Prakash Pandey (Bhilai Nagar), Dayaldas Baghel (Nawagarh) and state party president Dharamlal Kaushik (Bilha). 
For the alliance, Jogi is in the fray from Marwahi, his wife Renu Jogi is contesting from Kota, while his daughter-in-law Richa Jogi is a BSP nominee from the Akaltara seat.
The high-decibel poll campaign which ended on Sunday, saw Prime Minister Narendra Modi, BJP President Amit Shah, Chief Minister Raman Singh and his Uttar Pradesh counterpart Yogi Adityanath raising the pitch for the party.
For the Congress, which looking to unseat the BJP, President Rahul Gandhi led from the front targeting Modi and the Raman Singh government over corruption and agrarian distress. 
The BJP's campaign centered around attacking the Congress over dynasty politics, with the Nehru-Gandhi family being the focal point of both Modi and Shah's attack. 
The first phase of election in 18 constituencies across eight Maoist-affected districts of the state took place on November 12 and saw a 76.28 per cent voting despite the rebels threatening people to stay away from the poll process. 
The results will be declared on December 11.
FULL VIDEO: