Follow us on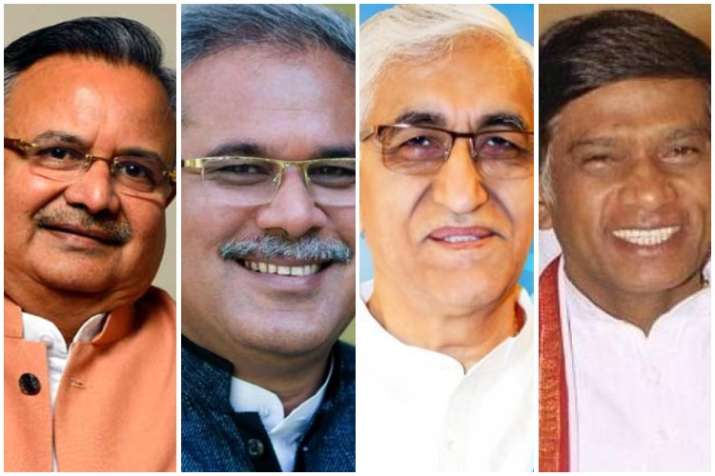 Chhattisgarh Assembly Elections 2018 are set to test mantle of both ruling BJP and main opposition Congress. As Chief Minister Raman Singh seeks a fourth-term, Congress is doing everything to end its 15 years of exile from power in the state, while former CM Ajit Jogi plans to pull a Kumaraswamy in Chhattisgarh. 
The opinion polls have put BJP in a strong position as they predict that the ruling party may not just win but also add another seat to its tally, rounding it off at 50 in a 90-seat assembly. Congress may be reduced from 39 to just 30 this elections, India TV-CNX survey predicted. 
Also read | India TV-CNX pre-poll survey predicts clear majority for BJP in Chhattisgarh; Raman Singh set for record fourth term 
Another factor that favours BJP is that among the chief ministerial candidates, the survey says, a huge 40.71 per cent respondents backed Raman Singh, while 19.2 per cent favoured Congress leader Bhupesh Baghel as the CM. TS Singh Deo had nine per cent people backing him for the CM post, while former CM Ajit Jogi had support of only eight per cent. Interestingly, a whopping 23 per cent of people did not consider any of the above mentioned names as the key contenders for the top job. 
According to the political pundits, the party of the favourite CM candidate is likely to win the polls. This fact becomes even more crucial for Congress as it has failed to field a CM candidate even few days before the polls. 
Also read | 1,291 candidates in fray for high-octane polls on 90 seats
Here is a look at key candidates in running for the post of next Chief Minister of Chhattisgarh: 
Raman Singh, BJP: 
The incumbent holds a strong chance of winning a fourth-term in the office. A young state, Chhattisgarh has only seen two CMs, Ajit Jogi and Raman Singh, since its inception 18 years ago. Interestingly, Singh also has the distinction of being the only elected CM to the state, as Jogi was appointed on the basis of elections held before bifurcation from Madhya Pradesh. 
The BJP leader still holds a strong sway over the state as he maintains a clean image and a balance between development agenda and tribal welfare. The fact that he is the only 'declared' CM candidate in running also weighs in his favour. Singh does, however, faces a 15-years of anti-incumbency factor along with a tough competition in his bastion. Congress has fielded former prime minister Atal Bihari Vajpayee's niece Karuna Shukla against Raman Singh in Rajnandgaon. 
Also read | History of polling and successive governments in Naxal-hit state
Bhupesh Baghel, Congress: 
President of Chhattisgarh Pradesh Congress Committee, Bhupesh Baghel is being touted as the strongest leader within his party for the post of chief minister, if the party wins. India TV-CNX survey suggested, if Congress comes to power 38 per cent people would want to see Bhupesh Baghel grab the seat of power, way ahead of his intra-party competition TS Singh Deo, who had only 18 per cent people backing him.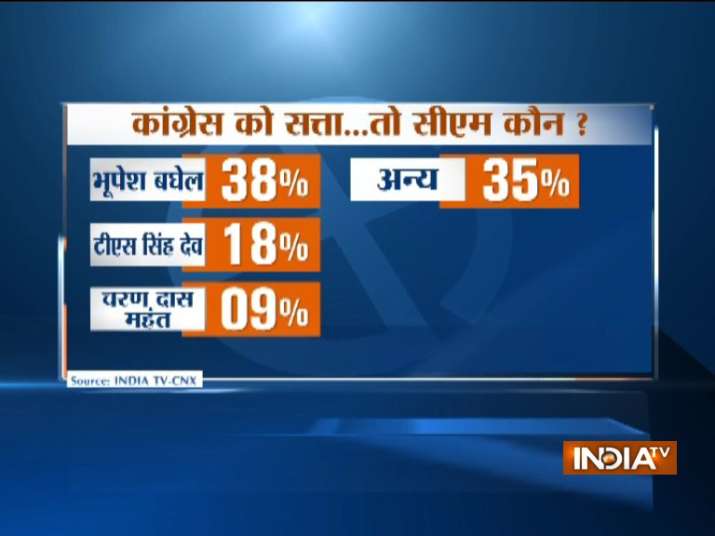 TS Singh Deo, Congress: 
Leader of Opposition in Chhattisgarh Legislative Assembly, TS Singh Deo also enjoys considerable support from within Congress to be projected as the party' CM candidate. Titular Maharaja of Sarguja, Deo was also the richest candidate during the 2013 assembly elections. According to political pundits, Congress high command has refrained from choosing either Deo or Baghel as the face of the party during the polls as it may alienate the supporters of the candidate not chosen. 
BJP's cheif ministerial candidate Raman Singh is an Ayurvedic doctor by education and has declared a property worth Rs 10 crores

 

A farmer by trade, Congress leader Bhupesh Baghel has declared property with approximate worth of Rs 14 crores

Another senior Congress leader, TS Singh Deo is the titular Maharaja of Sarguja and was the richest candidate during the last assembly polls

Ajit Jogi is a bureaucrat-turned-politician. Before his stint as an elected representative, he served as district collector in Indore. His declared assets during last Lok Sabha polls amounted to Rs 4.5 crore
Ajit Jogi, BSP-JCC-CPI: 
The candidate who hopes to be the underdog of the race is former chief minister Ajit Jogi. Former Congress leader has entered his new party JCC in the fray by forming an alliance with Mayawati's BSP and CPI. Even as the alliance does not hold sway over voters in the entire Chhattisgarh, it may pull enough seats in the first phase of polling to become a key clog in government formation, in case of a  hung assembly. 
According to opinion poll predictions, Ajit Jogi is not likely to secure any decisive role after the results of Chhattisgarh Assembly Elections 2018. However, in a positive scenario, he can hope to play the kingmaker; and in the best case scenario, he will pull a Kumaraswamy and become the chief minister of the state by entering into an alliance with the party with much bigger numbers than JCC-BSP-CPI team. 
Also read | 'Good' that Ajit Jogi has joined fray, but he will hurt Congress' electoral prospects more: Raman Singh
Chhattisgarh Assembly Elections are being held in two phases. In Phase 1, 18 constituencies go to polls on November 12. Voting for rest of the 72 constituencies will be held on November 20 and counting of votes will be held on December 11.
Also read |  Nearly 65,000 troops to be deployed for first phase of polling in Naxal-hit state
Watch Video: BJP likely to dominate in all Chhattisgarh regions, says IndiaTV-CNX Opinion Poll
IndiaTV's Extensive Coverage on Elections: 
Full Coverage: Assembly Elections 2018
Full Coverage: Madhya Pradesh Assembly Elections 2018
Full Coverage: Rajasthan Assembly Elections 2018
Full Coverage: Telangana Assembly Elections 2018
Full Coverage: Chhattisgarh Assembly Elections 2018
Full Coverage: Mizoram Assembly Elections 2018