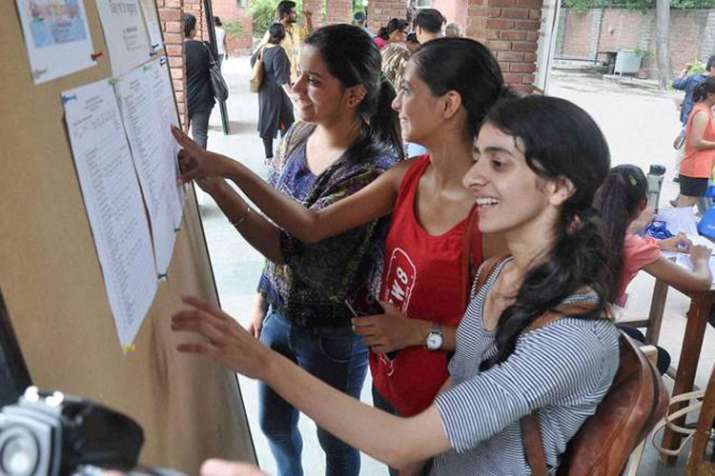 After the first cut-off list released, more than 11,000 students took admission in various colleges of Delhi University. The number is almost six times compared to last year, an official said.
Out of 56,000 seats, over 11,000 were filled. Last year, around 2,000 seats were filled. The last day of the admission process for the first-cut-off ended on Thursday.
The top five colleges where students took admission were Hindu College (785 seats filled), followed by Gargi College (674 seats filled), Miranda House (628 seats filled), Lady Shri Ram College (579 seats filled) and Shaheed Bhagat Singh College (575 seats filled) according to data shared by the varsity.
The top courses were B.Com (Honors) in which 1,401 seats were filled. It was followed by BA (Programme) in which 1,371 seats were filled. The third most popular course was BA (Honors) Political Science where 1,004 seats were filled.
BA (Honors) History and B.Com were the other top courses where 819 seats and 807 seats were filled, respectively.
On 19 June, which was day one of admissions, the Delhi University's server came under severe pressure and the DigiLocker, a government-owned public cloud storage where certificates and documents were stored, was not integrated with the varsity portal.
The second day and the third day of the admissions went off smoothly, said officials.
The second cut-off is expected on 24 June and the officials are expecting a huge rush at that time.
According to the admission rules, applicants need to study the cut-off list, select courses and colleges on the university website, take printout of the admission slip and finally approach the respective colleges with the slip and required documents.
The Delhi University announced its first cut-off list on 18 June for merit-based undergraduate courses in the 2018-19 academic year, recording a drop in the minimum required marks as compared to last year.
The varsity threw open its admission portal for aspirants of various undergraduate courses on 15 May. The registration for these courses ended on 7 June.
(With PTI inputs)