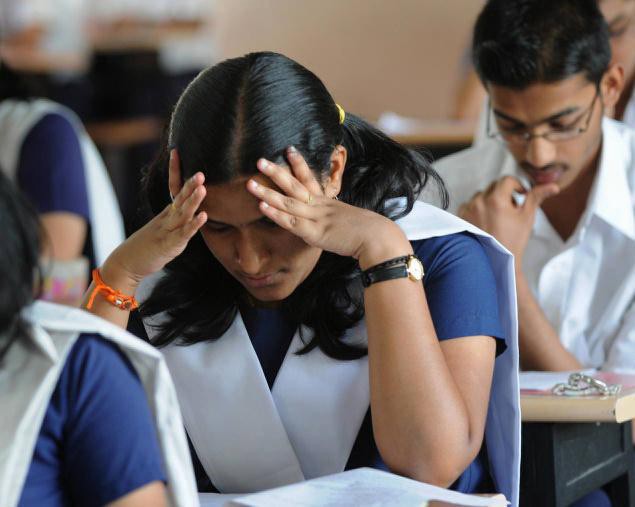 With board examinations and several other competitive exams just round the corner, students have started feeling blue finding it difficult to cope up with the pressure and mental stress.
Concerned over getting their choice of stream in Class XI, secondary school students are bracing themselves up amid a competitive rat-race to outshine each other. 
"There is a lot of stress, more so because I want to get Commerce and I am not sure if I will get it," said Simran Taneja, a Class X Delhi student. 
A nervous Simran, however, shared that she makes sure that studies don't leave her sleep deprived. She said that she would not compromise on her sleep.
Janhvi Singhal, another class X student, shared how in her previous classes anxiety harrowed her just as she entered the examination hall. At the same time, she tells us how stress withered away with time once she begun writing down the answers.
However, facing the boards for the first time, Janhvi invests ample of time in studying but also takes on stress by playing games on her mobile phone, which works as a stress buster for the girl. 
As the exams are approaching, students and parents are also keeping the CBSE counsellors busy by posing their questions and queries. On an average, the counsellors are receiving nearly 50 calls a day from students and teachers. 
It is extremely important for students to have careful planning and hard work, both of which go hand-in-hand in reducing anxiety and securing good marks. 
Students at the same time should ensure a well-balanced daily routine, apetite, good sleep and ofcourse confidence and belief in themselves.
A class XII student, Naman, expressed his fears of Maths appearing to him as his "worst nightmare". Dubbing it as a 'phobia', Naman says this particular subject troubles him in the examination hall. 
However, experts advise students to not consider the exams as a make or break situation, instead remain calm and composed with focus centred on all they have studied and make the most of it.
So, here we have compiled five handy tips to help students deal with the exam stress and manage their schedule:
1. Start revising early
Students who start revising their portion early find that they can manage to answer without any stress or exam pressure. To avoid panic, never try to grasp new things at the last moment.
2. Set a target for the day
Fixing a target for the day is crucial in order to aim something. As you would have noted down the chapters or topics you need to revise, break down these chapters as against the days.
3. Allocate time for breaks
While you make your timetable setting your desired targets for each day, don't forget to give yourself breaks at right intervals. Even listening to music or doing what relaxes you after every few hours is not bad. Breaks bring back enthusiasm while studying and help you retain things.
3.  Visualise positivity
Whenever you think about the examination, visualise that you will pass by all the work you have put through. The mere thought about failure invites stress that overpowers you. 
5. Sleep properly
Students often study without taking rest. Sleep deprivation is a common phenomenon encountered by many during exam days. Experts believe that students writing the board examinations should ensure at least 7-8 hours of comfortable sleep.