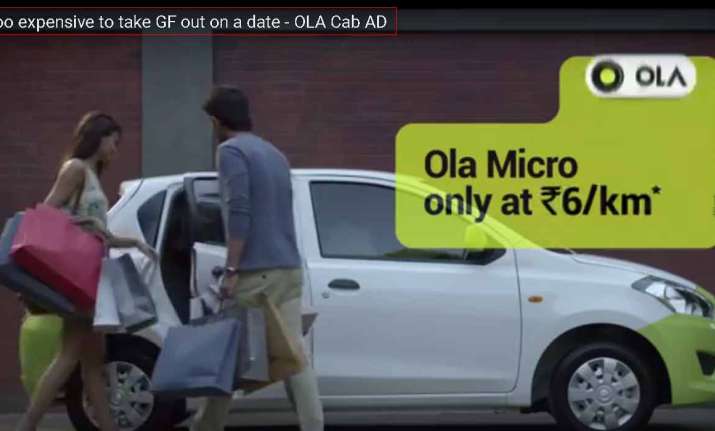 New Delhi: Ola, which claims to be a 'smartest' cab service provider, appears to have pulled a smart one on itself. The taxi aggregator is now dealing with an angry online mob who are expressing disgust over a 'sexist' advertisement put up by the brand.
Through an advertisement uploaded on you tube titled, 'Too expensive to take GF out on a date,' the cab provider tried to claim that its newly introduced 'Micro' cab service will cost you much less than what going out with your girlfriend would.
The advertisement suggests that Ola is cheaper than its existing rivals just like says by the character of the advert in the video. "Meri girlfriend chalti hai Rs 525 per km, but Ola Micro chalti hai sirf Rs 6 per km" is what the protagonist remarks after his girlfriend goes on a buying spree with the guy footing the bills.
The evident use of 'sexism' in the ad has drawn ire of the people on social media platform like Twitter.
Ola, following the backlash on social media, has taken down its latest controversial ad from You tube channel.
But the 'smartest' cab service provider forgot that nothing dies on internet. As a result of the with the company's chauvinist view, there is a war on Twitter and people are appealing to others seeking to boycott Ola's services to show disagreement.
Watch full video here: