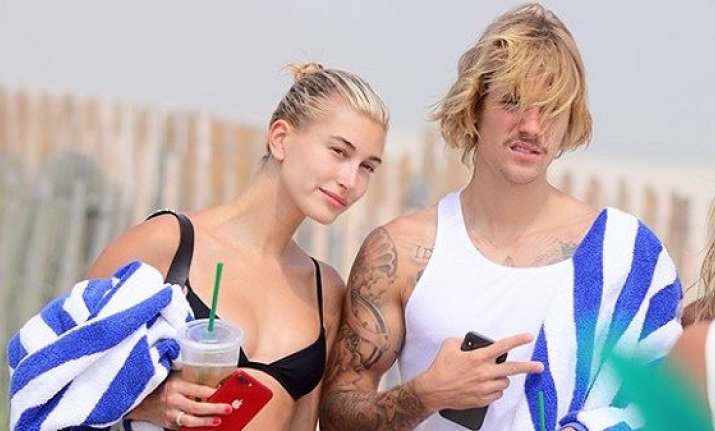 Canadian singer Justin Bieber and model Hailey Baldwin got engaged over the weekend, a source close to the singer confirmed to CNN. The couple, who dated in 2016 before splitting, had stirred chatter among fans in recent weeks, appearing together and sparking speculations about their relationship. The couple has not commented on their engagement on any of their social media platforms, but the "Baby" singer's father and mother posted about it on Sunday. 
While fans are busy freaking out about the news, and Jelena-shippers are mourning the love story that never was, Bieber and Baldwin can be seen getting seriously handsy on camera, on the very same day that Bieber allegedly proposed.
In the videos and photos, Bieber and Baldwin can be seen exhibiting some major PDA while on vacation in the Bahamas, which is where the singer apparently proposed last night, via TMZ.
"Proud is understatement! Excited for the next chapter," Jeremy Bieber posted on his Instagram, with a picture of Justin looking at a sunset.
Some fans are genuinely happy for the couple, with one writing: "You know it's weird, I don't really like Justin Bieber or Hailey Baldwin but I am really happy for them. They just seem so blonde and happy, like golden retrievers."
Haily and Justin today in BAHAMAS ❤️ i respect his choice 👍🏻Love him 4ever #like #belieber #justinbeiber @justinbieber I LOVE JUSTIN FOREVER pic.twitter.com/GEnbZY7xBP

— Ngoen JBieBer Follow (@Zebrabieber_) July 9, 2018
#JustinBieber #justinbeiber Congratulations my boy💜 pic.twitter.com/pY0sGJjo0y

— Cordelia (@Cordelia1992) July 9, 2018
Meanwhile, others are just upset that Justin is marrying someone who is not them. "Justin Bieber finally engaged?? I'm sad," a Belieber tweeted.
#justinbeiber i can't get over that idea of him Getting married !!!! Literally cry my eyes out just after i saw the news! 😭😭😭 my baby he was just yesterday singing Never say Never!!! Oh my😭😭😭 pic.twitter.com/uZqlTkhIY0

— MARATELA (@Maretazz) July 8, 2018
#JustinBeiber #HaileyBaldwin

Hailey Baldwin walking back to her hotel room after saying "Yes" pic.twitter.com/CMsgq0UD37

— Love, Harry's Dimples 👨‍❤️‍💋‍👨☁️💖 (@BoyGorgeous1) July 8, 2018
Justin (24) and Hailey (21) have been inseparable ever since they started dating. 
Apparently, the two hooked up right after Justin broke up with Selena Gomez. Over the past month, they have been flaunting their PDA on the streets of New York. Bieber even did away with his moustache recently and it is said that Hailey has a role to play in that.