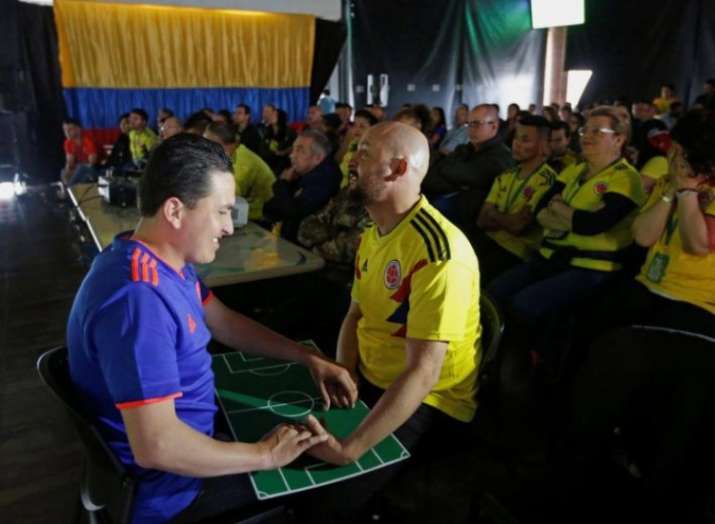 FIFA fever is not ready to die anytime soon. In fact, one can see fans getting more and more crazy every day. While the internet is flooded with FIFA, a Colombian man has shown the world what the game truly means for them by helping his blind and deaf friend experience their country's win over Poland.
Colombia man Jose Richard Gallego, who has always been a  big fan of the game, lost his hearing and vision to a disease when he was nine years old, reported Britain's Sky News last Monday. But that did not stop him from enjoying every movement on the field when Colombia beat Poland by 3-0. And all the credit goes to his good friend Cesar Daza.
.Daza, being a true friend that he is, learned sign language and came up with a series of unique hand gesture to describe the match to his friend in real-time as they sat among a cheering crowd in a bar in the capital Bogota. He imitates the players' position by moving his friend 's hands on a scaled-down football pitch in front of them. He has gestures for everything from penalties, corners to throw-ins and red cards.
Mr. Gallego told British newspaper The Sun, in sign language: "I still remember before I lost my sight, I often watched the matches between Santa Fe and Millonarios on TV. I've liked Millonarios since then."
Mr. Daza has not been with Gallego all his life but they met three years ago and bonded over their love of football. Since then Mr. Daza picked up sign language and started helping his friend to relish the game.
A video of their heartwarming interaction has touched many people on the Internet and it went viral over the past week. Even the chairman of Mahindra Group, Anand Mahindra, took to Twitter to share the heart-warming video.
So this is really the reason why it is called the 'Beautiful Game.'...
Thank you to the person who whatsapped this to me. I am determined to celebrate Sunday by being less selfish & more caring with friends... pic.twitter.com/FcmKqT6T93

— anand mahindra (@anandmahindra) July 1, 2018
By the end of the video, the duo is seen raising their arms up in the air and hug each other after Columbia scores a goal and emerge on the top in Group H with six points after their 1-0 win over Senegal last Thursday.