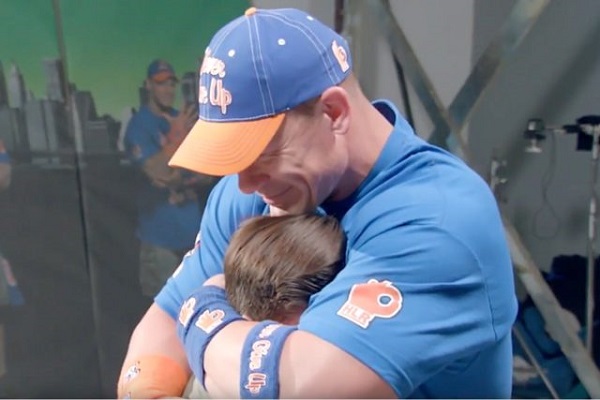 If you easily break into tears or even if you not, get your tissues ready. This video is going to touch your heart. WWE superstar John Cena had an emotional breakdown when his fans surprised him with something unimaginable. Fans, whose lives he touched with his 'never give up' message, decided to give repay him with a sweet gesture. 
The 40-year-old WWE star John Cena, who is known for his philanthropic acts, has granted more than 500 wishes for the Make-A-Wish Foundation in the past. A new video has been released by Cricket Wireless on Monday. Fans who have been moved by John's message of hopes found an opportunity to thank him. 
Also Read: 'Will you marry me', John Cena pops the question to Nikki Bella, watch video
In the heart-touching video, John is made to sit in a studio where he's asked to read the letters written by fans to him. Each letter narrated a challenging story, ranging from personal loss to life-threatening illness as well as cancer and near-death accidents. 
It was the final story that touched him the most. It came from a boy named Tyler Schweer whose mother was diagnosed with breast cancer. The boy was gifted a wristband by Cena ringside, who presented the symbol of hope to his mother during her fight with cancer. John didn't know that the bigger surprise was waiting for him outside the studio. The authors of letters were also present there in a secluded area to take him by surprise. 
As he finishes reading Tyler's letter, the boy comes into the room to meet his hero. John Cena tries to hold his tears back and gives the boy a warm hug. The group enters the room one-by-one to express their gratitude and present the star with Life Changer trophy. Moved by this gesture, John Cena addresses the crowd: 
"Just remember that you guys do the work. Don't think that you're the only one who's up against it, and don't think you're the only one who [has] challenges to face every day. You all lead by example, and I mean it when I say it: Don't ever give up."
Isn't it the coolest surprise ever? 
For more trending stories, visit the Buzz section of website.