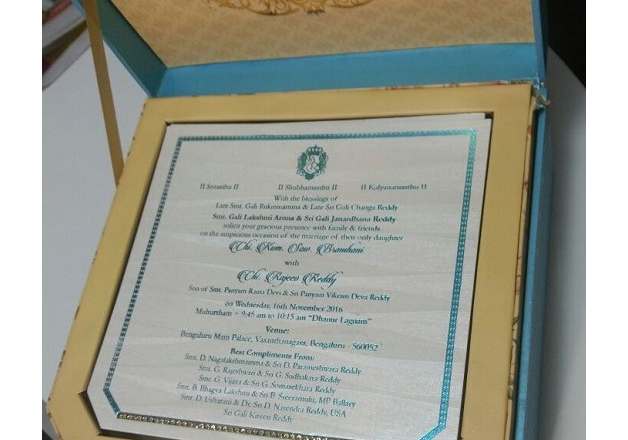 Gali Janardhan Reddy, former Karnataka minister who raked in a fortune through illegal mining, is now spending a fortune to make the wedding ceremony of his daughter an opulent affair. 
For daughter Brahman's wedding, which is in November, the mining baron is sending special invitations that come in the form of a box, which comes with a LCD screen playing a video. 
As the box opens, the LCD starts playing a video with song and a text announcing "Brahmani Weds Rajeev Reddy".
Running for longer than a minute, the video features Janardhan Reddy, his wife, daughter Brahmani, his son and the groom Rajeev Reddy. 
"Atithi Devobhava," Reddy sings, or lip syncs, along with his wife and son. 
The groom is introduced with white stallions in the backdrop, while the bride swirls her lehenga in slow motion. 
The video ends with a close-up of the family as the date and venue of the wedding are announced. 
49-year-old Janardhan Reddy, who is considered to be one of the most powerful men in Karnataka, spent three years in jail in connection with illegal mining and was released on bail last year. 
Janardhan and his brother G Karunakara Reddy were ministers in the BJP government headed by BS Yeddyurappa till July 2011. Reddy was later arrested by the CBI.
The wedding ceremony, just like the engagement which happened last month, is expected to be a star studded event. There is buzz that some of the top Bollywood actors are going to perform during the event.