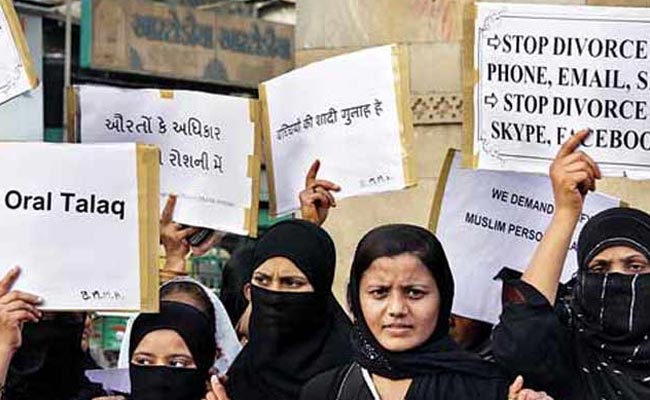 Supreme Court in its verdict on triple talaq strikes down the Islamic practice and has asked the centre to bring a legislation regarding the issue. Till Parliament bring a new law, the court has imposed an instant ban on it. A bench comprising five judges from different religions came to the conclusion that triple talaq violates Article 14 & 22 of the constitution. Three out of five judges termed it unconstitutional. The bench was hearing pleas file by Muslim women against the discriminatory practice. Petitioners opine that that the concept of triple talaq is unlawful.
Here's how the case progressed
October 16, 2015: Chief Justice of India is asked by Supreme Court bench to constitute a bench to assess if Muslim women face gender discrimination in cases of divorce 
February 5, 2016: Mukul Rohatgi instructed to assist SC on the pleas challenging constitutional validity of 'triple talaq, nikah halala and polygamy.
March 28, 2016: SC asks Centre to submit a copy of the panel report on 'women and the law: An assessment of family laws with focus on laws relating to marriage, divorce, custody, inheritance and succession'.
June 29, 2016: SC assures to  test triple talaq on "touchstone of constitutional framework".
October 7, 2016: Centre opposes these practices in SC.
December 9, 2016: The Allahabad high court says that personal laws can't be above than constitutional rights.
February 16, 2016: Announcement of five-judge constitution bench to hear the challenge on triple talaq, nikah halala and polygamy.
March 27, 2017: All India Muslim Personal Law Board tells SC that these issues should not be touched by court.
April 16, 2017:  Prime Minister Narendra Modi says Muslim women should get justice.
April 17, 2016: Uttar Pradesh CM Yogi Adityanath says politicians mum on triple talaq are equally responsible as those practising it.
April 21, 2017: The Delhi high court dismisses a plea seeking to ban the practice on Hindu women married to Muslim men.
April 29, 2017: The opposition charges PM Modi with politicising the triple talaq issue.
May 3, 2017: SC allows Salman Khurshid as amicus curiae in hearing of pleas.
May 12, 2017: The apex court says the practice of triple talaq is the worst and not desirable form of dissolution of marriages among Muslims.
May 15, 2017: Attorney general Mukul Rohatgi tells the court that the Centre is willing to bring a new law to regulate marriage and divorce among Muslims if the practice is declared unconstitutional.
May 16, 2017: All India Muslim Personal Law Board says triple talaq is a 1,400-year-old practice and is a matter of faith.
May 17, 2017: SC asks the All India Muslim Personal Law Board whether a woman can be given an option of dismissing triple talaq at the time of nikahnama (Islamic marriage contract).
May 18, 2017: SC reserves verdict.
August 15, 2017: In Independence Day speech, PM Narendra Modi applauds Muslim women for beginning a movement against the age-old practice addind that the entire country is with them
August 22, 2017: Supreme Court declares triple talaq as unconstitutional and imposes instant ban asking Union Government to enforce law. If centre fails to bring a legislation within six months then SC's injunction will continue.
Also Read: Govt, court doing their bit, women still being handed 'Triple Talaq' in more ways than one
For more details, follow our Facebook page.