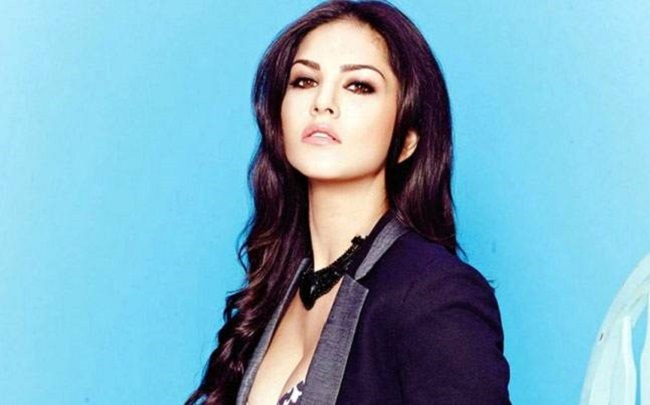 Sunny Leone is making headlines again, but this time it's not because of her sizzling item songs. An advert put by Manforce regarding 'safe sex' sparked controversy among people who found it religiously insensitive and an irresponsible way to promote sales during festive season of Navratri. The Confederation of All India Traders wrote a letter to Minister for Consumer Affair Ram Vilas Paswan calling this advert a 'clear irresponsible and immature attempt to boost sales by putting all our cultural value system at stake'. CAIT wants this banner to be put down now.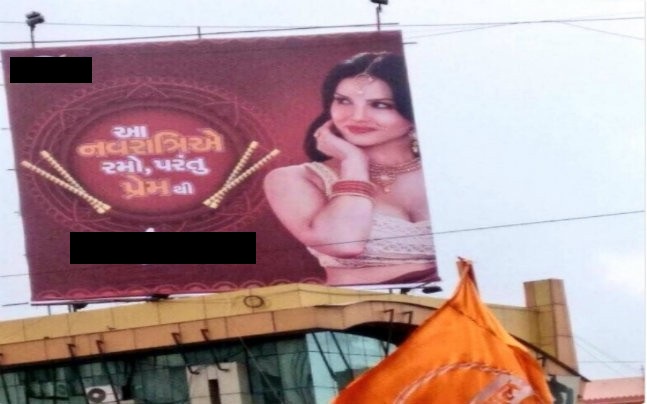 Signed by National Secretary General of CAIT Praveen Khandelwal, the letter accuses Sunny Leone for being irresponsible and of going to any level irrespective of pious and religious occasion of Navratri" to earn money. 
CAIT is insisting on ministry to take immediate action against the advertisement and 'direct the concerned officials to ban the advertisement and take appropriate action against the manufacturer and its brand ambassador'.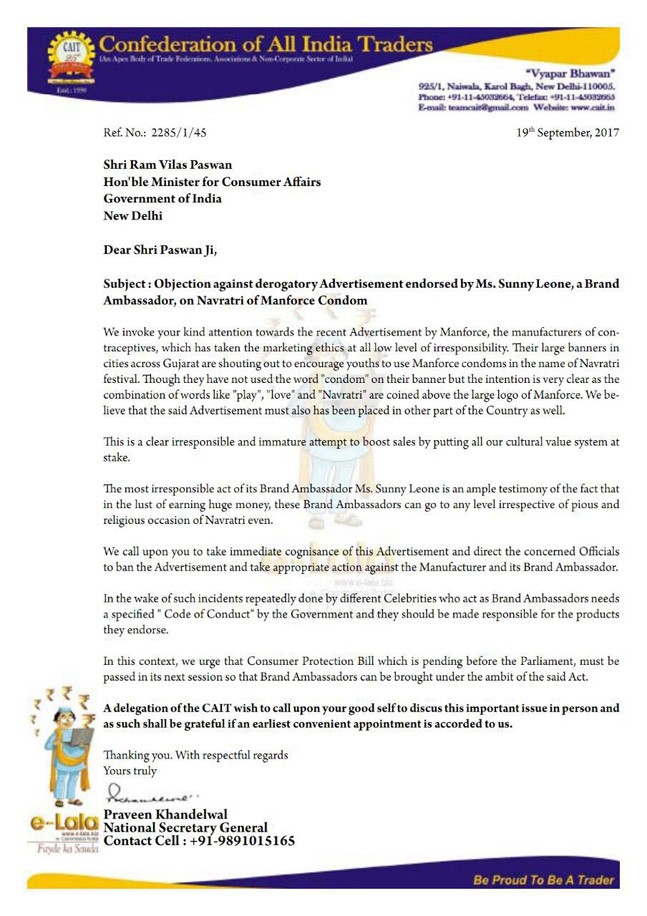 Confederation asks for a specified 'code of conduct' by the government for celebrities who work as brand ambassadors. "They should be made responsible for the products they endorse", the letter read.
Speaking to Indian Express, Surat Commissioner of Police Satish Sharma said, "We have brought such hoardings down, as the advertisement was of condoms and it should not be linked up with the religious festivals and even photo of Sunny Leone was semi-nude. We have received complaints from the public and we brought down the hoardings."
Twitter went berserk with reactions over spotting this advertisement on Gujarat roads. Some users are talking about how number of abortions goes up post-Navratri and how it was the right time for Manforce to advertise safe sex. In fact, former Gujarat CM Anandiben Patel herself had said that the number of abortions rise a couple of months after Navratri. A TOI report also stated that sale of condoms increase by 30% during this season. 
On the work front, Sunny Leone will be seen in Raajeev Walia's Tera Intezaar with Arbaaz Khan. She last featured in a rap by Raftaar, Loca Loca.