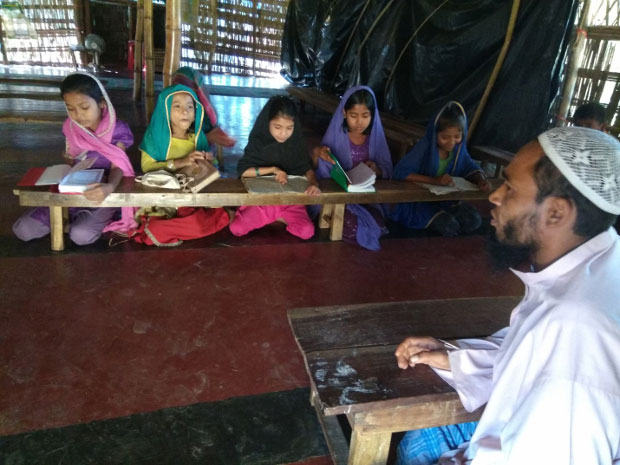 It has become chaotic in Bangladesh with over 400,000 Rohingya refugees fleeing government violence in Myanmar. Rohingyas are a Muslim minority in Myanmar. They are coming in hundreds - anxious, pained and hungry, looking for shelter and future. With them are children, elderlies and patients. Bangladesh aid workers are working round the clock to give them food and other essential supplies. 
Bangladesh government has set up camps that seem to be sprouting and swelling with each passing day since the exodus began. Representatives of the International Organization for Migration, and the Bangladesh government are trying to help and make things better for the refugees. Mass vaccinations against measles, rubella and polio have been given.
Over 4 lakh Rohingyas have poured in to Bangladesh so far out of which more than 70,000 are pregnant women. It has become a frightening situation for the authorities to control the population. Bangladesh government's population control depafrtment's head Pintu Kanti Bhattacharya says, "the population of the refugees could increase manifold, so in order to control, we are educating them".
He also said family planning is a new concept among Rohingyas. The birth control pills and contraceptives that is being distributed is being met with skepticism and hesitation as most believe it is in their religious duty to give birth.
Thousands of Rohingya children, whose families have settled in camps and settlements for unregistered refugees in and around Cox's Bazar, cannot get a formal education, instead they receive religious education where they memorize the Quran in classrooms that are called maktabs.
UNHCR provides education, even the official language of Myanmar, Burmese is taught up to grade 8, for about 8,000 children of registered Rohingya refugees. There is hope that the children will return to Myanmar one day, and by knowing Burmese, they can continue their studies in their native land. 
More trouble
Monsoon rains, relocations and extortion attempts are worsening the living situation in the Bangladeshi camps for Rohingya Muslims who fled Myanmar.
Several Rohingya camps in this coastal city are flooded from three days of unrelenting rains. People in the camps were being pelted with heavy rain Wednesday while desperately packing their meagre belongings into plastic sacks and bits of clothes and trying to find new shelter.
The initial arrivals in the most recent exodus simply settled on whatever patch of land they could find, building shelters of bamboo sticks and plastic sheets.
But as their numbers soared to more than 420,000 in a matter of weeks, the local government has started moving them to newly allocated refugee camp areas. Many refused to move, terrified of being without shelter at all. But the rains washed away many shanties or made them uninhabitable.
So they're moving again. Most of them are being sent to the new settlement of Balukhali in Cox's Bazar.
On Tuesday and Wednesday, groups of weary Rohingya were carrying whatever they could salvage from their submerged shelters and walking toward the new camps to build shelters all over again.
(With AP inputs)
For more buzz stories, follow our Facebook page