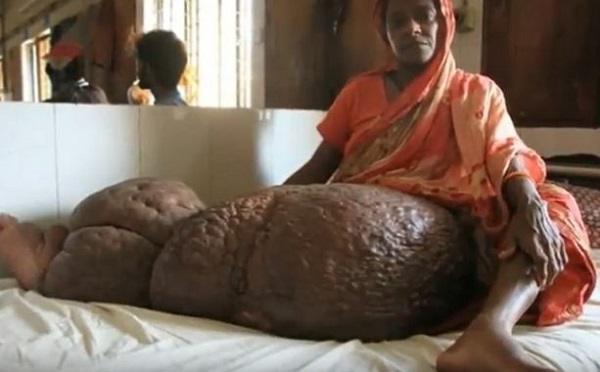 There are a number of bizarre medical conditions which leave even the medical experts zipper-mouthed. Many can be treated while some are there which still require healthcare awareness for treatment. Mysterious health disorders continue to torment the lives of many people across the world. A case surfaced on internet about Razia Begum from Bangladesh speaks about a mysterious health condition. The 40-year-old woman is usually confined to her house owing to her colossal 60-kg leg. She got infected with the disease after giving birth to her daughter 18 years ago. 
Currently, she is bed-ridden at the Dhaka Medical College Hospital seeking answers to her bizarre medical condition. This condition is being said to be elephantiasis, but no further steps can be taken until medical tests are conducted. As of now, it can be seen that Razia is handicapped due to her 60-kg leg and is entirely dependent on her family members. She feel like a burden to her family. 
Also Read: Doctors sew firefighter's hand inside his stomach, but for a good reason. Read what happened.
Her brother-in-law Ana Mia said, "She cannot work or contribute to the family. Rather it takes at least three people to move her."
According to reports, Razia has been living a normal life like any other woman until the birth of her second child. She noticed something bizarre happening with her right leg. 
"I noticed swellings on my legs when my second daughter was born. They were gone after primary treatments, but returned some years after," Razia told The Daily Star.
In Dhaka hospital, a 12-year-old girl suffering from similar bizarre disease was cured. Citing this, Razia's husband Abdul Malek brought her to this hospital. Begum has been admitted to the Blue Unit of Burn and Plastic Surgery Unit of hospital.
Also Read: Story of Badrilal, a 56-year-old man, who accidentally ate 150 pins and needles
Dr Shamanta Lal Sen, chief coordinator of Bangladesh's burn units, said: "We primarily suspect she has elephantiasis – what is commonly known as the elephant's foot disease. But, we will have to do tests and surgery to be sure.
There have been previous reports indicating that roundworms when enter the body through mosquitoes causes the diseases. It can be life-threatening for Razia if the swelling spreads to her abdomen. Most of the people who've been inflicted by this disease are unable to walk or even urinate due to the swelling. 
Elephantiasis is parasitic infection in which a person's body part swell into massive proportions. It affects around 120 million people globally. 
For more trending stories, visit the Buzz section of website.